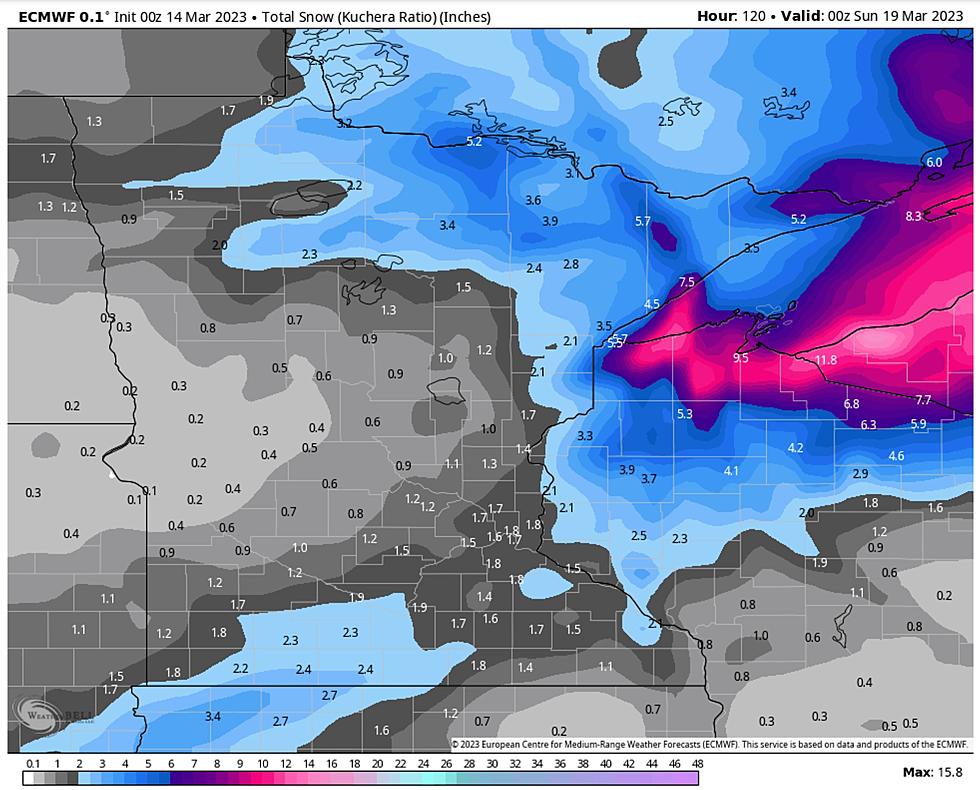 Record Territory: Another Plowable Snowfall Later This Week?
European Model Snowfall by Saturday, courtesy of WeatherBell.com
What's that line from the movie "Jaws"? We're going to need a bigger boat? Forget that, I think we're going to need a bigger plow. And a bigger roof-rake and a humongous, XXXXL snow blower. Bigger boots too! We are locked in a pattern that favors heavy snow every 4-7 days across the Northland, and the next gently-used California storm may get us closer to a Top 5 Winter Snowfall later this week.
Just to recap: total snowfall at the Duluth National Weather Service is 116.4", making this the 9th snowiest winter, to date, since 1885. A cool 37" on the ground? That's the most since 2005. Even the professional snow-lovers are starting to cry uncle. Old Man Winter's response: hold my beer. The European model (above) prints out plowable amounts of snow by Saturday evening. Hey, we're on a snowy roll. Why stop now?
We get a break into midweek, but any rain Thursday will quickly switch over to snow, with a fairly quick shot of snow Thursday into Friday. It's early for snowfall specifics, but models are hinting at plowable amounts, with 3-6" on top of what we already have on the ground. The South Shore of Lake Superior could pick up closer to 10" in some spots. Check out the latest meteogram from windy.com.
NOAA's GFS (Global Forecast System) weather model, courtesy of pivotalweather.com, is more aggressive than the European model, predicting nearly a foot of snow for parts of the Northland, with heaviest amounts piling up east of the Twin Ports. I'm leaning toward the ECMWF (European) solution showing lower amounts, but we shall see.
Doing the math, about a foot of snow is required for 2022-23 to displace 1996-97 as the 5th snowiest winter at Duluth. That may not happen by the weekend, but I'm fairly sure it will happen before daffodils sprout and robins start chirping in your yard.
It's been quite a winter for snow lovers, and it isn't over yet. The sun may be as high in the sky as it was in late September, but snow enthusiasts will definitely get their money's worth this winter. Spring has been officially delayed until April this year. OK, no later than May.
More updates as we get closer to this next snow event. In the meantime I'm shopping online for a nuclear-powered snowblower.
How to Keep Your Pets Safe in the Snow
5 ways to keep your pet safe in the snow according to
mass.gov
.