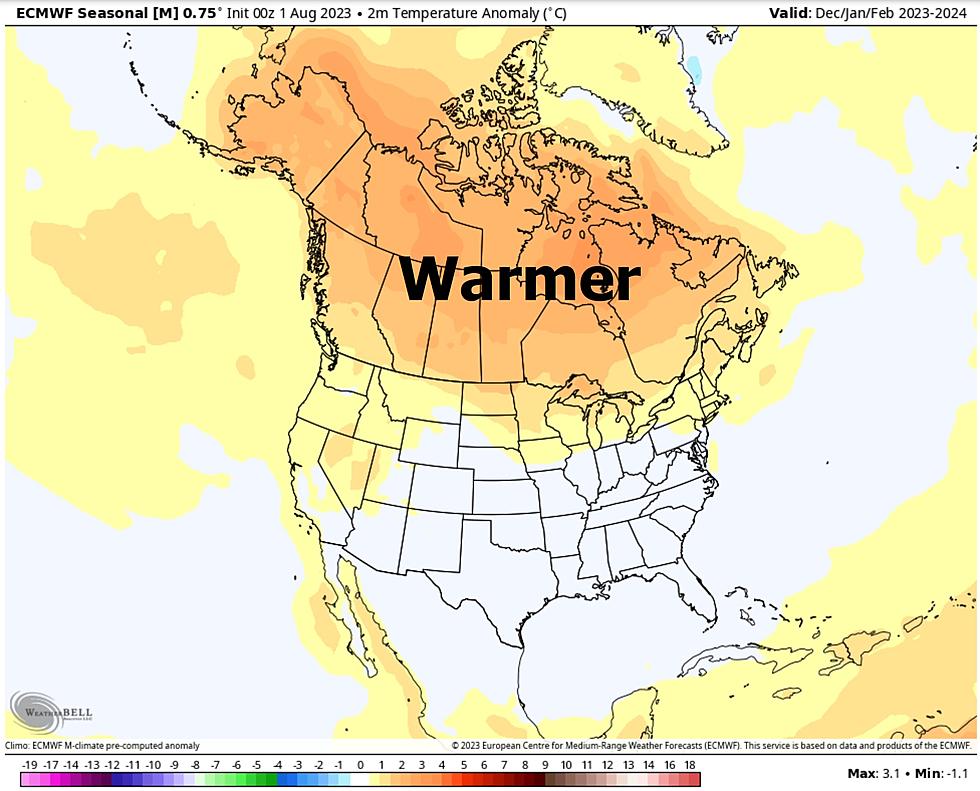 Super El Nino Means A Milder Winter With Less Snow Across Northland
Winter temperature prediction: Credit: WeatherBell.com
Winter is coming, and that's not a cheap Game of Thrones reference. It will snow. Cold fronts will push and shove their way into the Northland. Most of us will dress in layers and carry on, like we have every winter. Take it to the bank.
But based on a myriad of factors, including a warming planet and a potential Super El Nino, there is a high probability that the upcoming winter will be milder than average, with considerably less snow than we had last winter (140"). Looking at the data and especially longer-range climate models, I continue to believe that the upcoming winter won't be anything like what we experienced last winter.
The forecast above is for December through February, courtesy of the ECMWF (European) model ensembles, hinting at a warmer winter for Canada and the northern tier of the US, based largely on a powerful El Nino signal in the Pacific Ocean.
The normally-reliable Australian Bureau of Meteorology forecast calls for +3C of Pacific warming, or 5F+ which is a pretty big deal. So what? Strong El Nino's correlate with milder (drier) winters for Minnesota, Wisconsin and much of the northern half of the US. Not every winter, but most winters.
ECMWF is predicting a wet bias for the southern US between December and February, which is typical for an El Nino pattern, with drier weather for central and northern states. We shall see, but I would still bet a half-eaten Minnesota State Fair corn dog that the winter to come will be milder and drier; probably less than 80-90" of snow, if that.
El Nino is a natural variation in water temperature, but it's adding warmth to an already simmering atmosphere after the warmest summer on record for the northern hemisphere. It comes on top of other trends, including a steady warming trend resulting from greenhouse gas emissions.
The maps above are various models looking out months vs. days. Everything in orange or red implies warmer than average temperatures from September through November. Plenty of extra heat in the atmosphere and oceans should keep Northland temperatures consistently above average. Not to say we won't have a few icy swipes. We will. But I see 70s deep into October, with ice forming later than average on area lakes. Again.
Meteorologists have trouble with a 7-Day Outlook, sometimes even a 24-hour forecast. How can you be so sure, Paul? My confidence level is moderate to high that we will be warmer than average, based on what's happening now, and recent trends.
It's awfully warm out there, worldwide, and that simmering bias won't magically disappear overnight. Like a hot water bottle, a warmer than average Pacific should translate into a warmer autumn and winter for the Northland. Wait for it.
Place your bets. I mean, what can possibly go wrong?
The 15 Least Snowy Winters On Record In Duluth History
Since the National Weather Service began keeping weather records in Duluth in the late 1800s, here are the 15 winters with the lowest snowfall totals on historical record.
It is worth noting that the official records from 1941-today have been recorded at the area now known as the Duluth International Airport (away from the lake, on top of the hill). Before then,
various locations closer to Lake Superior
had been used for official weather recording data. For anyone that knows anything about how Lake Superior and the hill play a role in temperature and snow, you can see how this makes older records inherently different.
While these records note the "least snowy winters", they actually include all seasonal snowfall from July 1 through June 30 of the following year.