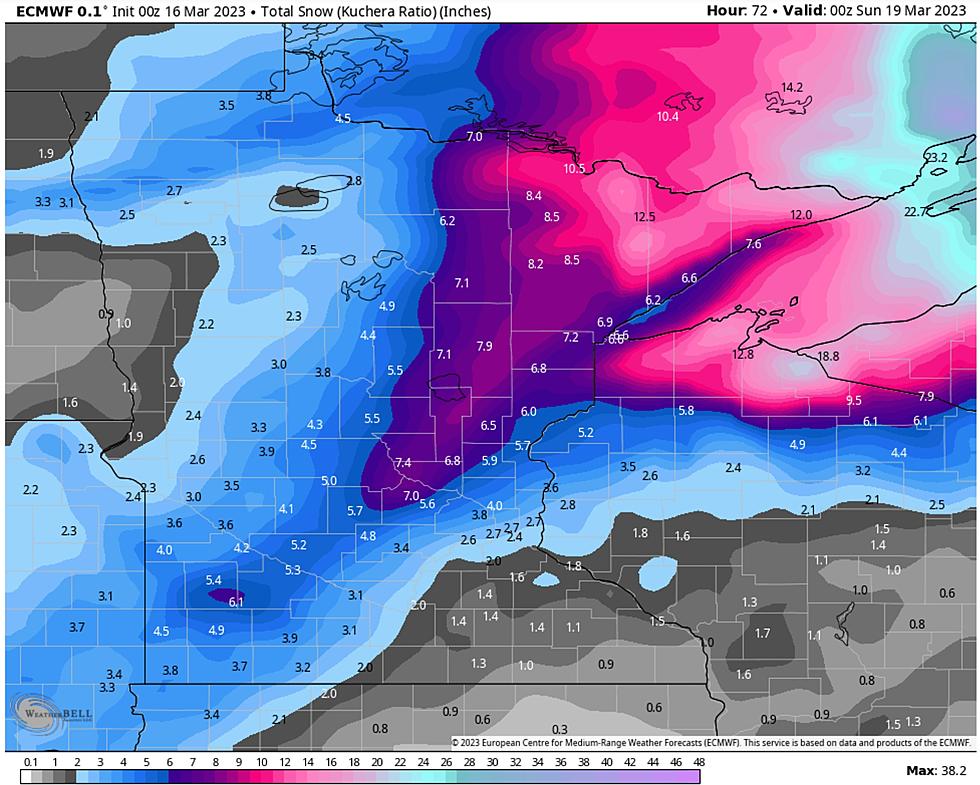 Another 4-8″ Into Friday – Some Spots Will Pick Up a Foot
ECMWF Snowfall courtesy of Weatherbell.com
Deep breaths. Our ancestors would have called this "flurries" right? A rainy, icy mix this morning gives way to snow this afternoon and tonight. It still looks plowable, but not as formidable as last week's snow blitz. Many of us will see 4-8" snow by Saturday, and a few of us (Arrowhead and South Shore of Lake Superior in particular) may pick up over a foot or more of White Gold over the next 48 hours.
Here is a Meteogram (fancy meteorological word for "timeline") for this latest storm, showing the heaviest snow falling this afternoon and early tonight, before tapering to very light snow and flurries, which are forecast to spill over into Saturday. The bulk of the snow falls this afternoon and tonight, with little additional accumulation for the Twin Ports after Friday morning, although snow will continue to pile up over the Arrowhead and the snow belts of northern Wisconsin.
NOAA's models generally have a similar snowfall solution to the ECMWF (European Model). Not quite as much as a few days ago, but still plowable for most of the Northland, with heaviest amounts east of the Twin Ports. I would not be shocked to see well over a foot of additional snow for the snow belts of northern Wisconsin and the U.P. of Michigan. The farther east you drive, the heavier the amounts should be. Dial up NOAA's weather models at Pivotalweather.com.
Look at not only the total snowfall predictions, but the model trends. Do all the models generally agree? (No). On those rare occasions when they do agree our confidence level goes up. Welcome to my world...
If anyone asks (doubtful) Duluth-Superior has 35" of snow on the ground. We've picked up 116.4" so far this winter, nearly DOUBLE what we saw last winter at this time. Remarkable. And if we get to 128.3" this will be the 5th snowiest winter on record for the Twin Ports. At the rate we're going, that just seems to be a matter of time. Give it a week or two.
Winter Storm Warnings are posted. Be safe out there. Remember, no hurricanes...no hurricanes....no hurricanes...
20 Must-Do Activities In Minnesota And Wisconsin Before The Snow Falls