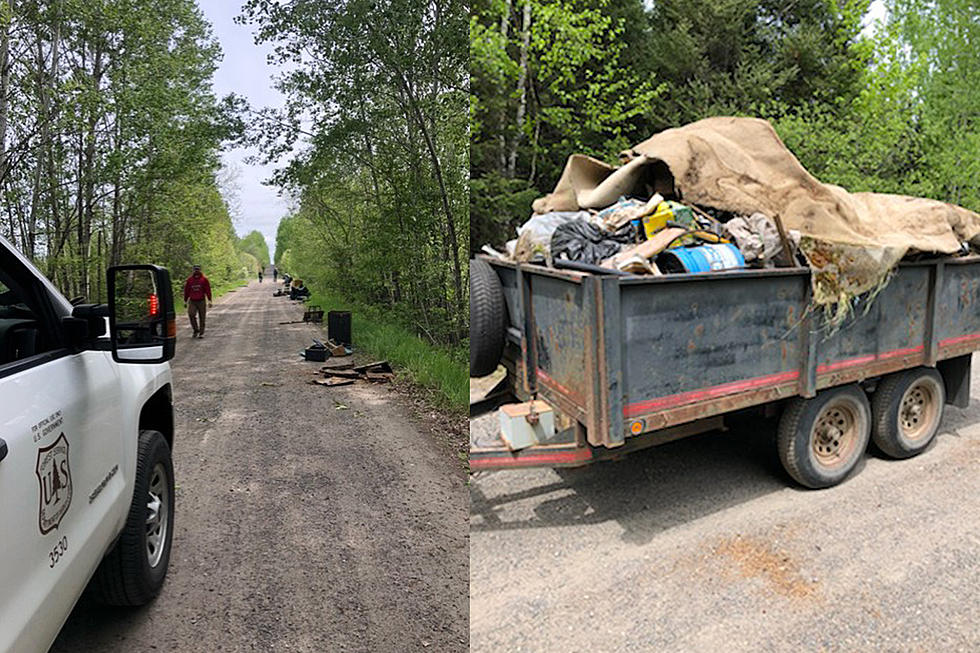 US Forest Service Clears Over 2 Tons Of Trash From 3 Mile Stretch Of Forest Road In Northern Minnesota
US Forest Service / Superior National Forest
This is really disappointing. And disgusting.
The US Forest Service shared a message via social media on Thursday explaining that they worked to remove a couple of tons of trash from a forest road north of Hoyt Lakes. That's disappointing in itself. Making things worse, they collected all of that trash over only a couple miles of the road.
To be specific, it was 2.28 tons of junk left by people along a 3-mile stretch of Forest Road 117, north of Hoyt Lakes.
A team of 32 people spent the entire day on May 27 picking up and hauling the 4,560 pounds of junk left behind by people along this 3 miles of road, which consisted of all kinds of trash.
Among the items collected and hauled away included TV sets, vacuums, a variety of furniture, box springs, pop and beer cans, toys, tires, and an antique pickup cylinder. One of the photos from the cleanup effort even showed a broken Hungry Hungry Hippos game.
Forest Cleanup
The junk filled five pickup trucks and two dump trailers, all of which was hauled away to the proper disposal site by the team of Forest Service employees and two retired employees that came to help in the hefty cleanup effort.
In a media release on the Forest Service website, they explain that not only is dumping on public lands is not legal. Beside household waste and other items like those listed above, it is also illegal to dump branches, soil, rock, and yard waste.
While it might seem "free" to dump your trash in the woods or on a roadside, the expense for crews to properly dispose of these items adds up quickly. The release from the USFS points out that when you add up the $181 transfer station fee for the junk along with the salaries of the staff that performed the cleanup and other expenses, that cost to dispose of this junk goes up fast. All of that money being taxpayer dollars that could have been spent in better ways.
The Forest Service offers a reminder that if you see someone illegally dumping, that you should not approach the violator, but you can report them using their tip line. They ask for the date/time/location where it occurred, a description of the vehicle and their license plate information, a description of the person/people involved, and what was being dumped at the site.
This is an issue in Duluth as well, with a portion of a road actually getting closed last year due to people using it for dumping. Other roadways in areas where there aren't houses nearby see similar issues.
It also was a big issue on lakes around the region last winter, with a high amount of trash being left behind by ice fishermen and others on area lakes. It was so bad on some lakes that people were teaming up to do lake cleanups, gathering garbage bags full of junk.
We live in a beautiful part of the world. Lakes, rivers, streams, forests - all things that people travel from all over to visit. Leaving trash behind, wherever it is, not only ruins it for those visitors, but moreover for your neighbors, yourself and your kids to be able to enjoy. Who wants to go for a forest hike and see an old recliner? Or fishing/boating and seeing garbage floating that was left behind by someone?
10 Things Northlanders Look Forward To Every Summer
10 Reasons Fall In The Northland Is The Best
10 Reasons You Should Love Winter In The Northland