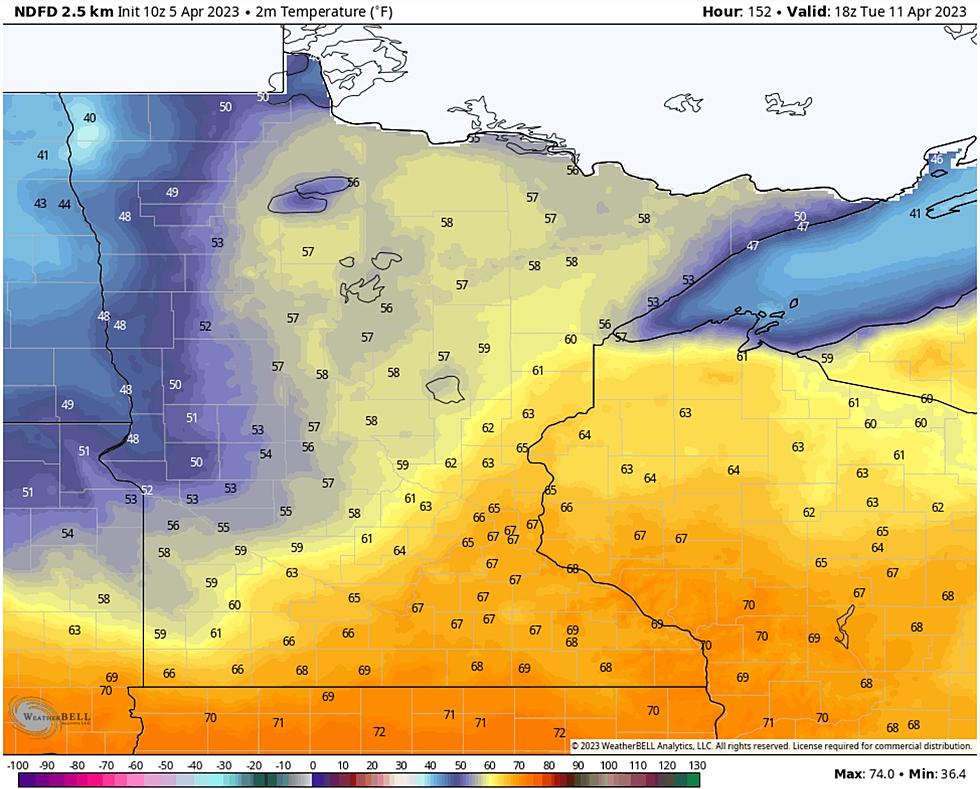 Near 60F Next Tuesday – Could This Be the Last Big Spasm of Winter?
NDFD Midday Tuesday temperatures, courtesy of WeatherBell.com
Forgive me, but please allow me to start with the good news first. Spring is coming. All at once. After a longer, MUCH snowier winter than usual, the Northland will experience an instant-on, fast-forward spring starting this weekend, spilling into next week with a streak of 50s, even an outside shot at 60 degrees. My kind of warm front. The map above shows predicted temperatures next Tuesday. 70s are expected in the Twin Cities with 50s likely in the Twin Ports with an outside shot at 60. Stating the obvious: there is a lot of snow on the ground and that will cool the air from below. Not sure about 60, but 50s are likely.
It's almost time to grill out on the deck. Almost. European model guidance shows a temperature "spike" through next Wednesday, followed by slight cooling - but there is no doubt a big taste of spring is on the way - finally. The implications for spring flooding on area rivers is still unknown but I suspect we will be seeing updates from the National Weather Service in the coming days. A rapid melt-down may still have unpleasant consequences for some of our streams and rivers.
It was a crazy night of thunderstorms, hail and glaze ice - pushed along by a wicked wind. Latest snowfall reports are here. Expect snow to gradually taper as the day goes on with a couple more inches for most towns.
Ice Storm Warnings remain in effect for the South Shore of Lake Superior and Pine County, Minnesota until at least 10am this morning, with Winter Storm Warnings posted elsewhere. Travel today will be a mess, but conditions improve tomorrow.
Heaviest snows today will pile up over far northern Minnesota and the Red River Valley with a few inches for the Northland - heaviest amounts along the North Shore. The one saving graze of hail and ice on the ground: it should lessen the potential for blowing and drifting and white-out conditions.
Cold exhaust on the backside of this storm will whip up wind gusts over 40 mph today, perhaps 50 mph+ along the North Shore at times. But the Meteogram above shows peeks of sun tomorrow as winds slowly subside - by Friday it will almost feel like spring.
The Northland will experience more cold fronts. Count on it. But at the risk of being a naive optimist, this could very well be the last (big) sloppy, wintry storm for some time.
It's time to turn the page and welcome spring. The extended outlook calls for melting snow. Bring it.
Top 9 Spring Cleaning Tips For Homeowners
It's officially Spring and time for a little
deep cleaning
in your home. Getting rid of dust and cobwebs, reorganizing drawers, and scrubbing those grimy corners can be just what your home needs for a fresh start!
Here is a checklist to make sure you don't miss a spot when cleaning: