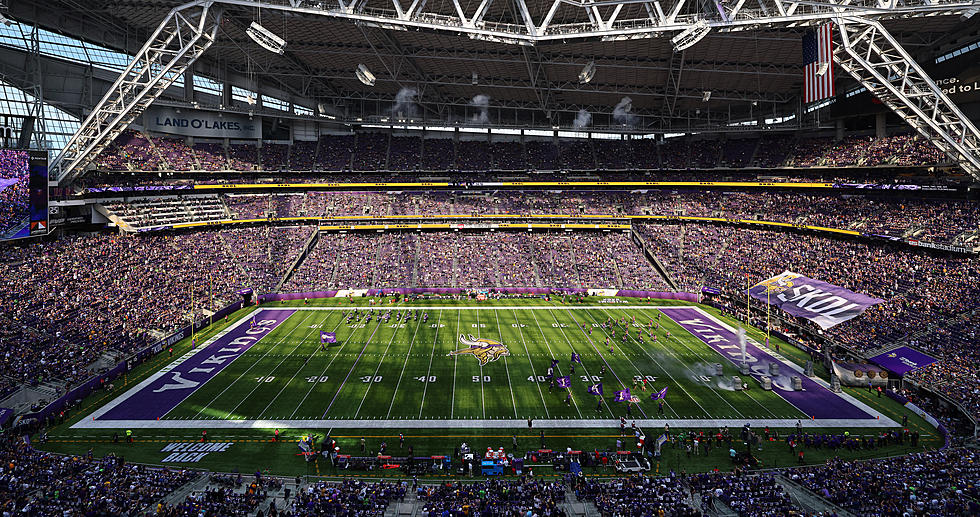 Minnesota Man Passed Away From A Fall He Sustained At US Bank Stadium During A Vikings Game
Photo by Adam Bettcher/Getty Images
A freak accident at US Bank Stadium has left one Minnesota family with a huge hole in their hearts this holiday season. Josh Engle of Maple Lake Minnesota was a married father of four children and was at the Vikings- Packers game with friends on November 21 when the horrific accident occurred.
According to his CaringBridge page, "Engle and his friends were on their way to the concession stands during the first drive of the game when Engle fell down the stairs about 20 feet and collided with the glass barrier at the bottom. "
Engle was then rushed to Hennepin County Medical Center and underwent emergency surgery where he was treated for multiple bleeds in his brain, a fractured skull, and ultimately a blood clot for which he was not able to recover.
Engle passed away with his wife by his side on December 14. Although his favorite team was the San Fransico 49ers, The Minnesota Vikings came in a close second. During his time in the hospital, his family made sure to have the Vikings game on in his room at all times.
According to Bring Me The News the Minnesota Vikings issued the following statement:
We are deeply saddened by the recent death of Josh Engle, who experienced a tragic fall during the first quarter of the Packers-Vikings game on November 21. Josh was a passionate Vikings fan, but more importantly, based on our conversations with his family, he was a loving husband, father, and friend. Our hearts go out to the entire Engle family during this difficult time.
If there is one light of hope to make out of this tragedy Engles family is proud to say that Josh was an organ donor. Through his gift of life, so many other people will be saved because him  The hospital already had recipients pre-screened to be a candidate for his donation.
8 Things You Could Only Understand As A Vikings Fan
20 Places The Bachelorette Should Film In Minnesota + The Twin Ports
Minnesota is home to Michelle Young's season of The Bachelorette. The Edina native will film in the state she calls home with her cast and crew in August 2021. Here's some places that would make a great filming location - and for any future season of any reality show.