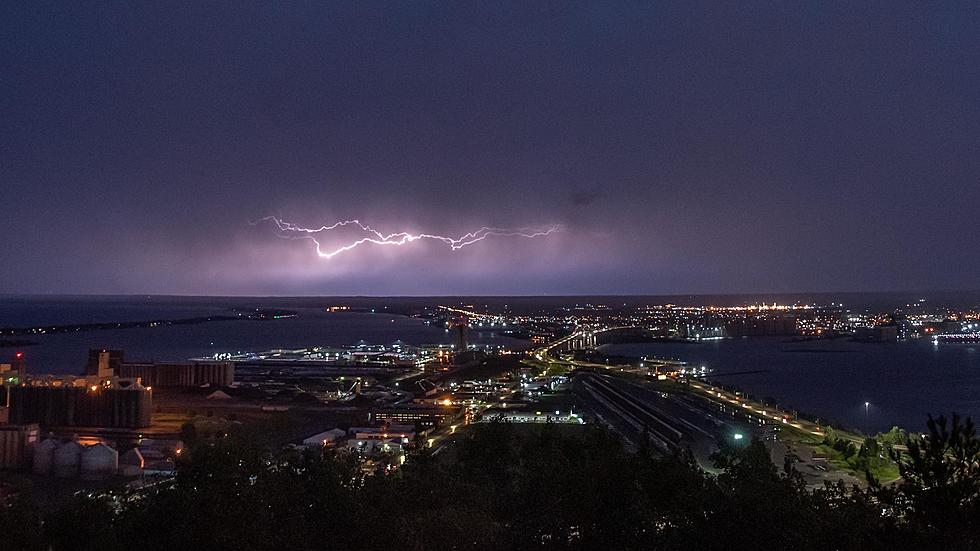 In Pictures: Listener-Submitted Photos + Video From Friday Night's Thunderstorms Across The Northland
Nick Cooper - TSM Duluth
Thunderstorms Friday afternoon and evening brought a variety of severe weather conditions to the Northland. Storm reports from across the region (via Duluth News Tribune [paywall]) included a tornado touchdown near Cromwell. At one point, there were a total of 4 simultaneous tornado warnings along the line of storms, with two of them in the Northland.
Additional storm reports included a number of places seeing flash flooding conditions, and strong winds that caused damage and power outages, mostly along I-35 south of Duluth in areas like Barnum, Wrenshall, Esko, and Mahtowa in Carlton County.
The timing of the storms, moving into the area near the time of sunset, brought a visual contrast that included a dark sky and lightning followed by a glowing orange sunset on the backside of the line of storms.
I was out as the storms passed through the area, capturing the wall of rain as it moved into Duluth, as well as the lightning show/sunset that followed well into the evening. I captured some video of each below. The rainfall video is a brief timelapse, while the lightning clip was real-time video trying to capture some of the unique duality of the scene.
One of our station Facebook fans, Nina Haukland, shared footage near Lawler, southeast of McGregor, showing what appears to be a tornado. Note that there is some strong language in the clip. You can view it here.
Another listener, Julie Runmark, captured some vibrant sunset colors with intense lightning, seen here.
Several listeners captured a variety of scenes as the storms moved through the area on Friday night. Here are photos submitted via our mobile app and through our social media. If you have photos you'd like to submit, you can always share with us! Download our free mobile app, and tap over to the "Submit Media" link in the app's menu.
August 14, 2020 Storm Photos