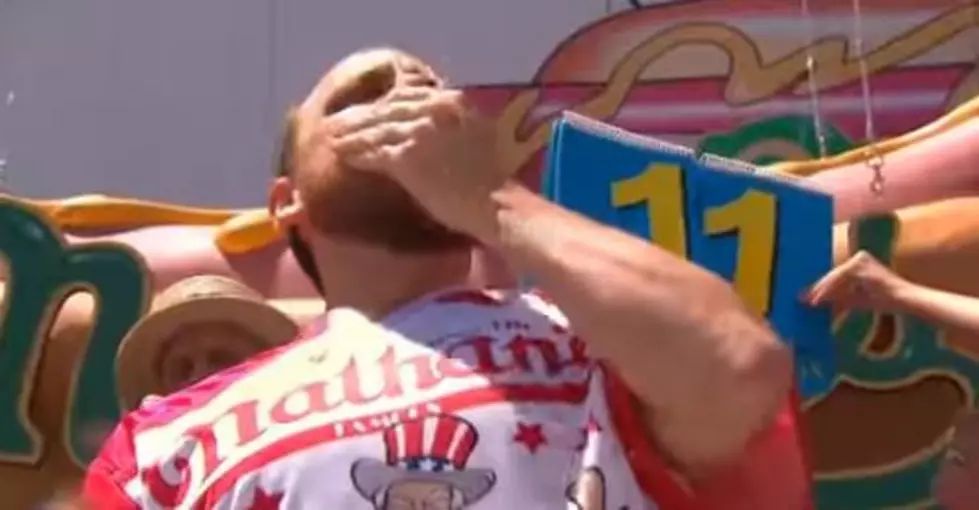 Holy Cow! Watch Eating Champion Joey Chestnut Eat 70 Hot Dogs In Ten Minutes
ben king youtube.com
Joey "Jaws" Chestnut regained the Mustard Yellow International Belt, the award they get for being the Hot Dog eating champion. He got his title back from Matt "The Megatoad" Stonie, who stopped Joey's 8 consecutive win streak last year.

Nathan's Famous in Coney Island celebrated their 100th anniversary and held the contest, which they do every July 4th. Joey downed 70 hot dogs and buns in 10 minutes - the most hot dogs and buns ever eaten at the competition. Stonie only ate 53 hot dogs.
Chestnut originally set the record in 2013 of 69 in this competition but Joey Chestnut set a new record last month when he ate 73 1/2 hot dogs and buns during a qualifying event.
In the women's division, Defending champion, Miki Sudo of Las Vegas, captured first place, eating 38 1/2 hot dogs and buns. Both Joey Chestnut and Miki Sudo take home a $10,000 prize for taking first place.