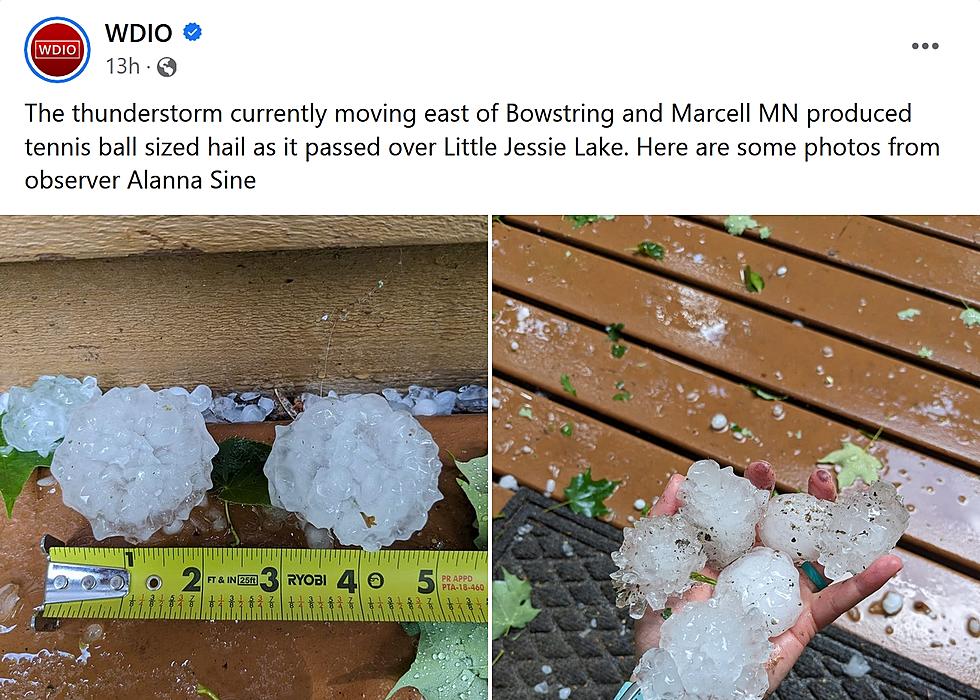 Enormous Tennis Ball Size Hail Wednesday North of Deer River – How Does This Happen?
Serious hail. Credit: spotter Alanna Sine, WDIO, Facebook
Well this will put a dimple in your Prius! Good grief. Reports of 2-3" diameter hail near Bowstring and Marcell, Minnesota with Wednesday's crazy storms! Minnesota and Wisconsin were under a severe threat all day, and NOAA issued a Severe Thunderstorm Watch hours before the storms struck, so there was in fact warning. But we never really had a traditional severe thunderstorm season this year in the Northland. With deepening drought there hasn't been nearly enough moisture to fuel severe thunderstorms this year.
With sub-freezing temperatures closer to the ground than usual on Wednesday we had all the ingredients necessary for damaging hail: half dollar size hail, downpours with several inches of rain in a few spots, even funnel clouds near Siren, Wisconsin. It was nice to get a good soaking, but giant balls of ice hitting the ground at over 100 mph?
No thank you.
The tennis ball size hail captured by weather enthusiast Alanna Sine was measured to be 2.5" in diameter. Keep in mind that any hail larger than 1" in diameter (quarter size) is considered "severe", capable of damage to buildings and vehicles. That is especially true when hail is accompanied by strong winds that can magnify the damage.
Thunderstorms contain powerful updrafts and downdrafts. Liquid water droplets are hurled into the upper atmosphere, where they freeze into little balls of ice. Gravity then pulls these tiny hailstones back down to the ground, where the updraft takes hold and takes the ice high into the thunderhead once more, depositing another layer of ice, making it larger in the process. This can continue multiple times until the hailstone is heavy enough to counteract the force of the updraft, and gravity finally pulls it to the ground, where it causes all kinds of problems. The bigger the hailstone, the faster it hits Earth. A tennis ball size stone can hit the ground at well over 100 mph!
Damage reports are still coming in from Wednesday's wild hailstorms - based on what I'm seeing I'm pretty sure that some residents will be filing claims with their insurance providers.
Hail season peaks in May and June in the Northland, but "hailers" can bubble up anytime during the warm, wet, summer season when conditions are ripe. No more hail or high water in sight as we transition into a drier, warmer pattern in late July and early August.
Mother Nature will be in a better mood until further notice.
Do Not Shower During A Thunderstorm and 23 Other Thunderstorm Safety Tips
Did you know a car with rubber tires is NOT during a thunderstorm? It's true. Scroll on to see all the facts that could save your life. The National Weather Service has all this information at
weather.gov
.