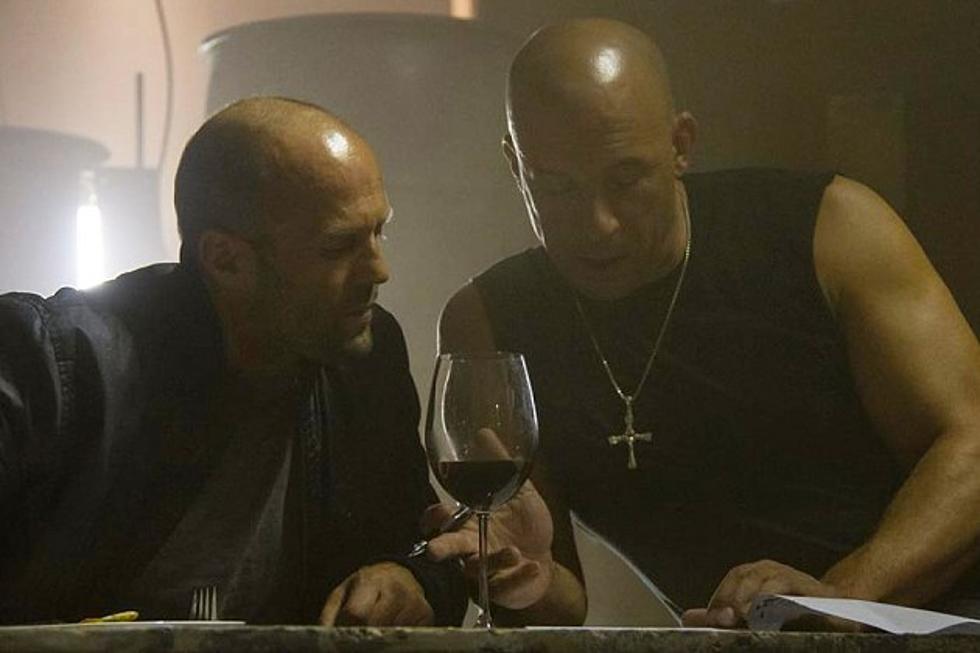 Wait, Is Vin Diesel Going to Direct 'Fast and Furious 8'?
Universal Pictures
The Fast and Furious franchise wouldn't be where it is now without Vin Diesel. The films didn't even kick into high gear until Diesel returned for 2009's Fast and Furious, and the box-office numbers have been climbing astronomically since then. To say Universal owes Vin Diesel a gigantic debt of gratitude is an understatement, but exactly how much do they owe him? Would they actually let Diesel, who has little experience directing a movie let alone directing a movie on the scale of a Fast and Furious film, behind the camera of Fast and Furious 8? According to a new report, this may be what Vin Diesel wants and Universal is terrified.
The Hollywood Reporter has a fascinating new article up on the behind-the-scenes struggles to get Fast and Furious 8 made. You'd think with the massive success of Furious 7 it would be fairly easy to get the next film into production. But, it turns out that a lot of high-profile directors (and even some low-profile directors) are turning down the job.
Universal first approached James Wan, who directed Furious 7, about returning for the eighth film before Furious 7 even opened in theaters. He declined saying he instead wanted to direct The Conjuring 2, which started filming just this week. Universal then went to Justin Lin who directed Tokyo Drift, Fast & Furious, Fast Five and Fast and Furious 6, but he turned them down to go direct Star Trek Beyond. The studio then reportedly went back to Wan with what was described as a "life-altering" sum of money, which Wan still turned down.
We'll let the original article explain why:
Wan, 38, is said to have felt that rather than life altering, the deal could have been life ending. Insiders confirm that the $200 million, two-year production of Furious 7 was so demanding that it actually compromised Wan's health. In addition to the trauma surrounding Walker's death, which required rewriting the script and concocting elaborate special effects (and the use of his brothers as body doubles) to resurrect the actor for key scenes, sources say Diesel proved extraordinarily difficult.
We reached out to a rep for James Wan who refuted the claim that Wan's health was jeopardized, calling that aspect of the Hollywood Reporter article "inaccurate".
As a producer of the Fast and Furious films, Diesel lives and breaths for these movies. Perhaps a little too much. The article claims Diesel would "summon filmmakers to repeated late-night script sessions to make him comfortable with his character and dialogue." You mean the character he's been playing since 2001? And I'm not sure what questions about the dialogue he could possibly have. "Should I mumble 'family' or should I grumble 'family'?"
Diesel's devotion to the Fast franchise is so intense that Universal executives live in constant fear that Diesel himself will eventually ask to direct the film if they don't find a Fast and Furious 8 director soon. Diesel previously directed the 18-minute Fast and Furious themed short film "Los Bandoleros", but has no experience on blockbuster action movies. They've reached out to both experienced action directors, like Jaume Collet-Serra (Non-Stop) who also turned down the offer, and inexperienced action directors with no luck yet.
Fast and Furious 8 is already set for a April 14, 2017 release date, so the clock is ticking.