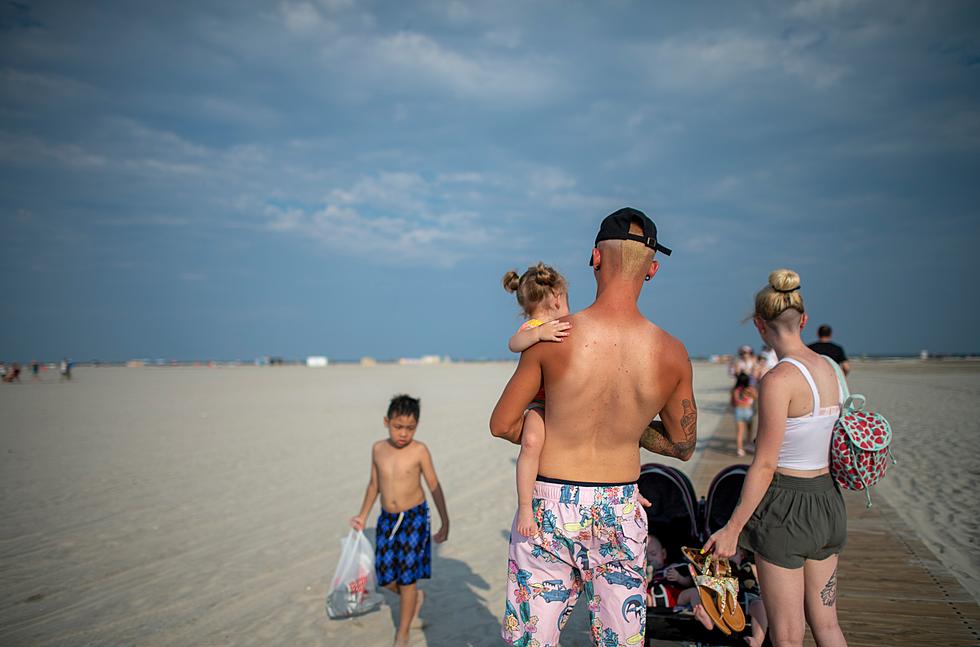 Today's Summer Solstice Poses Peak Risk for This Preventable Injury
Someone forgot sunscreen. Photo by Mark Makela/Getty Images
Behold the Summer Solstice, the longest day of the year (actually, they're all 24 hours) so let's just call it the longest daylight of the year. At 9:57am Wednesday, June 21, the sun's direct rays pass over the Tropic of Cancer at 22.5 degrees north latitude, as far north as they ever come. The sun is highest in the sky and most intense today, which means the threat of sunburn is, on paper, greater today than any other day of the year.
Houston, we have a problem. Americans still aren't taking the risk of sunburn seriously. Data shows that 1 in 5 Americans will develop skin cancer in their lifetime, making it the most common cancer in the US. And here's the thing: it's ultimately preventable, if people take the time to defend themselves against the sun's harmful UV radiation.
We still have a problem with people not putting on protective sunblock and sunscreen. The Center for Disease Control and Prevention recently released a report that indicated that although protective behaviors such as sunscreen use, shade use, and wearing long clothing to the ankles have increased in recent years, sunburn prevalence remains high, with 50.1% of all adults and 65.6% of whites aged 18-29 years reporting at least one sunburn in the past 12 months.That's a problem, since there is a direct link between sunburn, skin damage and skin cancer, including melanoma, which can be fatal.
The U.S. Environmental Protection Agency estimates that the sun causes 90 percent of all non-melanoma skin cancers, and other research links it to 65 percent of all melanomas. And one blistering sunburn during childhood or adolescence doubles the risk of melanoma later in life, and five sunburns by any age doubles the risk as well.
The Skin Cancer Foundation has more details on sunburn and steps we can all take to lower our risk:
Some people are more prone to sunburn: Skin type determines your susceptibility; people with fair skin run the greatest risk. But anyone can get burned.
Even without a burn, sun exposure raises skin cancer risk. Even if you are tan or your skin type is dark and your skin does not redden, the sun can cause cellular damage that can lead to cancer.
The UV index is a factor: The sun varies in intensity by season, time of day and geographic location. A high UV index means that unprotected skin will burn faster or more severely. Be careful, especially when the sun is strongest. But even when the index is low, the risk remains. Protect yourself every day of the year.
You can burn on an overcast day: Be careful even when the sun isn't shining. Up to 80 percent of UV rays can penetrate clouds.
Light pink is still bad: No matter how mild, every burn is a sign of injury to your skin that can result in premature aging and skin cancer.
The bottom line: there is no such thing as "safe sunshine". Here's another way to look at this: sunburn is the result of your skin cells committing mass suicide to protect you from their damaged DNA, which can cause cancer. That's good enough for me to take a few minutes every day to slather on sunscreen, SPF50 or higher provides the most protection. Wearing a hat or baseball cap on long-sleeve shirts and long pants can also help to reduce the risk of a painful burn that may prove problematic over the long haul.
We earn our summers and basking under a warm sun is one benefit of surviving winter. There's a smart way to enjoy the sun and reducing the risk of potentially deadly melanoma down the road.
Enjoy this sunny warm front, but do it responsibly!
6 Unique Remedies for Treating Sunburn
Chances are you have a bottle of aloe vera gel somewhere in your house that you've likely had for years ready to be applied when you've spent a little too much time out in the sun and your skin feels (and looks) like the surface of the sun. Maybe it's in a medicine cabinet or a bathroom closet. Maybe you keep it in the door of the refrigerator so it's good and cold to help ease the pain of sunburn a little quicker. While it's a great and highly recommended way to care for your skin after a sunburn, there are other options in your house that can also do the trick.