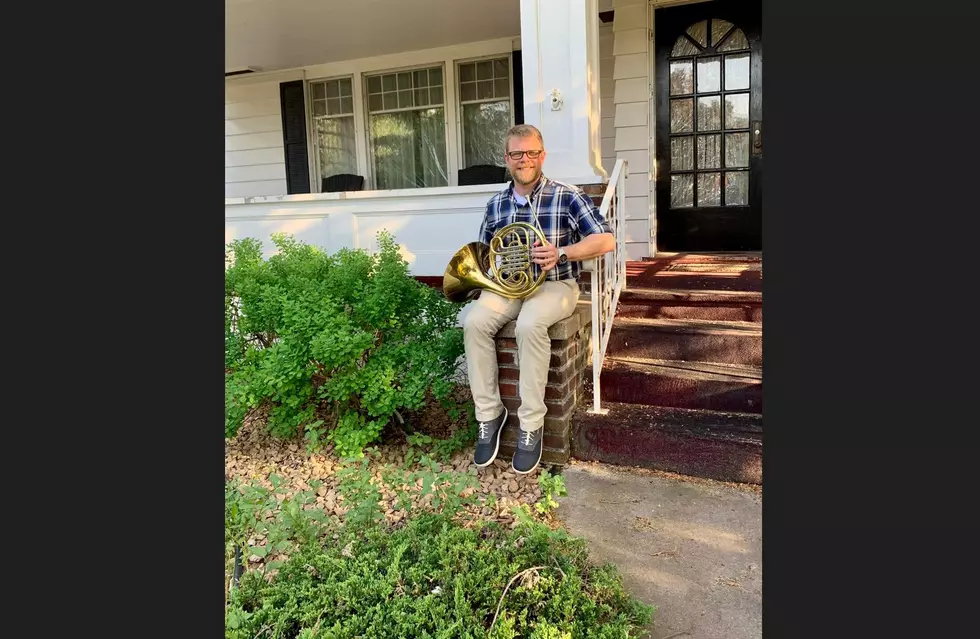 Superior Mayor Jim Paine Helps Kick Off Inaugural 'Make Music Day' Celebration
Mayor Jim Paine FB
A familiar face helped kick off the inaugural city-wide Make Music Day celebration in the City of Superior on June 21.  Mayor Jim Paine dusted off an old French horn to add his notes to the days festivities.
Make Music Day is celebrated internationally as a way of spotlighting the fact that "anyone" can make music. This is the first year that a local element was included and from all accounts, it was well received.
Throughout the day, "a wide variety of performances....[were] staged in lawns, parks, businesses, and driveways", according to an article in the Superior Telegram [paywall].  The effort was just another way that city leaders have sought out to bring the community - neighbors - together.
In addition to the other musical performers on the days schedule - most of which were at least somewhat professional, one performer for Make Music Day wasn't; Mayor Jim Paine decided to play an instrument that he hasn't played since elementary school.
In the lead-up to June 21, Paine had let it slip that he played the French horn while he was growing up - but hadn't touched it since 5th grade.  That's when someone decided to anonymously leave a French horn on his front porch.  Taking it as a sign, the Mayor decided to take action:
"He gave himself a goal to perform three notes, threaded together to form the tune "Hot Cross Buns".  The performance on the lawn...earned him a round of applause and kicked off the day."
To promote his performance, Superior Mayor Jim Paine took to his Facebook page to give the community a heads up that he would be performing.
And while the fun and musical notes from Make Music Day is over, that doesn't mean that live music can't be had.  Superior has two well-established community musical events that run throughout the summer.
One of those events is known as Porchfest - which features outdoor musical performances at different sites around the city.  From that article in the Telegram, here are the remaining dates and sites for the summer of 2022 season:
June 20:  Old Firehouse and Police Museum
July 14:  American Family Insurance
July 28:  Carnegie Library on Hammond Avenue
August 11:  Village of Superior
August 25:  The SS Meteor
Additional information on Porchfest can be found on the events website.
The other musical event in Superior is billed as Bayside Sounds Around Town.  Here are the remaining dates on the schedule:
July 13:  Last Call - at Billings Park
July 20:  The Fractals - at Fairlawn Mansion
July 27:  Woodblind - at Kelly Park
August 3:  The Mackie Brothers - at Central Park
August 10:  John & Andy - at Webster Dream Park
August 17:  Moors & McCumber - at Billings Park
August 24:  South of Superior - at Barker's Island Festival Park
August 31:  Whiskey Trail - at Barker's Island Festival Park
September 14:  a concert is planned for the University of Wisconsin-Superior
Bayside Sounds Around Town is a musical event that has been happening in Superior for more than 25 years.
10 Things You Should Bring To An Outdoor Concert
More outdoor concerts are being scheduled for summer 2021 and beyond, which is exciting news for live music lovers. However, it's been awhile since there's been an opportunity to enjoy a true outdoor concert experience. Once you secure your ticket, make sure you also have these 11 things ready to bring with you.
10 Songs That Make Northlanders Happy
Minnesota Musicians Who Have Made An Impact