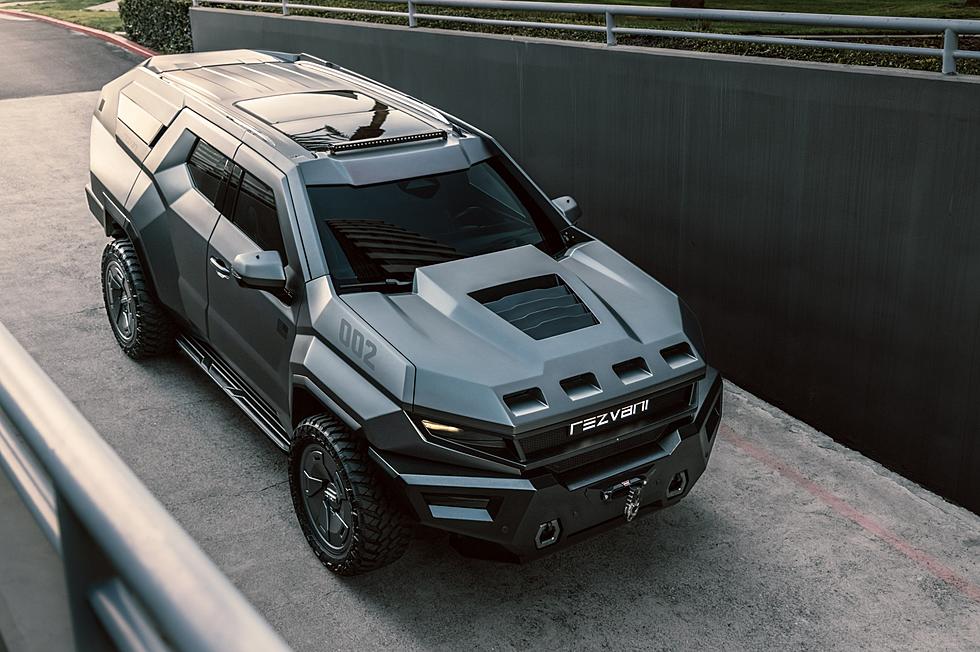 Northland's Most Outrageous SUV is Military Grade, Armor-Plated and Hyper-Expensive
What Apocalypse? Credit: Rezvani Motors
If money is no object, and you want to be able to escape (anything or anyone), you may want to consider checking out the Rezvani Vengeance SUV, arguably the world's most ridiculous, Rambo-worthy SUV this side of the Marines. It's available for civilian use, but you better have a few extra bucks in your bank account.
The Vengeance will safely transport you to Super One Foods, but if you are chased by Chinese spies on the way home there is a good chance you'll be OK. Military-grade, run-flat tires, pepper-spray dispensers on the side mirrors and God forbid anyone try to break into your hyper-SUV with you in it. The doors have deadbolts and the door handles can be electrified, giving any would-be abductor or thief a jolt of 110 volts of electricity.
The Military Package is optional, but if you're preparing for the end of the world and investing in this unique ride you should probably consider everything, including the kitchen sink. Wait, that's the one thing this SUV doesn't have, come to think of it.
Here is my favorite feature: a smoke bomb option to temporarily blind anyone foolish enough to try to chase you home:
According to a glowing review at hotcars.com "The vehicle is also capable of sending out a smoke screen and has surround-view cameras which can ensure that there is no question from the driver as to what is around or approaching the vehicle." Hell yes!
Someone tailgating you on the way home from Betty's Pies? No problem. Just flick a switch and the poor guy in the F-150 crawling up your back bumper will be staring at the sun. But no trip to hockey practice is complete without having the appropriate gear:
Now we're talking - now it's a party! Look, the Rezvani Vengeance isn't for everyone, and reviews have been mixed. According to Insider.com: "Rezvani President and CMO Cynthia Karimi told Insider the usual buyer for the Vengeance is the wealthy apocalypse prepper or celebrity concerned with both flash and safety, who don't want to ride in an "understated" security vehicle — like an armored Lexus, BMW, or Range Rover. However, she said, a significant portion of her buyers are those with larger families who want to be "prepared for anything and everything." OK. Got it. Good to know.
Is it worth the money? If you're hyper-paranoid and you have the money sitting in the bank, this appears to be way more fun than a mutual fund. Creature comforts include a panoramic sunroof, heads-up display, live HD rearview camera, a powerful solar battery for off-grid adventures, a 19-speaker audio system, and an OLED infotainment display. Oh, the Military Package adds about $95,000 to the price of the only vehicle you'll want to be huddled in during the inevitable Zombie Apocalypse.
How much? The Rezvani Vengeance starts at $285,000, but if you load it up with every bell, whistle and armor-plated smoke bomb, you can easily spend $500,000 on your new baby.
Wretched excess? Absolutely! But can you put a price on social media-fueled paranoia?
Apparently Rezvani Motors just did.
10 of the Weirdest Vehicles You Might See on the Highway
These vehicles are just so cool, and you could spot them in New England at any time.