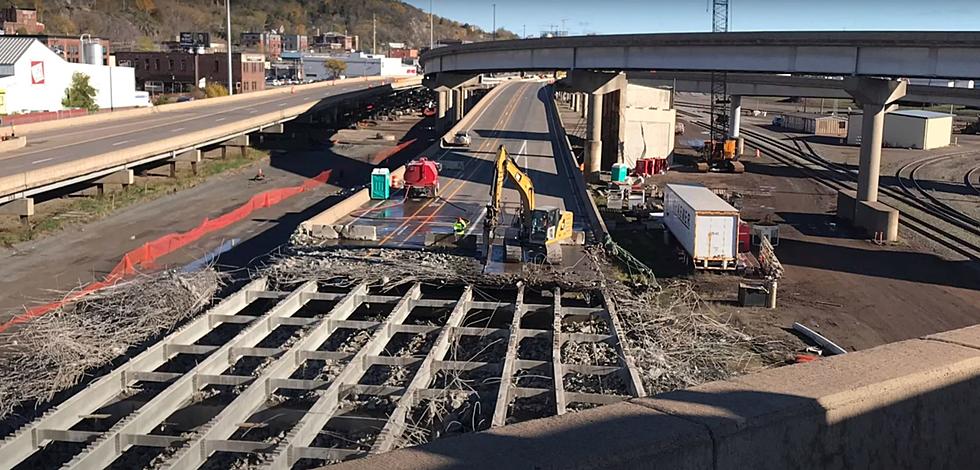 MNDOT Recycles Demo Material From Twin Ports Interchange Project – Watch The Video
MNDOT FB Page
It's perhaps the most-visible road construction site that the Twin Ports has had in years.  As the multi-year Twin Ports Interchange (Can of Worms) project continues even through the winter months, drivers get to "follow along" as their daily commute offers a view into what's going on and the progress being made.
Eventually, a new interchange and interstate highway will take it's place - but for now there's a lot of demolition (demo) work going in.  Work crews from the Minnesota Department of Transportation spend most of the summer and early fall demoing the old Can of Worms bridges, overpasses, and ramps.  As they shifted traffic away from the original "corridor", it's been pretty interesting to watch the whole process.
No way around it, there was a lot of concrete and steel in the highway structure that existed there.  And now that it's been demolished, what happens to it?
Among the many things that the Minnesota Department of Transportation is good at is communication.  With an active website and social media presence, the state transportation agency keeps everyone up to date with details and information.
Recently, MNDOT posted a video that explains what goes on during the demolition process and how the left over materials get recycled for re-use.  Major Projects Engineer Cole Maetzold walks us through the entire process and gives us a look "behind the scenes" that we might not have had.
Watch the video:
One of the main take always is that even though the demo work might seem "random" or disorganized, it really isn't.  There is a method to how MNDOT crews demolish the old bridge work, stack it, haul it, recycle it, and - eventually - re-use it.
10 Reasons You Should Move To Duluth Right Now
Things Every Northlander Needs During Winter
21 Places Every First-Time Tourist Goes To When Visiting The Twin Ports
The Twin Ports is a huge tourist destination and rightfully so! There is so much to see but these 21 places are spots every first-time tourist flocks to no matter what.
LOOK: The top holiday toys from the year you were born
With the holiday spirit in the air, it's the perfect time to dive into the history of iconic holiday gifts. Using national toy archives and data curated by
The Strong
from 1920 to today,
Stacker
searched for products that caught hold of the public zeitgeist through novelty, innovation, kitsch, quirk, or simply great timing, and then rocketed to success.