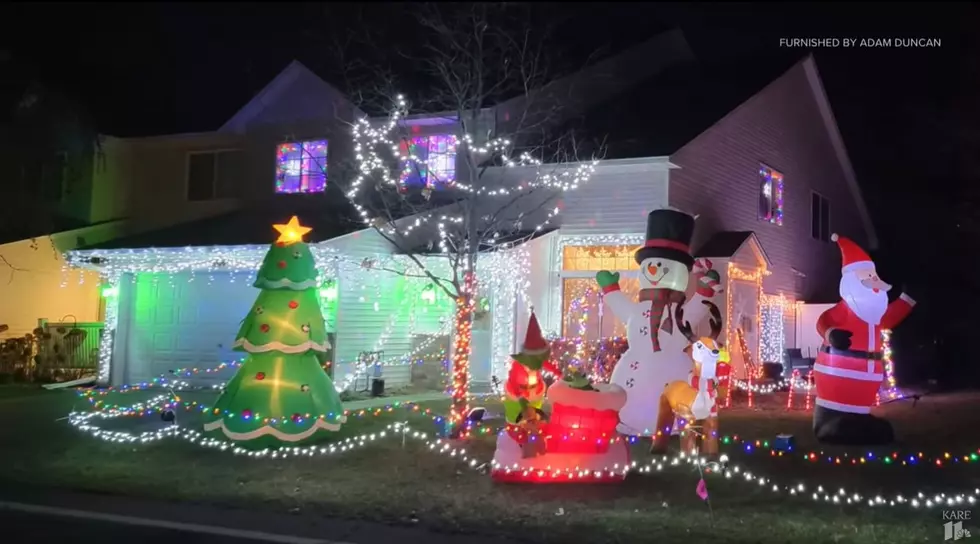 Minnesota Couple Shamed By Grinch Neighbor For Holiday Lights Display
Photo: KARE11 Via YouTube
The holidays are upon us whether you want them to be or not. For some people, they dive head-first into decorations, music, gifts, food, and everything else that goes along with the holidays, but for others, it is a hard time of the year and sometimes it shows.
Adam and Brandi live on a quiet street in Burnsville, Minnesota and every year after Thanksgiving Adam pulls out the Christmas decorations and gets busy decorating their front yard and home. It is something that makes him happy and a tradition he really got into since he got sober by being able to keep busy and do things with his hands. And for Brandi, the lights and decorations remind her of her mom who has passed away.
Between 4p and 9p every day they turn on the lights and inflatables hoping that it makes others feel good about the holidays as well. But, 5 days ago they got a letter in their mailbox. At first, Adam was excited to see the red envelope with the words Happy Holidays written on it, but all that changed once he opened the letter.
It said in very bold print that your decorations are an "eye sore" and to stop it or at least tone it down. Can you believe it? How incredibly rude, I am guessing it is a man that wrote the letter based on the handwriting. Adam said to KARE11
"This is not what I was expecting. I went out to show Brandi, I'm like, 'Can you believe this? I was starting to get teary-eyed because it's something I look forward to every year, and for those in recovery or going through hard times this season, it's huge for someone to find an outlet."
Brandi was hurt as well and shared the letter online and thousands of people responded by writing letters or dropping by with gifts for the family. But even though they were both hurt by this person's comments, they both agreed that they wish they could do something for the person who wrote the letter.
Brandi went on to say: "I also want to get to know your story. See if there is something we can do to accommodate or compromise, you know something like that. Just talk — be a neighbor; be a friend. The world is so unfriendly at times and it takes nothing to be nice and kind."
The couple wanted to thank everyone that has reached out to them with gifts, but ask instead for people to help out a friend or neighbor in need instead. Wow, what an amazing couple to be so kind in light of someone who acted so ugly. This is what the season is truly all about.
The 14 Stages Of Christmas In The Northland
Tips For Decorating Your Christmas Tree