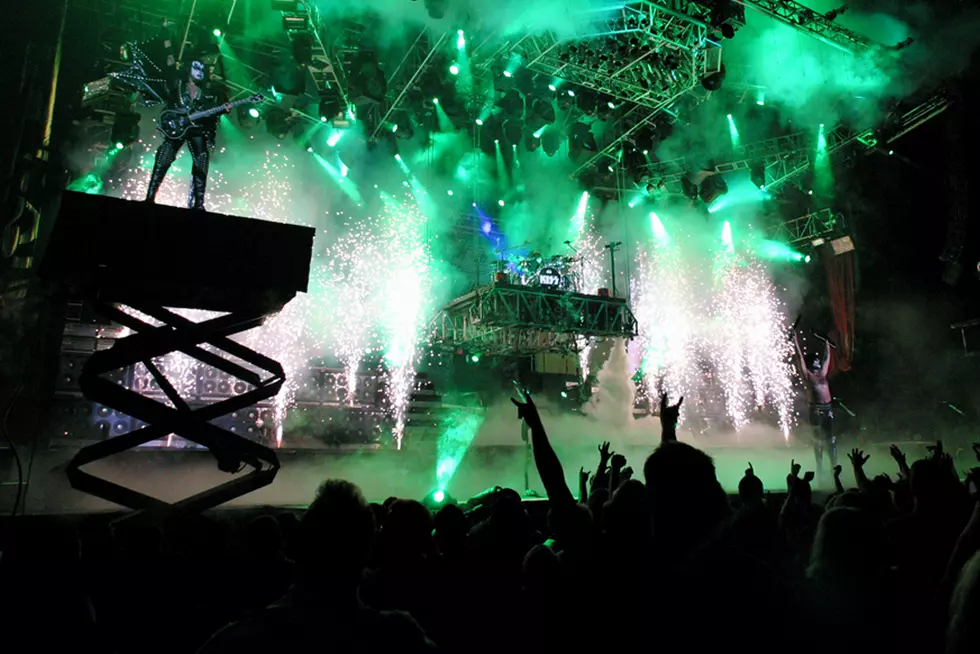 When Kiss Defied a Ban by Shooting All Their Pyro in Just 30 Seconds
Matt Carmichael, Getty Images
Kiss were ordered not to use any of their customary pyrotechnics by the fire marshal of Bremen, Germany, prior to the March 12, 1999 stop of their Psycho Circus world tour.
They almost obeyed that order.
Two songs into the show, after inviting a German translator out onto the stage, frontman Paul Stanley explained to the audience that they wouldn't be getting the typical Kiss visual experience. "We brought all kinds of bombs, explosions, all kinds of smoke. But the fire marshal, the fire department, will not let us do it tonight!"
After the expected chorus of boos rained down, he rallied the crowd by shifting into showman mode: "I want you to know something. They can stop the bombs; they can stop the fire – but they cannot stop Kiss!"
However, judging from the video, it would seem Kiss or someone on their crew either changed their mind or had no intention of following the fire marshal's orders after all. Instead, as the final crescendo of the show-closing "Black Diamond" rang out, every last bit of the pyrotechnics the band had planned on using during the concert were set off in a defiant 30-second blast, to the delight of the audience.
Watch Kiss Shoot Off All Their Pyro
Unconfirmed reports have suggested that the group's punishment ranged anywhere from a fine to a lifelong ban from the city's stages. However rebellious this particular act was, speaking in the wake of the tragic fire that claimed over 100 lives at a Great White concert in Rhode Island two years later, Stanley stressed that Kiss has always put a high priority on safety when it comes to their pyrotechnic displays.
"We certainly do everything possible to make sure that the people most qualified are in charge," he explained. "We are not the people who are most qualified. But we certainly have enough money to make sure that we can ensure, or as much as possible, the safety of people at the show and ourselves."
The ending of the 1999 Bremen concert was probably as close as any Kiss fan has ever come to experiencing the spectacular inner gatefold photograph from the band's 1977 album Alive II in real life. Much like the end of the Bremen concert, the band reportedly set off all of their fireworks, flash pots and flamethrowers at once during a staged photo shoot to create that iconic image.
Kiss Magazine Ads Through the Years
Think You Know Kiss?