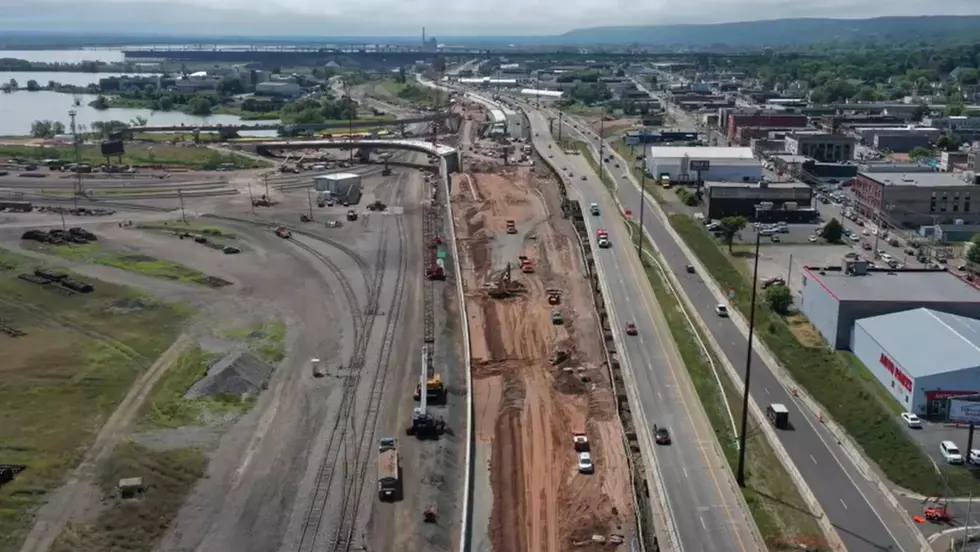 Here's A Duluth Twin Ports Interchange Project Update [VIDEO]
MNDOT
Even though there's a good month or more left on the calendar, the summer road construction season remains in full swing. Work crews with the Minnesota Department of Transportation continue to make significant progress on the open projects throughout the state.  And, that progress is also visible here in the Northland.
As one of the largest projects ever in MNDOT history, the Twin Ports Interchange (Can of Worms) replacement work has a lot of people curious about how it's coming.  Northland drivers have gotten pretty used to the current configuration on I-35 through that work zone - that offers the southbound lanes for northbound traffic, and all southbound traffic currently rerouted off the freeway onto Lower Michigan.
But to borrow the phrase: "how is it really going?"
MNDOT will offer answers to that question during an upcoming public meeting, scheduled for Monday, August 29.  The session will happen virtually, from 12:15 PM to 1:00 PM.  In order to take part, click the link that's offered on the project website and enter in access code 2489 511 9545.  You can also call in via the telephone to 855-282-6330, using the same access code.
Generally speaking, the project is advancing along nicely and seems to be on time, at least when comparing the current state of the work to the posted timeline on the MNDOT website.  If you take a quick glance to the east-side of the work zone while you drive through, some of the footings and retaining walls for the eventual roadway are starting to come into view.
The Minnesota Department of Transportation has also provided an updated drone-view video on their Facebook page.  The video lets you get a birds eye view of how the work is coming along.
Check out the video for yourself:
MNDOT anticipates the current I-35 configuration to remain in place for the remainder of this construction season.  While some of the work and activity might slow a slight bit for the cold, winter months, crews will remain on site throughout the winter season, making progress on the work where they can.
Did you know these celebrities were born in Minnesota?
10 Delicious Snacks With Minnesota Roots
LOOK: 15 Discontinued McDonald's Menu Items