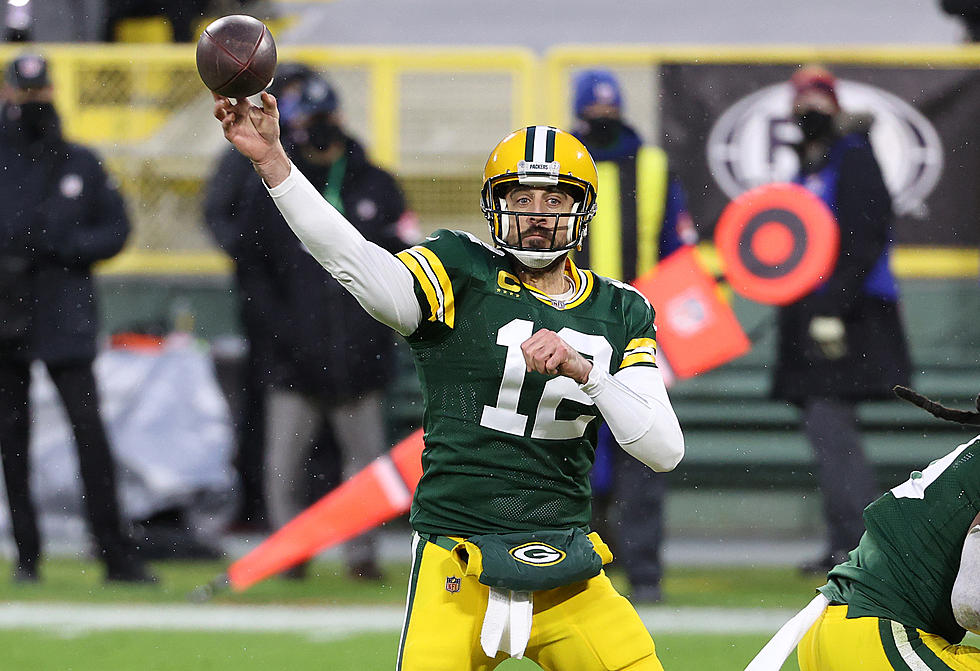 Green Bay Packers Should Not Offer Aaron Rodgers $90 Million Guaranteed
Getty Images
As the Green Bay Packers prepare to begin training camp this week, there is still no resolution to the Aaron Rodgers saga, but there appears to be some clarity on the type of contract the quarterback is seeking.
Multiple sources are reporting Monday that Rodgers is seeking a 2-year contract that would pay him $90 million guaranteed. The $45 million per year that he would make would match the salary of Kansas City Chiefs star quarterback Patrick Mahomes.
While previous reports saying Rodgers turned down a contract that would've made him the highest paid player in the NFL would indicated it wasn't about the money, these reports indicate that it is about the money and, more importantly, how the contract is structured.
As Mike Florio of Pro Football Talk points out below, unless there are guarantees, having a contract with a big number attached to it means nothing. Aaron Rodgers doesn't want the Packers to be able to just cut him loose after the season. By seeking $90 million guaranteed over 2-years, the 37 year-old is making it clear he wants the Packers to commit to him beyond 2021.
The question may not be whether Aaron Rodgers should be paid the same as Patrick Mahomes, it's more if the Green Bay Packers should be the team to pay him with this type of contract. If they do, there's the obvious large financial obligation to one position, but it also means keeping Rodger's heir apparent Jordan Love on the bench for two more years.
You're not going to guarantee Aaron Rodgers $90 million and not have him be your quarterback, plain and simple. Do the Packers really want to commit that much to one person while also putting their future quarterback on ice for two more years?
The Packers have a decision to make and, to me, if they're even thinking about cutting him loose after the 2021 season, they'd be foolish to offer him the kind of contract he's reportedly seeking. It would be in the best interests of the Packers to to trade him now while that option still remains.
The Denver Broncos are one team that has been rumored to want Aaron Rodgers via trade and the Packers should do that this week and don't look back. The Broncos are in the AFC, so they'd get him out of the conference and they'd likely get a nice haul. Perhaps some first-round picks along with quarterback Teddy Bridgewater, who could serve as a mentor to Jordan Love, would do the trick.
However, a story breaking across the NFL Monday now involves Rodgers reworking his 2021 contract so that he would play the upcoming season in Green Bay. What this new deal would mean beyond 2021 remains to be seen, but if it allows him to walk away after this season, the Packers are banking big time on a Super Bowl run in 2021.
TACKLE THESE: Check Out the Best Uniforms In Each NFL Team's History
Professional Athletes Who Once Called Wisconsin Home
Pro Athletes From Wisconsin