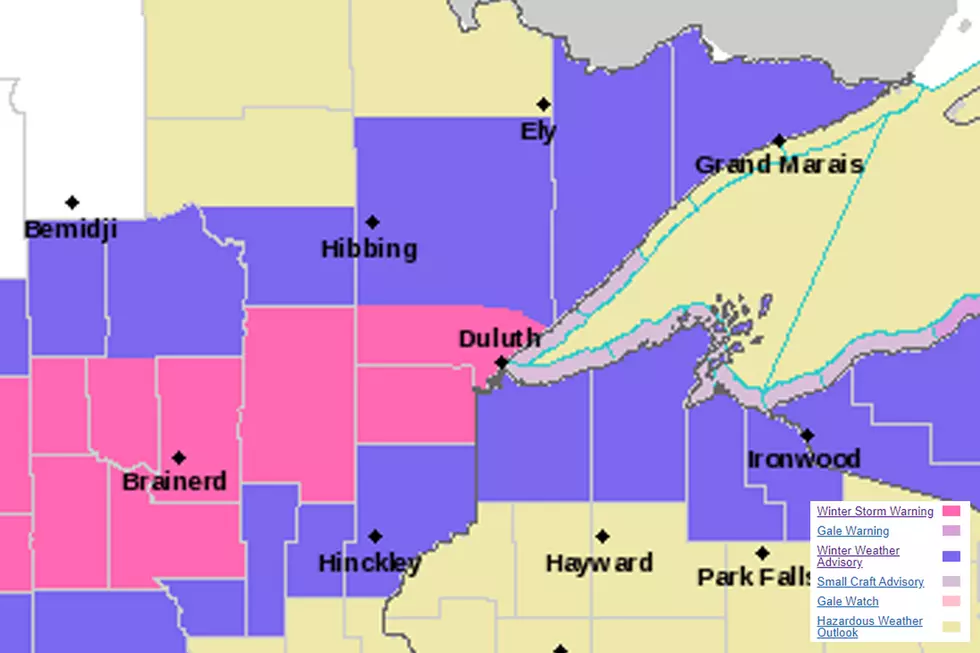 First Winter Storm Warning Of The Season Issued For Duluth Area – Here's What To Expect
Duluth NWS
The winter storm warning, which officially goes into effect at 4:00 am Thursday morning, will remain in effect through 4:00 am Friday. As seen in the image above, it covers the Duluth area, and spans down toward the Brainerd Lakes area.
The warning from the Duluth NWS office explains that there is a potential for a line of snow of accumulations between 6 to 8 inches from the Brainerd Lakes region towards Duluth. While there was initially some uncertainty about snow to areas south of the main line of snow, Wednesday afternoon update from the Duluth NWS says they have greater certainty about snow in areas like Hinckley, Hayward, and places across Northwest Wisconsin. There was initially concerns about mixed precipitation, but there is now greater confidence in snow falling in these areas.
Enter your number to get our free mobile app
There is still some potential for mixed precipitation along the southern edge of the main band of snow, but that area has shifted further south from what was initially expected to be just south of the Twin Ports area.
You will also notice on the map that right along the edge of Lake Superior in areas like Two Harbors and along the South Shore that there is an expectation of lower snowfall amounts. This is because Lake Superior is still pretty warm, leading to a greater likelihood of liquid precipitation right next to the lake. Areas in higher elevations along the lake, however, could see upwards of 8+ inches of snow.
Timing for the arrival of snow has shifted earlier as well. Initially snow was expected in the Twin Ports between 9 am and noon, but that has now shifted to between 6 am and 9 am. Areas like Two Harbors, Silver Bay, parts of the Iron Range, and out toward Ashland and Bayfield can expect to see snow in the late morning hours.
10 Major Winter Weather Events In Northland History