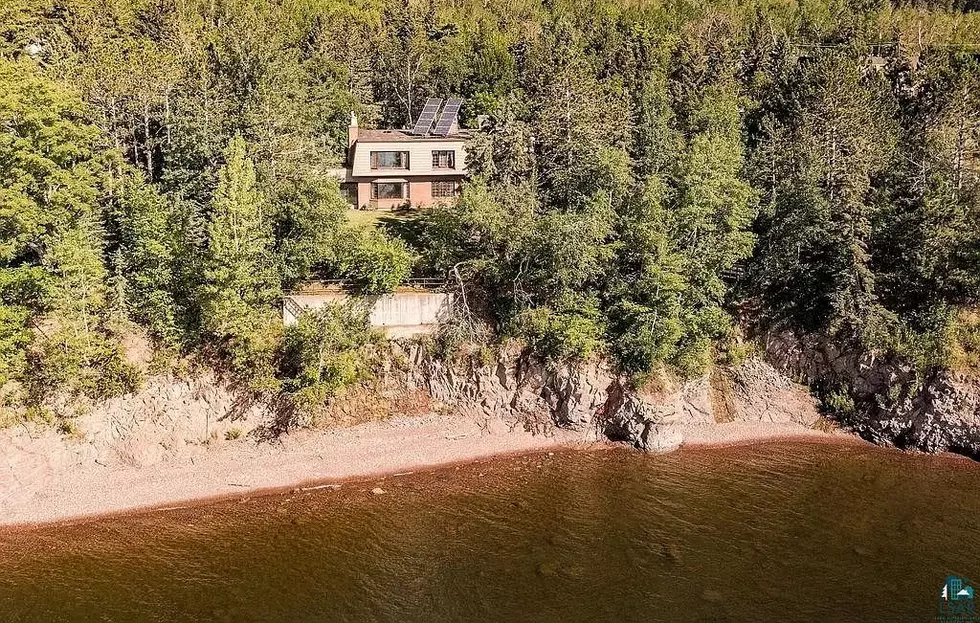 Built By Duluth's Congdon Family, A Historic Lake Superior Home Has Hit the Market
Zillow.com / Listed by: Eric Sams Messina & Associates Real Estate
Owning a home within the city of Duluth that not only features 2 acres, but also 250 feet of Lake Superior shoreline is rare, but that's just what you'll find for sale on London Road in Duluth.
What makes this home, which features both of those things and a lot more, even more rare is that it was built by Duluth's legendary Congdon family.
Take a look at the property, which hit the market at the beginning of August for $1.1 million, and I think you'll agree there's a lot to see.
Built By Duluth's Congdon Family, This Historic Lake Superior Home Has Hit The Market
It's not too often that you have the opportunity to own a "Big Lake" property that is not only situated on 2 acres, but also features 250 feet of "pristine Lake Superior shoreline." But, that is exactly what recently
hit the market
in Duluth. What makes this property even more intriguing is that it was built by the Condon family, a family with a very rich history in the Northland.
Built in 1971, this property is set back from London Road, which allows it to not only feature panoramic views of Lake Superior, but there's plenty of privacy as it's also surrounded by dense woods.
This home totals 6,897 square feet, featuring 5 bedrooms and 7 baths. The 500+ square foot master suite features its own bathroom, fireplace, walk-in closet, attached sitting area, and an amazing Lake Superior view.
There's also a 400+ square foot kitchen that features St. Charles cabinetry and a breakfast nook.
Multiple fireplaces, floor-to-ceiling windows, a formal dining room, a huge rec room, a 6-car garage, the list of amenities goes on and on.
Take a look through this property, which hit the market in August, 2022, for $1.1 million.
Sold! Iconic Mansion-Like Duluth Home Originally Listed for $999,500
The Congdon area of Duluth is full of rich history and iconic homes that are a reminder of Northland's past. While it's always fun to drive through the area and look at these mansion-like homes, it's not often they hit the market.
However, one such home did become available early 2022, originally hitting the market for with a listing price of $999,500.
This brick Congdon Estate, located at 2627 E. 7th Street in Duluth, was built in 1917 and totals 6,645 square feet. It features 5 bedroom and 5 baths.
Once you walk onto the restored concrete front porch and into the home, you'll love the hardwood floors, natural woodwork, oversized fireplace that sits in an immense living room, and the Master Suite with its own gas fireplace and a brick sun porch.
There's also a sunroom, formal dining room and an amazing kitchen which comes complete with commercial appliances and a full, original butler pantry/room.
The list of unique and gorgeous features goes on and on. Did I mention the home sits on a nice, big double lot complete with 3-car garage?
I'm sure the new owners are loving it now! The new owners closed on the home on June 17, 2022 and they got a good deal when compared to the original listing price.
Care to guess what the sale price was? Take a look through the home, the sale price is shown on the last picture. Hint: They got a nice deal.
June 2012 Flood Aftermath
A photo tour of some of the flood damage around the Twin Ports area after the June 19-20, 2012 flood.