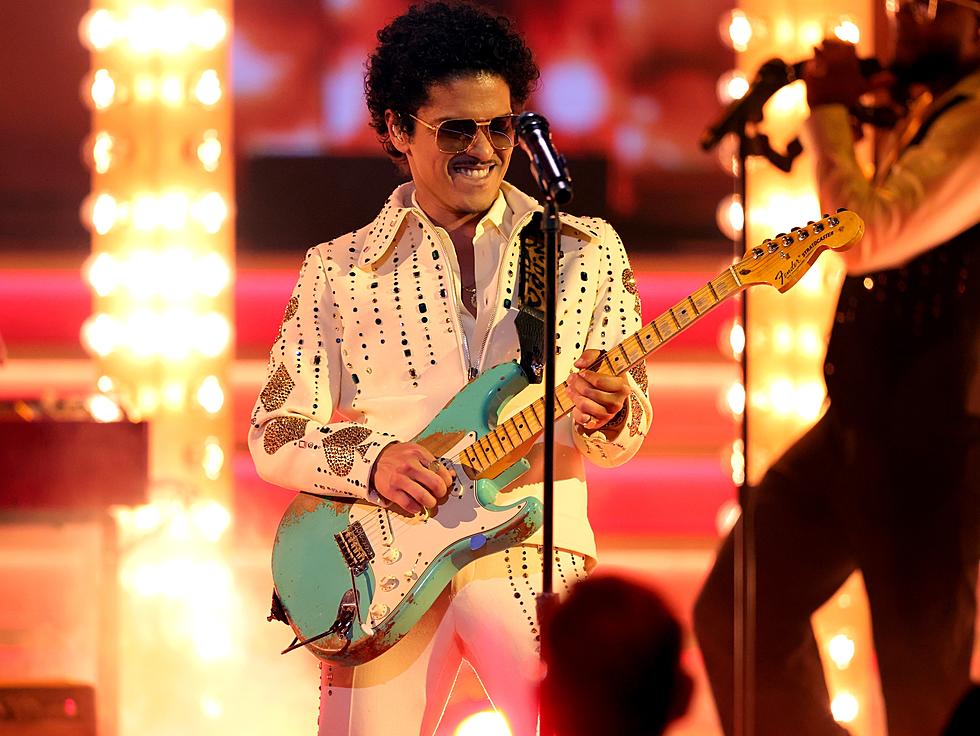 Bruno Mars Cancels Tel Aviv Concert, Evacuating Israel Without Band Equipment
A close call for Bruno Mars and his band. Bruno Mars of Silk Sonic performs onstage during the 64th Annual GRAMMY Awards at MGM Grand Garden Arena on April 03, 2022 in Las Vegas, Nevada. (Photo by Rich Fury/Getty Images for The Recording Academy)
We all make plans and sometimes life (and tragedy) gets in the way. Award-winning performer Bruno Mars, who's real name is Peter Gene Hernandez, is safe after a harrowing, last-minute evacuation from Tel Aviv, Israel on Saturday.
Mars was swept up in the tragedy unfolding in the Middle East. According to Billboard, Bruno Mars was set to become the third American artist ever to perform two sold out concerts at the 70,000-capacity HaYarkon Park in Tel Aviv, Israel — following Madonna in 2009 and Michael Jackson in 1993. He played a successful concern last Wednesday and was set to perform Saturday, until news got out of a massive Hamas-led terrorist attack on Israel with thousands of rockets launched toward Tel Aviv and other cities across the country.
After Israeli prime minister Benjamin Netanyahu issued a declaration of war the decision was made to cancel the scheduled concert in Tel Aviv and fly to Athens, Greece. Things happened so quickly that Mars reportedly left his band equipment behind in Israel.
Billboard reports that Mars was supposed to travel to Doha (the capital of Qatar, also in the Middle East) for his next performance, but he was reportedly unable to pack up and transport his production gear out of Israel in time.
Mars and his 60-person band are safe, but the sudden, last-minute concert cancellation represents a symbolic setback for Israel's touring business, where performing artists have faced backlash for performing in recent years.
So far this year the country hosted a number of top tier Western acts including Imagine Dragons, Tiesto, Ozuna, Christina Aguilera, the Black Keys and Guns N' Roses, but with war raging, future concert dates in Israel and elsewhere across the Middle East are now in serious doubt.
Israel is now in survival-model as war spreads to the border with Lebanon. And for Mars and many others who managed to escape the growing carnage, it was a poignant painful and reminder that peace is always hanging by a thread.
Music's Worst Concert Accidents and Tragedies
The possibility for danger always lurks whenever large groups of people get together, and that's especially true at concerts and festivals.
Gallery Credit: UCR Staff