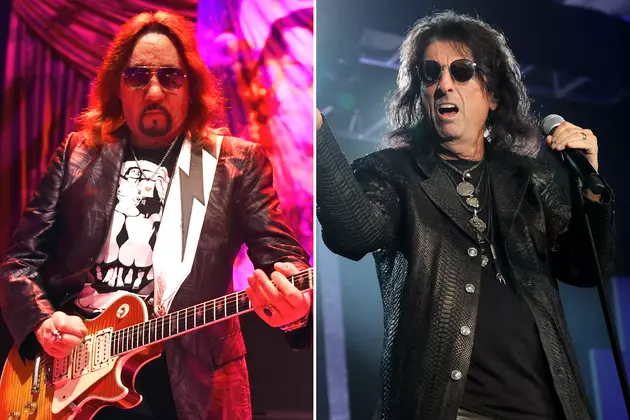 Ace Frehley Plans Tour With Alice Cooper
Ethan Miller / Adam Bettcher, Getty Images
Ace Frehley said he was planning to tour with Alice Cooper during the second half of 2019, though he wasn't ready to supply full details.
The former Kiss guitarist recently fired his solo band in favor of the musicians used by Gene Simmons, but he didn't confirm whether that lineup would be hitting the road together.
"I have two shows coming up in January on the West Coast," Frehley told SiriusXM's Trunk Nation. "We're doing Seattle, Sacramento, and they might even add some shows and bring us all the way down to San Diego. And then I think I might be doing some tour dates with Alice Cooper in the summer. My guys get along with their guys, and I've known Alice forever. So that's always gonna be a lot of fun. I think they're talking about July and August – it'll be five weeks. So that can be a really special thing."
You can listen to the interview below.
Even though it appears Frehley won't take part in the upcoming Kiss farewell tour, he said he was making arrangements just in case the situation arose. "There's always a chance I might get that emergency phone call," he said. "I told my agent to built into my contract, in the event I do get an emergency phone call and Kiss wants me to join the tour and take over for Tommy [Thayer], that I can get out of the dates that I've booked for the summer."
He added he had "no plans" to join the tour, and that he hadn't received any communication about the possibility.