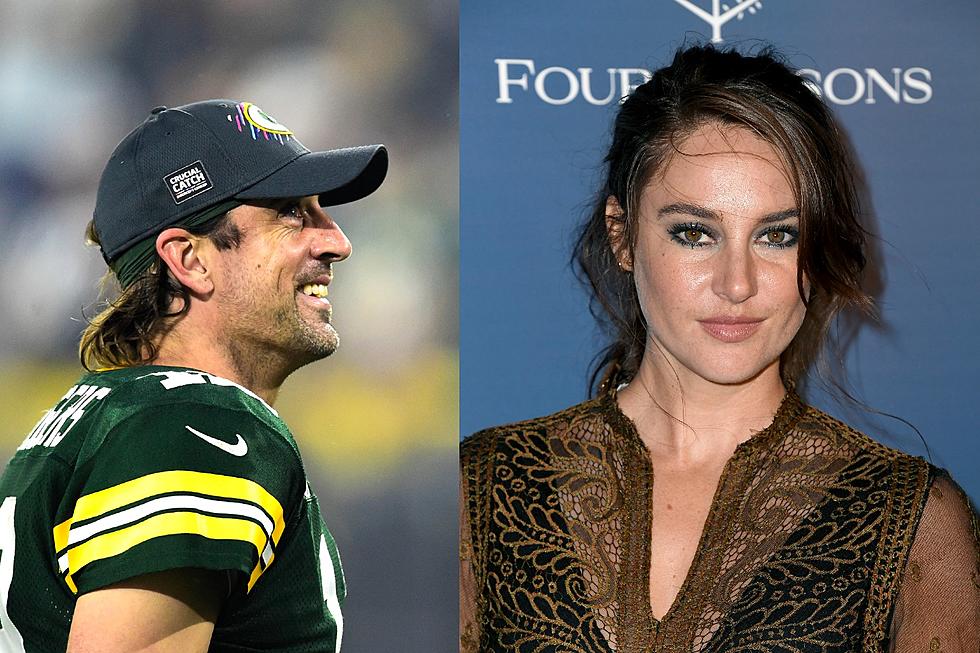 Aaron Rodgers, Shailene Woodley Spotted Together Again
Patrick McDermott, Frazer Harrison / Getty Images
The love story may not be over for these two lovebirds just yet or maybe it was never over at all. Aaron Rodgers and Shailene Woodley are back in the headlines and this time, it isn't for their breakup.
In February, news outlets reported that the fast-moving duo had broken up. According to reports at the time, Rodgers put his football career ahead of Woodley and she felt neglected in the relationship.
Insiders also claimed at the time that the football star was too independent to get married and that he got cold feet when it came time to actually put his money where his mouth is. Neither of the duo has commented on the relationship or the breakup directly.
The news might not have shocked too many people, as the duo fell in love and got engaged quickly and without anyone knowing. In fact, by the time that Rodgers announced he was engaged on live television, news that the duo were dating was only out for a few days.
However, once the news was out there, the two went on a tour of love, blasting their love all over the place for everyone to see. They often took videos and photos of each other and put them on social media and even did their first official interview together while on vacation.
She even defended Rodgers online, shading the Green Bay Packers on her Twitter account, and stuck by his side while he battled it out with the team very publicly. Of course, we can't forget about his stint as the host of Jeopardy! He made it clear he wanted the gig and Woodley supported the idea, even though it would mean even more days away from each other.
They made their love known for everyone to see and now, it looks like the love might not be totally lost. Neither has commented on their relationship status but the writing may be on the wall with this one.
Evidence Part One: The Instagram Post
Who said love is dead? After news broke of the called-off engagement, the football star took to Instagram and wrote some sweet words about his almost-wife. Along with his post, he shared a snuggly photo of the two of them snuggling on the couch. He had very sweet things to say, thanking her for always having his back and saying he loves her and is grateful for her.
He also may have caused a few to shed a tear, thanking the actress for letting him "chase her" when their relationship started and giving him a chance. He also thanked her for letting him be a part of her life. This doesn't sound like a breakup to me.
Evidence Part Two: The Paparazzi Photos
These photos don't lie. An eagle-eyed individual snapped a photo of the former lovebirds out in public after news of their breakup made the rounds. They were spotted eating at a local eatery in Los Angeles. The two were masked up and there was no PDA but why get lunch together after breaking up so soon?
Evidence Part Three: The Laugh
This laugh doesn't lie. Aaron Rodgers was a guest on the Pat McAfee show and did the interview virtually rather than in person. Throughout the pandemic, this has become the new normal which means we all know what we are doing by now. It also means we know to tell people to be quiet, especially if you are in a high-profile romance you want to keep quiet.
The host calls him out and says that he can hear the woman laughing in the background. Rodgers grins and says that it is the television. Yeah, right. You can watch the clip on Twitter, which has quickly gone viral.
There you have it. All of the signs are pointing to either a reconciliation or a fault in the tabloids! We will have to wait and see what other evidence pops up this month.
NFL Players With Famous Current And Former Wives And Girlfriends
Romantic Places In Duluth & Superior
Looking for a picturesque date? Maybe somewhere for to pop the question? Duluth & Superior have you covered. Here's the most romantic places in the Northland!
6 Best Green Bay Packers Quarterbacks