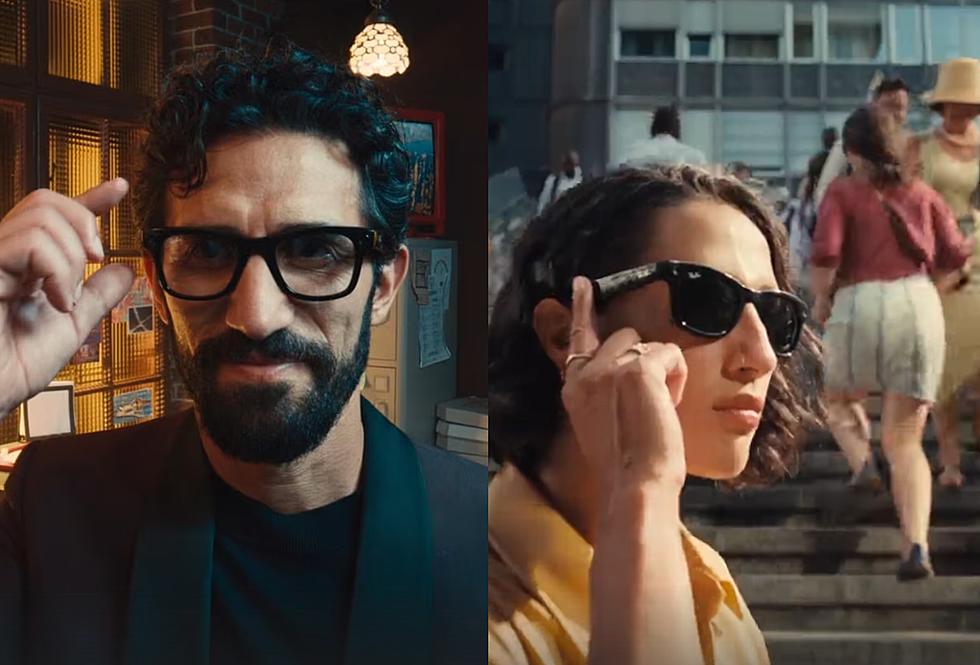 A New Way To Stay Connected: These AI-Powered Smart Sunglasses Stream Live Video
Smile! I'm streaming everything. Courtesy: Meta
It's 2023 and I'm still waiting for my flying car or a robotic handyman that can do all the things I don't want to do. In the meantime I'll have to be content with "smart sunglasses" powered by AI, capable of recording photos, videos, even live streaming.
Welcome to Ray-Ban Meta Smart Glasses, which doesn't exactly roll off the tongue, but the capabilities are intriguing. According to PC Magazine a built-in 12MP camera and the ability to record videos up to 1 minute at 1080p.
In addition, you'll be able to do hands-free live streaming for up to 30 minutes at a time, with a capture LED that "lets others know when you're capturing content or going live," Meta says. For live-streaming, you'll need a 5G cellular connection or strong Wi-Fi. So people nearby will know when you're streaming. Uh huh. What can go wrong there?
According to Meta: "You can now livestream from the glasses to Facebook or Instagram, and use "Hey Meta" to engage with Meta AI, our advanced conversational assistant, just by using your voice."
Did I mention you don't have to fumble with your smartphone when you're making a call? Meta explains: "We have all-new custom designed speakers with extended bass, higher maximum volume, and improved directional audio that provides reduced audio leakage for improved calls, music, and podcasts — even in noisy or windy environments. You can use your voice to make calls and send messages on WhatsApp, Messenger and SMS, completely hands-free." Just make sure you download the app first.
Wait, I can listen to KOOL101.7 on my fancy sunglasses? Who knew?
But wait, there's more. Meta is incorporating artificial intelligence, so by saying "Hey Meta" you can ask questions and get real-time answers, in English, French or Italian. Not sure what you're staring at or how to get home? Just ask your sunglasses. OK, sounds pretty cool. What's the downside - are these crazy expensive?
Once upon a time Google Glass had promise, but it flopped in the marketplace. Battery life was too short and they retailed for a whopping $1500.
The price-point has come way down. According to PC Magazine: "Preorders for both are available at Meta's shop or Ray-Ban's website for $299.99, the same price as the previous generation. They can also be fitted with prescription lenses as needed. Orders should start shipping Oct. 23."
The shades come in 150 different styles and colors and are waterproof in a light rain. Note to self: no live streaming during a flood. But for $299 I can almost imagine myself using these, especially on a trip and on a sunny day when I don't look too creepy wearing sunglasses.
Would you consider these? Maybe wait for more reviews to come in? I'm keeping an open mind. Look, you can easily blow a few hundred bucks on regular, generic Ray-Ban sunglasses, but the ability to make hands-free calls, record video, stream and ask questions (in Italian?)
Connected watches are so 2014. Smart sunglasses are the next big thing.
Or are they? Stay tuned.
50 Reasons Why Facebook is Annoying
You might get annoyed by Facebook, but did you check Facebook today? For most people, that answer is "Yes". I asked around though to see if people love Facebook or get annoyed by it more and the resounding answer from people in Minnesota was "ANNOYING" and here are 50 reasons why.
Gallery Credit: Jessica Williams