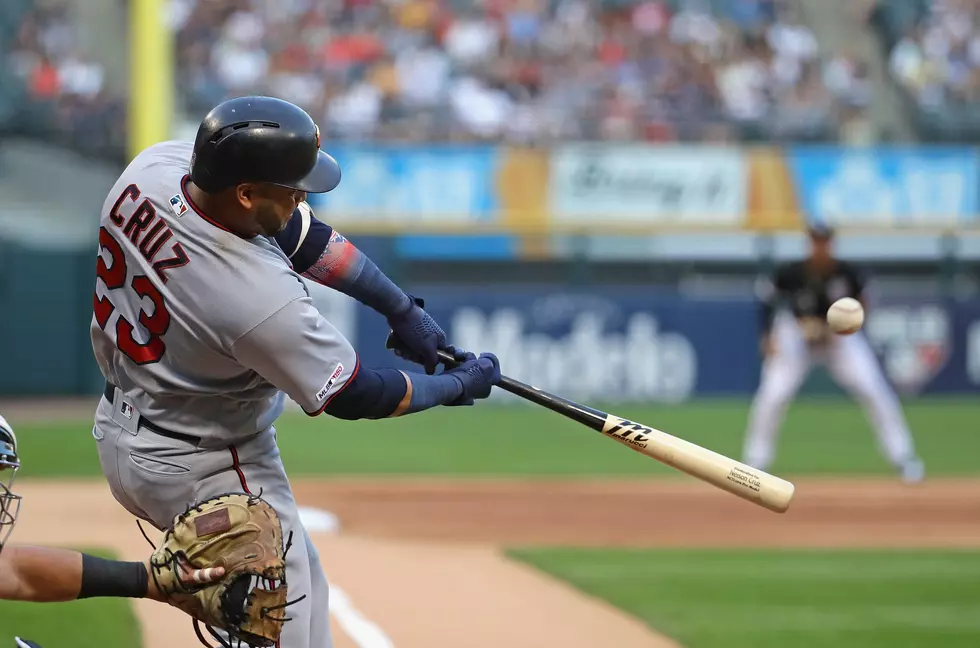 Nelson Cruz Twins Nominee For Roberto Clemente Award
(Photo by Jonathan Daniel/Getty Images)
MLB.com says the Roberto Clemente Award goes annually to the Major League player who represents the game with honor and character, with community involvement, philanthropy, while also having a positive attitude while on and off the field. Each Baseball club nominates a player from the team they think has all the attributes to win.
The award is named after Roberto Clemente because he was a person who loved the game and pays honor as a humanitarian and all the achievements he had as part of his career and away from the baseball diamond. MLB has a Roberto Clemente day on September 9th. They put Clemente's picture on the bases. They also honor their nominees. Since the Twins won't play on that day they will honor Cruz on it's September 11th game.
MSN says Cruz is not a stranger to being honored. He is well respected in the sports community after winning the 2020 Muhammad Ali Sports Humanitarian Award. According to stats from the Minnesota Twins, he is a 6 time all-star among other awards.  Last year he won the Carl R. Pohlad Award for Community service.
Enter your number to get our free mobile app
Minnesota CBS local is saying Cruz has been fighting for equal rights and empowering people since before his playing days in the Dominican Republic. He speaks on social vulnerability and using sports to educate and help kids reach their full potential and learning leadership skills. He has also led efforts to deliver good to the poor parts of the Dominican Republic and other parts of America during the pandemic.
According to MLB.com Here are some of his accomplishments:
Assisting his hometown of Las Matas De Santa Cruz by donating a fire engine and an ambulance to treat and transport people to the closest hospital, which is one hour away. He also built a new police station and donated a motorcycle for the city's police officers, who previously had to walk.
Annually bringing dentists, optometrists and other volunteer doctors, along with donated equipment and medicine, to his hometown clinic, providing checkups, medicine and eyewear.
Purchasing wheelchairs, crutches, walkers and canes for elderly and disabled residents of his hometown.
Leading his Boomstick 23 Foundation in establishing a new education and technical center to help the youth of Las Matas De Santa Cruz advance their employability by completing their high school education online, learning different trades such as carpentry/electrical, and how better to use farmland to produce crops.
Assisting the Healing Venezuela initiative, which helps 2,000 Venezuelan newborns annually receive life-sustaining nourishment during their first year (a 400% increase since Cruz's involvement).
Raising funds through the Big League Impact ALL WIN campaign in 2019, impacting the Education Center in the Monte Cristi province, Dominican Republic.
Engaging with Twin Cities area youth, including hosting a vitilla clinic with Twins RBI All-Stars in 2019.
Providing food and financial support to nearly 1,200 Las Matas De Santa Cruz families during the COVID-19 pandemic, providing the resources necessary for them to comply with stay at home orders.
Leading the delivery of a $400,000 donation from Major League Baseball, the Major League Baseball Players Association (MLBPA) and the MLBPA Players Trust Returning Home program to the Dominican Republic, which provided medical equipment and helped to battle food insecurity in the wake of the COVID-19 crisis.
Beginning today, fans can vote for the Roberto Clemente Award where you can read about each nominee and vote every day until  Sunday, September 27.
2021 Minnesota Twins Schedule Highlights