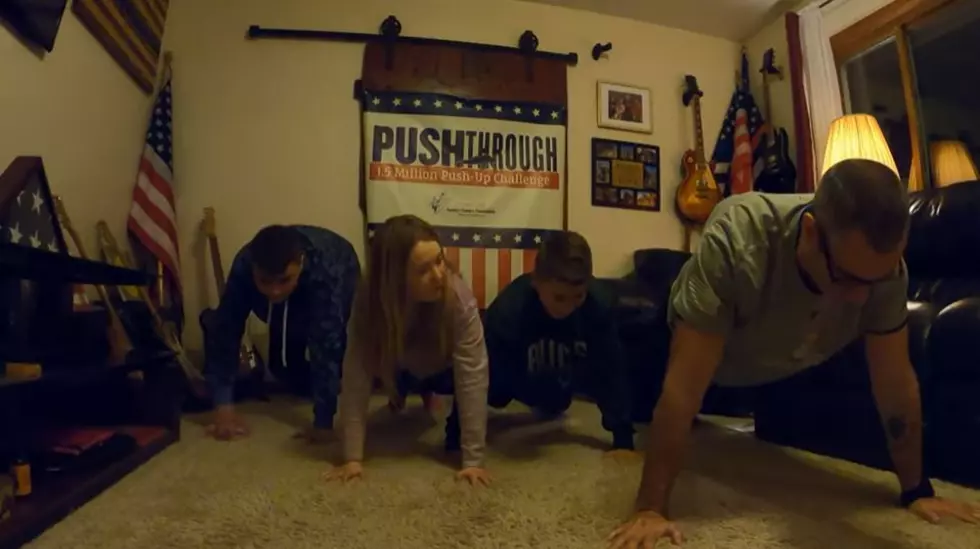 Wisconsin Dad is Attempting Over 1.5 Million Push-Ups to Beat World Record
Nathaniel Carroll via YouTube
A Wisconsin dad is attempting to beat a pretty crazy world record that hasn't been broken in 31 years. Nate Carroll is trying to beat the record number of push-ups done in one year. The current record is 1,500,230, which means Nate needs to do at least 4,111 push-ups every day!
Let's do the math. So he needs to do 4,111 push-ups every day. Let's say it takes 2 seconds to do a push-up. That's 8,222 seconds of your day, which is a little over 137 minutes, or about 2 hours and 17 minutes, that you need to be doing push-ups. My arms hurt just thinking about it.
He spoke with local TV station WFRV about his push-up challenge and he said, "'[It] impacts every decision I make every day, from the moment the alarm goes off at 3:30 a.m. until I call it a night, this challenge lives in my mind.'"
Nate took on this challenge on June 14th of last year, but he isn't doing it just for himself. He's also doing it to help raise money for the Tunnel to Towers Foundation's Fallen First Responder Home Program.
Recently, Nate hit a big mile marker in his quest to beat the push-up world record: he did his one-millionth push-up! That means that between now and June 14th he needs to do at least 500,231 push-ups.
Check out a video from Nate's YouTube channel of when he reached his one-millionth push-up:
Let's keep the good stories going! Keep scrolling to check out the 20 best good news stories of 2021 so far.
20 of the Best Good News Stories of 2021
Lots of good is happening in our world, even as we are all in the middle of a pandemic. If you are searching for some positivity right now, you came to the right spot. Here are the top 20 good news stories for 2021 so far.