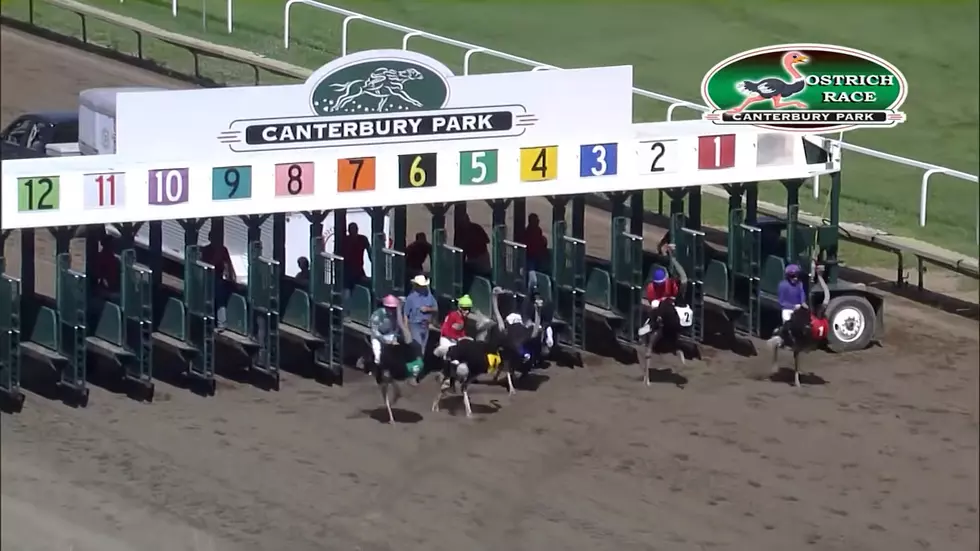 Watch The Unusual Sport Of Ostrich Racing, Camel Racing And More In Minnesota
Canterbury Park via YouTube
Every year, Canterbury Park in Minnesota holds 'Extreme Race Day' which includes racing ostriches, camels, and more.
Canterbury Park is a horse track located in Shakopee, Minnesota. The racetrack park also holds a card club, where poker tournaments and more are held. They also run many events throughout the year, live racing also returns on May 18th, 2022.  With live racing returning this year, also brings back other special events including:  Extreme Day, Unicorn & Llamas races and the Bulldog, Corgi, Basset Hound & Wiener dog races.
Honestly, the 'Extreme Day' caught my eye. What exactly is it? The last time it happened was back in 2018, before Covid. Here were the races on 'Extreme Day' for 2018:
CAMELBURY DERBY
Although rare in the U.S., Camel racing is actually pretty popular in Western Asia, North Africa, Pakistan, Mongolia and Australia. Very similar to horse racing, it's an event for betting and tourist attraction. However, camels are odiferous, tall and difficult to manage at times.
---
BATTLE OF THE SURFACES
Many know this name from the epic 2007 tennis match between between the top-ranked men's singles player, Roger Federer and the number 2 ranked player, Rafael Nadal. Nadal ended up winning the match in the capital city of his home island, but this race isn't about tennis. Good ole turf versus dirt in this matchup. According to Canterbury Park, they said this about the race: "No sense in looking at what doesn't concern you, that over which you have no control".
---
DON'T LAY AN EGG DASH
Ostrich's are a very unique bird and happen to be very fast. This unusual sport of was born in South Africa and is still practiced today as a tourist activity in a few locations worldwide. It's also pretty funny watching the jocks trying to stay on.
---
  ZOOMING ZEBRAS
Who remembers the 2005 movie 'Racing Stripes' where a baby zebra gets separated from a traveling circus in a small Kentucky town and becomes a race horse. It's sort of like that except the zebra isn't voiced by 'Malcolm In The Middle' and there aren't any flies voiced by Steve Harvey and David Spade.
What an interesting idea for a race day and apparently it's pretty popular. Check out a video of all the races from 'Extreme Day' below:
Coincidentally, there was an action video game released in 1982 called 'Joust'. The game actually popularized a two-player cooperative game. You would think, given the name, the two players would be riding horses. Of course the video game had to bring something different to the table.  Player 1 rides an ostrich, where player 2 rides a stork. The objective is to defeat the groups of enemy knights riding buzzards in each wave, check out the game play below:
15 "Anti-Minnesota Nice" Nicknames For Towns
Believe It Or Not, This Modern $5 Million Home is For Sale in Bovey, MN
Located between Grand Rapids and Hibbing is this very modern, very expensive, and very stunning home surrounded by beautiful forest and plenty of shoreline to enjoy. All I can say is, WOW!