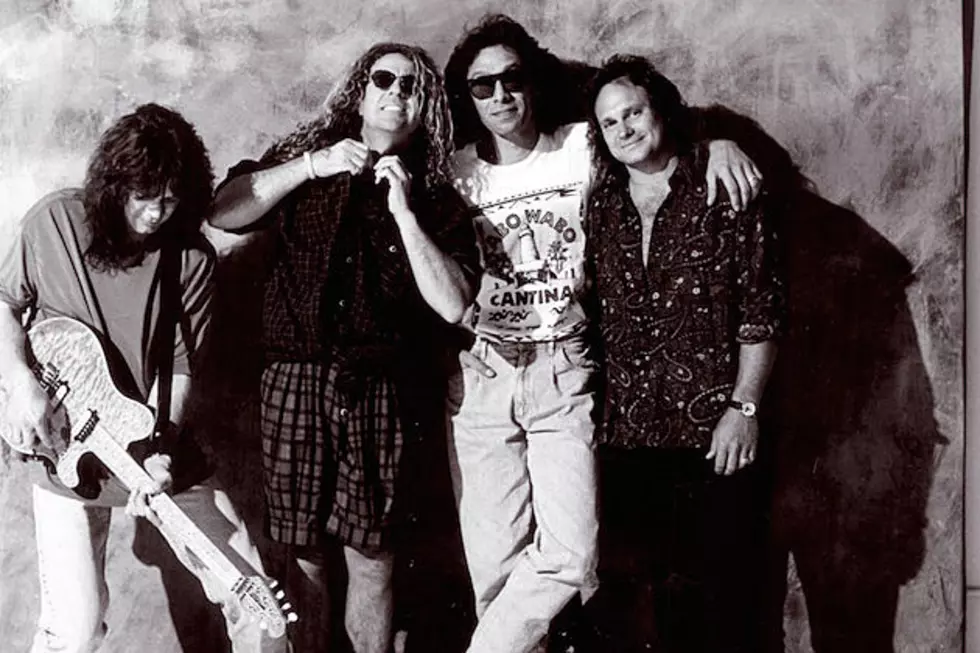 When Van Halen Mounted a Disastrous Reunion With Sammy Hagar
Warner Bros.
Rather than signal a triumphant second act for the most commercially successful Van Halen line up, however, this 2004 tour marked a ugly end – even as it pointed the way for what would come next, both for Van Halen and for Hagar.
"What happened on that reunion tour in '04," Hagar told Sally Steele eight years later, "was some of the most miserable, back-stabbing dark crap I've ever been involved with my whole life."
What the public didn't see, Hagar says, was how badly things had turned for Eddie Van Halen behind the scenes in the interim. Hagar says that Van Halen, then in the throes of addiction, was in such a bedraggled state that it shocked him.
The legendary guitarist, Hagar wrote in his memoir Red: My Uncensored Life in Rock, was unkempt, hunched over, frighteningly skinny, drinking wine straight out of a bottle, missing part of his tongue (after a cancer scare) and several teeth. As his descent continued, Hagar says their relationship was irretrievably broken.
Watch Van Halen Perform 'It's About Time' in 2004
The initial – and quite unlikely – detente began with a phone call to Alex Van Halen, Eddie's sibling drummer. "I've been saying this for 100 years: 'I'm going to give Alex a call one of these days,'" Hagar told Fox in 2004, and finally – while vacationing at a Southern California beach resort with his family – he did. "It was like a complete love fest," Hagar said. "It was just, 'Wow, I really miss this friendship.'"
Emboldened, Hagar stopped by Eddie's 5150 studios next on a social call, simply to chat. Soon, despite Van Halen's condition, they were jamming together for the first time since an acrimonious '96 split that seemed to spell the end to a productive collaboration which once catapulted Van Halen to its first-ever chart topping album – and then three more in a row. Next came talk of recording again and Hagar did, in fact, help contribute a trio of new songs for their 2004 greatest-hits compilation The Best of Both Worlds – a project that would debut at No. 3 on the Billboard charts.
Then came the announcement of a tour, which kicked off on June 11, 2004, at Greensboro, N.C. "Ed and Al started playing me some music they had been working on, and it was just extremely inspiring," Hagar told the Minneapolis-St. Paul Star Tribune that summer. "We said, 'Here's what we're gonna do: We're going to pretend like it never happened. We're gonna rise above it.'"
It didn't work out that way. In fact, an issue erupted even before that first show, with an argument over who would play bass. Eddie and Alex no longer wanted to work with fellow co-founder Michael Anthony. It seems the Van Halens hadn't taken kindly to the fact that Anthony stayed friends with, and even performed with, Hagar following his initial departure from the band.
Watch Van Halen Perform 'Panama' in 2004
Hagar, however, said there would be no reunion without Anthony. The logjam was broken when Anthony reportedly agreed to a brutal series of demands – including a pay cut, and signing away his portion of the rights to the Van Halen name and logo.
"When we did the 2004 reunion, Eddie didn't even want me to be a part of that because he was so torqued up that I was buddies with Sammy," Anthony recalled in 2009. "Why can't I be buddies with Sammy and still play with Van Halen? With those guys, it was a cut-and-dried situation. You are in or you are out."
The resulting tour would, in fact, be a huge financial success, grossing $54.3 million according to Pollstar. Still, by the end of it, things had been torn forever between the two factions. "I don't get along with Eddie anymore," Hagar told Billboard afterward, "and that's all there is to it."
By all accounts, Anthony and Hagar barely spoke to Eddie Van Halen, on or off stage. Hagar, in his autobiography, says they had different jets, different hotels, different limos, different security details. Meanwhile, Hagar says Eddie's health was continuing to deteriorate. Even Van Halen's accounts of the concerts were odd. "I would just show up for sound check," he said in a rambling 2004 interview, "and I go, 'Hmm, why do extra laundry? So, I would just wear whatever I'm wearing, then take my shirt off and play."
Hagar says the guitarist collapsed more than once backstage. Rumors of arguments that nearly led to blows proliferated. "There were nights where it was kind of like a rollercoaster, up or down," Anthony remembered a few years later, "and myself, I would have liked to have seen him totally clean up if we were gonna take this further."
Watch Eddie Van Halen Smash His Guitar
Forty shows in, Hagar says he tried to quit. Only the threat of a lawsuit changed his mind. With 17 shows left, Hagar admitted to listeners on KSHE in St. Louis that he preferred working with his solo group, even as the tour lurched toward a predictably disastrous conclusion at its final stop in Tucson on Nov. 19, 2004.
"It was," Hagar says in Red, "the worst show we'd ever done in our lives. Eddie played so bad." Everything ended as Van Halen smashed his guitar to bits in a fit of sudden rage, sending pieces of it into the crowd. "You don't understand," a crying reportedly Eddie said to the crowd.
Hagar says he's never spoken to either of the Van Halen brothers since that night. "I was just hoping it was going to be great and everybody was going to be happy and a big love fest and just go at it again," Hagar told NBC in 2011, "but it wasn't that at all. It was the complete opposite."
From the ashes of this awful mishap, however, emerged both a reworked edition of Van Halen and a new band featuring Hagar and Anthony. Eddie's son Wolfgang had joined him onstage playing rhythm guitar during "316," an instrumental dedicated to the youngster from 1991's For Unlawful Carnal Knowledge. Wolfgang would eventually replace Anthony in Van Halen, beginning in 2006. Two years after that, Hagar and Anthony formed Chickenfoot with Joe Satriani and Chad Smith.
"Obviously Mike and I are dearest friends on the planet, but Ed and I ... he turned on me," Hagar said in 2012. "It was a horrible, horrible ending to a beautiful, beautiful story, and I'm still disappointed that they have not reached out to be friends -- especially Alex, because Alex and I didn't have a problem."
The Top 100 Rock Albums of the '80s