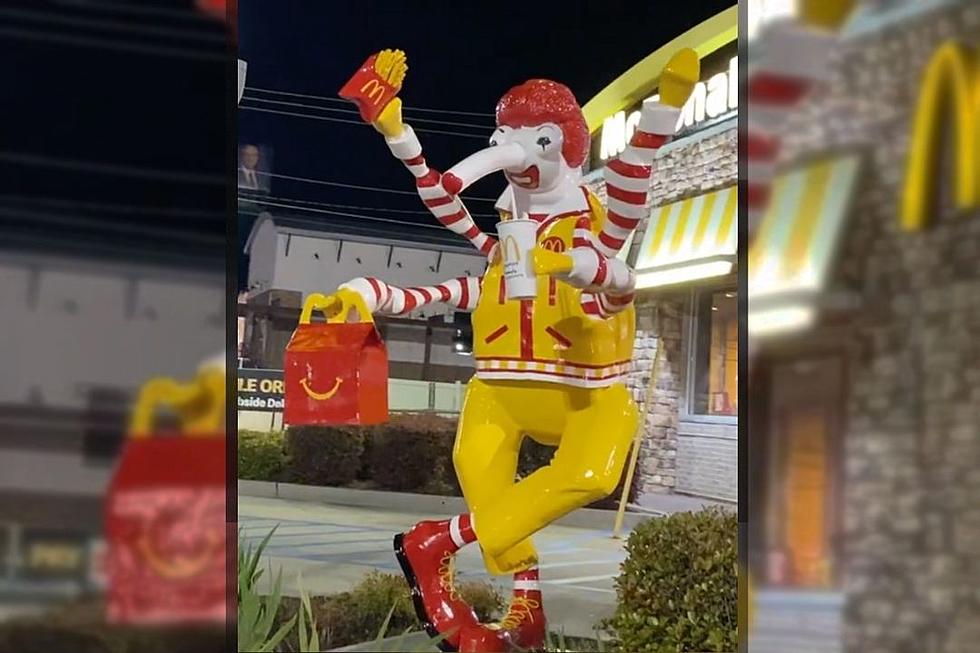 This 'Ronald McWeevil' Statue in Front of McDonald's Is Cursed AF
@iambobbymcfly via TikTok
An Alabama McDonald's location has sparked a meaty debate on social media after unveiling a giant statue of a boll weevil beetle modeled in the likeness of clown Ronald McDonald — already a figure some deem creepy.
The wacky Weevvil Way community art project is intended to present a creative re-imagining of Ronald McDonald as a boll weevil, the notorious insect that plagued southern cotton crops starting in the late 1800s.
Suffice to say, many nearby residents are not lovin' it.
Enterprise, Ala. restaurant-goers don't seem to be viewing this as a creative community project. Instead, they have dubbed the unusual statue the evil Ronald McWeevil.
While some have embraced the McWeevil as a colorful addition to the fast food joint, others find the new statue creepy and unsettling.
TikTok user @iambobbymcfly is gaining viral traction after sharing a video of the creepy statue on the video-sharing app. Their video has already been viewed more than 1.9 million times.
"That's a McElder God," one TikTok user joked in the comments.
However, it seems the official McDonald's TikTok account seems a little bothered by the eldritch display.
"What was that?" the brand commented.
Watch below:
The Ronald McWeevil is the 26th boll weevil statue to be added to the town's "Weevil Way." Previous weevil statues include "Mayor Weevil," "Farmer Bo Weevil" and "Nellie the Negotiator."
If art is meant to prompt conversation, Ronald McWeevil is accomplishing the goal.
Discontinued McDonald's Menu Items