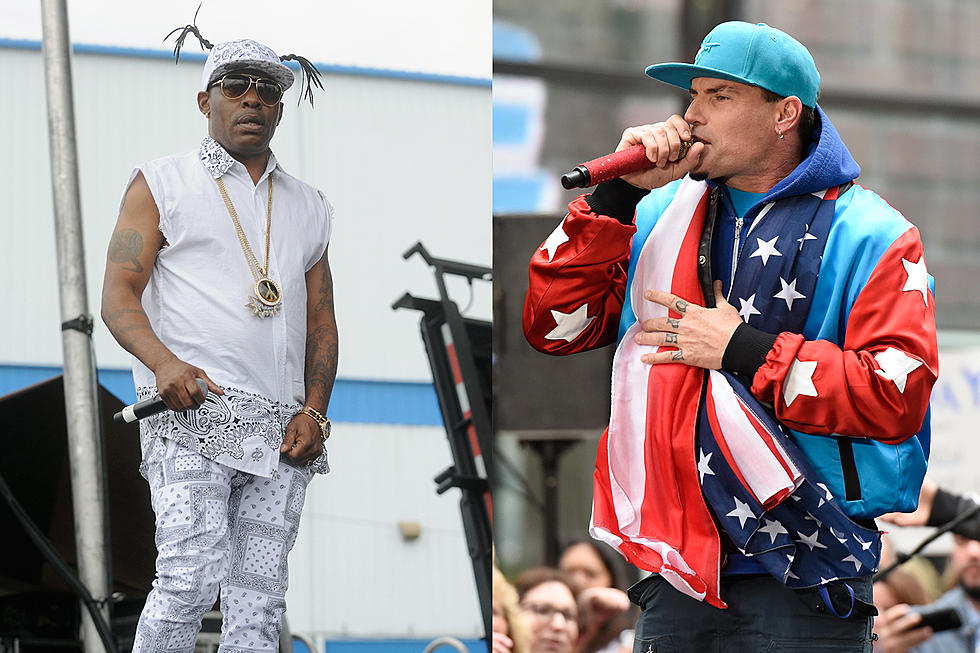 Vanilla Ice + Coolio Headline Duluth 'I Love The 90s' Concert At Bayfront Festival Park
Getty Images
Throwback hip hop fans, check this out! Four different acts will descend on Duluth for one night of late 80s and early 90 old school jams to end the summer.
Billed as the "I Love the 90s Tour", this rotating lineup of throwback musical acts has included over the years names like All-4-One, Color Me Badd, Tone Loc, Tag Team, and Sir Mix-a-Lot that make stops around the country.
The tour is returning to the Twin Ports for an outdoor end-of-summer show at Bayfront Festival Park. What better way is there to wrap up summer than a fun throwback show?
Here's the full lineup for the 2021 Duluth 'I Love the 90s' Tour stop:
Vanilla Ice
Mr. Robert Van Winkle returns to the Twin Ports area, marking the first time he's been back since his 2017 90s show at Black Bear Casino just down the highway in Carlton.
Most famously known for his 1990 hit "Ice Ice Baby", Vanilla Ice charted gold-certified "Play That Funky Music" as well in 1990 and had chart success with some other songs through the early 1990s. Also of note was his popular contribution to the Teenage Mutant Ninja Turtles II soundtrack, "Ninja Rap".
Here's a little refresher if you don't remember that song.
Coolio
Known not only for his iconic hair, Coolio made his first big splash on the music scene in 1994 with his song "Fantastic Voyage". He followed up with success on songs through the 1990s like "1, 2, 3, 4 (Sumpin' New)" and "C U When U Get There" along with his biggest hit and signature song "Gangsta's Paradise".
Coolio has been to the Twin Ports area a couple times in recent years, both as part of the 90's show in 2017 with Vanilla Ice at Black Bear Casino and again in 2018 at the Summer Throwback along with Bone Thugs-N-Harmony and Naughty By Nature at Bayfront Festival Park.
Of his songs, I'd say my personal favorite is "Fantastic Voyage", which you can check out right here!
Rob Base
Half of the duo Rob Base and DJ EZ-Rock, the duo charted songs in the late 80s like "Joy and Pain" and their biggest hit "It Takes Two". While DJ EZ-Rock passed away in 2014, Rob Base is still touring and sharing his music.
Here's Rob Base's biggest hit, if you feel like doing a little dancing while reading the rest of this lineup.
Young MC
Last, but certainly not least, is one of Jeanne Ryan's personal favorites.
Charting songs like "Principal's Office" and "That's The Way Love Goes" around the turn of the decade from the 80s into the 90s, his biggest song is by far 1989's "Bust a Move".
Concert Details
The show is scheduled for Friday, September 3 at Bayfront Festival Park in Duluth. Gates open at 5:00 pm, and music kicks off at 6:00 pm. Tickets are on sale now from TwinPortsNightLife.com and they come in two different varieties.
VIP tickets, which include up-front access near the stage, VIP port-a-potties, and a VIP bar, are $50 each.
General admission tickets are $30 each.
10 Things You Should Bring To An Outdoor Concert
More outdoor concerts are being scheduled for summer 2021 and beyond, which is exciting news for live music lovers. However, it's been awhile since there's been an opportunity to enjoy a true outdoor concert experience. Once you secure your ticket, make sure you also have these 11 things ready to bring with you.
Famous Musicians With Wisconsin Roots