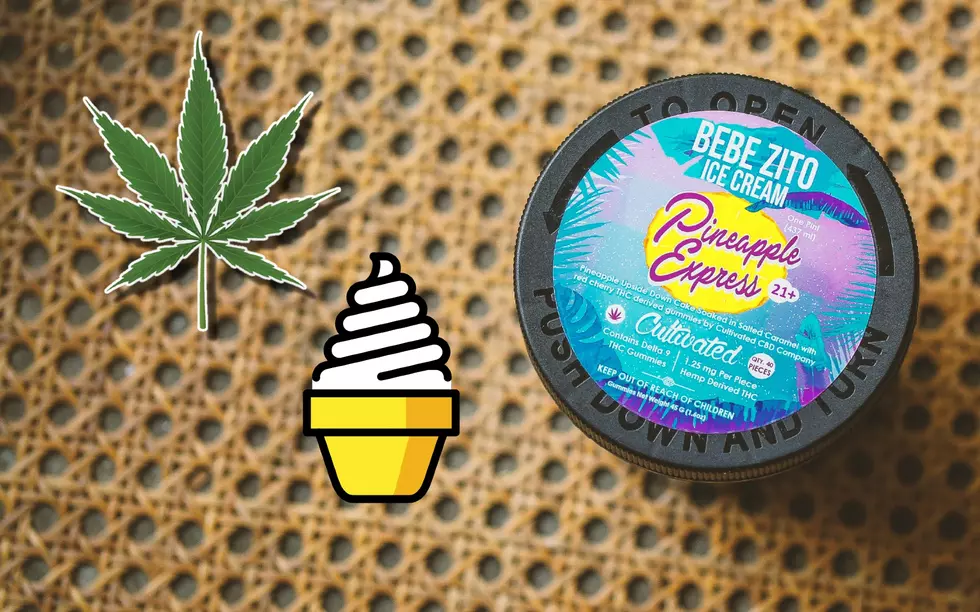 Catch a Buzz with New Minnesota-Made Marijuana Gummies Ice Cream
Lukas Sorensen - Bebe Zito
One Minnesota ice cream shop is taking advantage of the new marijuana laws in the state and is now selling THC ice cream.
Now you can get the munchies and eat your munchies at the same time with the new Pineapple Express ice cream from Bebe Zito, the ice cream gets its THC Delta-9 from gummies that are mixed in.
Bebe Zito, with its main shop in the Uptown area of Minneapolis, teamed up with Cultivated CBD for the gummies, of which there are about 40 x 1.25mg hemp-derived THC gummies in a pint of ice cream, for a total of 50mg per container.
Pineapple Express is the name of a popular marijuana strain and also the name of a popular stoner movie starring Seth Rogan, Bebe Zito says their ice cream is inspired by pineapple upside-down cake, it features a pineapple base ice cream with salted caramel soaked pineapple upside down cake mix-ins and of course the stone fruit gummies.
Take-home pints of Pineapple Express sell at Bebe Zito's Uptown location only for $50 plus tax and a 5% service fee that is distributed to non-tipped team members. They are also donating 5% of the proceeds to Ujamaa Place, "an organization that provides holistic transformation for young African-American men experiencing inequity at the intersection of race and poverty. Their services include housing, education, employment, wellness, and more."
Bebe Zito says they hope the ice cream and the collaboration between them, Cultivated CBD, a Black-owned business, and Ujamaa Place will help bring "awareness around injustices surrounding Black individuals and cannabis."
The ice cream is available to anyone 21+ and must provide a valid ID to purchase.
Minnesota Corn Maze Features Halloween's Most Notorious Villains for 2022
Five of the most iconic Halloween slashers are featured as the theme at the World's Largest Corn Maze located near St. Cloud for 2022. With over 30 miles of pathways covering 110 acres, you'll spend a fun fall afternoon getting lost.
29 Dog Friendly Patios In Duluth
13 Things You Never Knew That Were Invented in Minnesota
There are a handful of things that most Minnesotans know were invented in the state, like SPAM or Post-It notes, but did you know grocery bags with handles is a Minnesota invention? Let's take a look at some other little known Minnesota inventions.