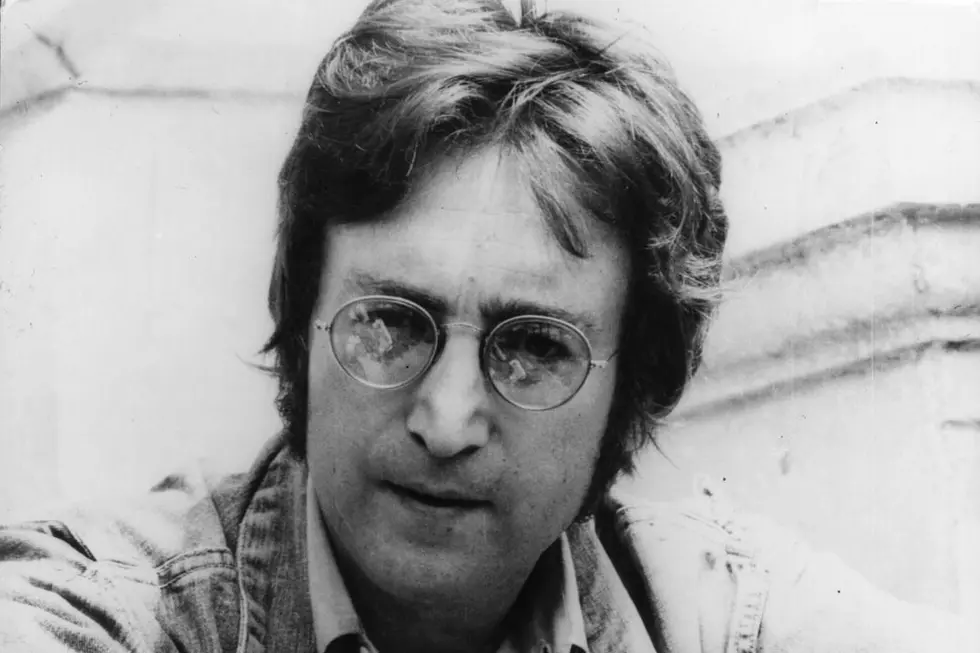 How John Lennon Returned to His 'Rock 'N' Roll' Roots
Central Press, Hulton Archive, Getty Images
In a way, John Lennon's Rock 'N' Roll album is the back-to-basics record the Beatles' Let It Be was supposed to be. And like Let It Be, Phil Spector had a hand in it. And, also like the Beatles' last-released effort, it sat around for a while before anyone got the chance to hear it.
Released on Feb. 17, 1975, Rock 'N' Roll even has its roots in the record the Beatles made after they recorded most of Let It Be. Lennon borrowed and altered a line from Chuck Berry's "You Can't Catch Me" for his Abbey Road song "Come Together," the "Here come old flat-top " one – which got Berry's music publisher, Morris Levy, and his legal team scrambling for some sort of retribution.
Lennon agreed to include three Levy-published songs – "You Can't Catch Me," Lee Dorsey's "Ya Ya" and Rosie and the Originals' "Angel Baby," which ended up as a bonus cut on Rock 'N' Roll's 2004 reissue – on his next LP, which turned out to be a collection of '50s and '60s tunes that were a cherished part of his past.
Then he asked Spector – who had previously worked on Lennon's first three proper solo albums in addition other Beatles-related projects – to produce the sessions in October 1973. And then all hell broke loose. Lennon separated from Yoko Ono, embarked on a Lost Weekend, jammed with Paul McCartney, partied (and made a record) with Harry Nilsson and generally became a drunken mess. It didn't help matters that Spector – who brought a gun to the Hollywood studio and shot a hole in its ceiling – was in no shape to corral the unruly group that was making the music and oversee the tangled project. Then he disappeared with the tapes.
The following spring, Spector was in a car accident that put him in a coma ... and left Lennon without any document of their work (which, despite all the boozing and carousing, turned out to be a loose, faithful and loving tribute to the music that helped fan the Beatle's passion in his early days). It turned out that Spector was taking home the tapes every night and didn't bother to notify Lennon or anyone else. So the project was temporarily scrapped while Spector recovered and Lennon returned to New York to begin work on another solo album, Walls and Bridges.
Listen to John Lennon Perform 'Stand By Me'
That album was released first, in October 1974, and climbed to No. 1, Lennon's second showing there as a solo artist. (Imagine topped the charts in 1971.) With Levy still on his tail about making good on the borrowed Berry line and the Spector tapes recovered by someone from Lennon's record company, Lennon immediately started work again on Rock 'N' Roll – this time in New York, with his Walls and Bridges band and producing himself. Five days later, his oldies project was complete, with four of the album's 13 songs carried over from the Spector sessions.
The finished work is untidy, scattered and tossed-off at times. But Lennon's love of the music –especially on Gene Vincent's "Be-Bop-A-Lula" and Ben E. King's "Stand by Me" – is clear throughout. Even the ones he couldn't even be bothered with, such as the minute-and-a-half Little Richard medley, recall the spirit of the original Get Back sessions the Beatles attempted in January 1969 before things disastrously fell apart. (Additional songs from the Rock 'N' Roll sessions ended up on the 2004 reissue, as well as on the 1986 Lennon outtakes LP Menlove Ave.)
Rock 'N' Roll – which was going to be titled Oldies but Mouldies until a black-and-white photo of a 20-year-old Lennon in Hamburg inspired the cover art and a new title – managed to make it to No. 6, and was Lennon's last album before his five-year retirement. When he resurfaced in late 1980 with Double Fantasy, he was sober, reunited with Ono, a father to a five-year-old son and at a place far from the one he was stumbling through when he recorded Rock 'N' Roll. Three weeks after his comeback record came out, he was killed.
In retrospect, Rock 'N' Roll represents Lennon's last blast with the music that shaped him. It's also a final chance to hear one of rock's greatest figures coming to terms with his Beatles past on an album his old band probably would have made had they stuck around a while longer. It's far from perfect, but rock 'n' roll, and Lennon for that matter, rarely is.
20 Greatest Comeback Albums
Becoming a successful artist is difficult. Remaining on top forever is downright impossible.
You Think You Know the Beatles?