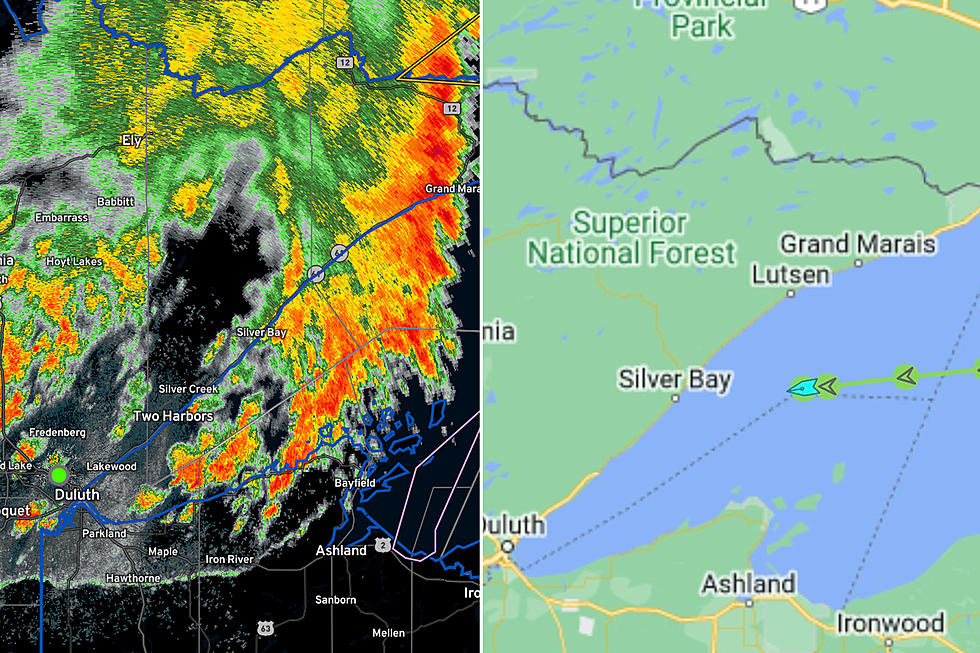 WHOA! Photos Of Gnarly Storm Clouds And Powerful Winds Captured By Lake Superior Ship
RadarOmega/MarineTraffic
As the weather in Minnesota and Wisconsin drastically shifts from record-breaking heat at the start of the week to significantly cooler weather for Wednesday, strong thunderstorms have been sweeping across the Northland.
Earlier today, the National Weather Service was cautioning of the possibility of some strong storms that could include heavy rain, hail, and strong winds. While there hasn't been a widespread outbreak of severe weather, heavy rain, stronger storms, and a few severe thunderstorms have been seen across Minnesota.
As storms moved offshore from Minnesota and onto Lake Superior, a ship on the Great Lake bore witness to some wild scenes from today's storms.
Just after 6:30 Tuesday evening, the Duluth office of the National Weather Service shared some photos captured by the crew of the Dirk S. VanEnkevort as it sailed from Sault St. Marie to Silver Bay on the Minnesota North Shore.
Here's the route of the ship:
In a position in the middle of Lake Superior, located about halfway between Grand Marais and Outer Island in the Apostle Islands, the crew captured a couple of very ominous photos of a shelf cloud from approaching storms.
READ MORE: Dirk S. VanEnkevort One Of The Most Unique Ships On The Great Lakes
Here's what the storm looked like on radar at roughly the time of the photos.
The photos of the shelf cloud look almost like an approaching tidal wave at a passing glance. Even though it isn't a giant wave, seeing something like this on a big body of water can be scary for another reason - the wind.
The ship's instruments recorded a wind gust of 61 knots, which is 70 mph. Yikes!
11 of the Most Devastating Weather Disasters in Minnesota Throughout The Years
We might be full of lakes and "nice" but Minnesota has had its fair share of horrible and nasty weather. Throughout the years we've had floods, fires, storms that have crushed stadium roofs flat, and tornadoes that have destroyed lives.