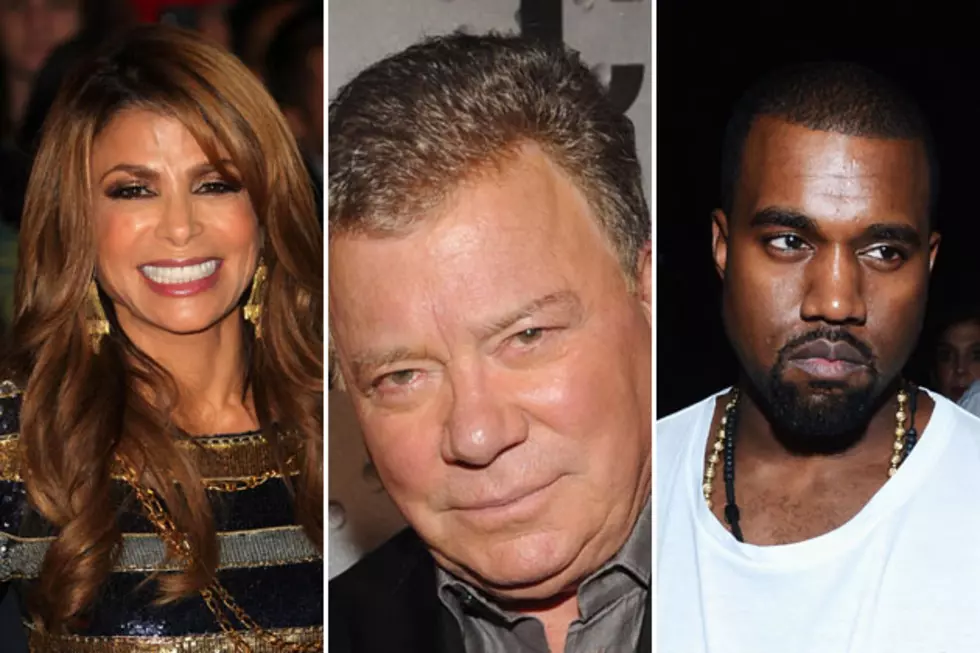 The 10 Funniest Celebrity Meltdowns Caught on Tape (NSFW)
Frederick M. Brown / Rick Diamond / Dimitrios Kambouris, Getty Images
Let's face it -- as much as we identify with celebrities, we don't really know them. That's why public meltdowns, where they show their peevish, arrogant and sometimes crazy sides, are so darned fascinating. When this happens, our perception of celebs can change forever. Think about it -- will you ever be able to watch 'Braveheart' again without recalling Mel Gibson's racist rants? We think not.
But sometimes, celebrity freak outs are comical rather than hate-filled, and can make you chuckle out loud instead of gasp in horror. We've gathered 10 of the funniest celebrity meltdowns here for your perusal. As you might expect, many of these are highly NSFW, so please tread lightly.
1

Rapper Kayne West is no stranger to temper tantrums and this is his first. During "A Concert for Hurricane Relief" in 2005, which was meant to raise money after the devastation of Hurricane Katrina, West went off on a rambling, incoherent tangent about how African-Americans are portrayed in the media, then delivered the now-famous line, "George Bush doesn't care about black people."

West's rant isn't particularly funny in itself, but the confused look on the face of Mike Myers, who was paired with West during the live event, is. Myers also gets credit for stubbornly refusing to acknowledge the off-script tirade. Hey, the man's a professional, even if he did star in 'The Love Guru.'

2

The rant that launched a thousand remixes, Christian Bale's famous freak out on the set of 'Terminator Salvation' was released by TMZ in February of 2009. In this audio segment, Bale goes ballistic on Director of Photography Shane Hurlbut for almost four minutes after he broke Bale's concentration during a scene.

Bale's reputation has recovered since the tirade, but at the time, he quickly went from 'The Dark Knight' hero to total jerk. The fact that the movie almost single-handedly killed the 'Terminator' franchise didn't help either.

3

Casey Kasem is beloved by many as a long-time radio personality and host of 'American Top 40.' But as this audio clip shows, he really, really hates it when a script interrupts his flow.

In this awesome rant, Kasem segues from an uptempo record to a death dedication for a dog named Snuggles. It is, in fact, Kasem's insensitivity to the dead pet that makes the clip so funny. "I also want to know what happened to the pictures I was supposed to see this week!," he randomly rages.

Kasem's famous freak out also gave rise to the phrase, "I don't understand. Is Don on the phone?" which was appropriated by Distorted View Daily podcast host Tim Henson.

4

During his six years as the anchor of 'Inside Edition,' Bill O'Reilly gave us one of the greatest meltdowns ever as he lashed out angrily at his staff while struggling to comprehend the phrase, "to play us out." It immediately made the shouted invective, "F*ck it! We'll do it live!" part of the everyday vernacular.

Interestingly, O'Reilly's conniption didn't damage his career all that much, probably because he was known as a cranky curmudgeon already.

5

An oldie but a goodie, legendary filmmaker Orson Welles completely steamrolled a recording session for frozen food manufacturer Findus in 1970.

As befitting a master storyteller of his status, Welles loudly griped about the script during the session and practically rewrote it on the fly, flustering the directors to no end in the process. In particular, Welles goes to great lengths to argue about copy relating to frozen peas, of all things.

6

If there's a spiritual successor to Welles' grumpy recording session, it's this one featuring William Shatner. Listen, Shatner was captain of the U.S.S. Enterprise, for Pete's sake. And nobody -- we mean nobody -- tells him how to read a commercial, okay?

In this clip, Shatner lays down a vocal track for an ad and deals with advice foisted upon him by a producer who clearly doesn't know who he's dealing with. So how does Shatner handle this insolence? He uses passive-aggressive behavior like a phaser set to kill, that's how.

The clip, by the way, comes complete with cackles from Howard Stern and his cronies as it was played on his radio show.

7

Clips of news anchor outbursts are a dime a dozen, but this one by Jessica Savitch rises above all others. Savitch was once better known as the host of 'Frontline' on PBS and as the weekend anchor on NBC's 'Nightly News.' (She was portrayed by Michelle Pfeiffer in the movie 'Up Close & Personal.') But now, her legacy has been relegated to "angry anchor" thanks to YouTube.

In this clip, Savitch gets exceptionally annoyed during a rehearsal for a news update on NBC. Eventually, she grows fed up with her staff's incompetence and memorably chides, "This is primetime television here, folks!"

8

There are far too many gaffes and flubs by Paula Abdul to count, but this loopy interview she gave on a Fox morning show in Seattle is her most infamous.

During the appearance, which was broadcast live via satellite from New York, the former 'American Idol' and 'X Factor' judge giggled uncontrollably, slurred her words and swayed in her seat, leading some to speculate she may have been under the influence of something at the time.

Not so, said her publicist, who blamed the strange behavior on "technical difficulties." Riiight. Is that what the kids are calling it these days?

9

Ever since we learned it was all an act to promote the mockumentary 'I'm Still Here,' Joaquin Phoenix's kooky 'Late Show With David Letterman' appearance has lost some of its luster. But at the time, viewers thought they were witnessing a full-scale celeb meltdown of epic proportions.

Letterman later may have been slightly miffed at "being made a fool of," but the nutty interview was actually one of the funniest of his career and inspired him to utter the hysterical line, "What can you tell us about your days with the Unabomber?"

10

Charlie Sheen may prefer to fly under the radar these days, but for a brief and glorious period back in early 2011, he was everyone's favorite celebrity nutjob, alternately lashing out at 'Two and a Half Men' creator Chuck Lorre and proclaiming himself a god-like figure with "Adonis DNA." The radio interview above, which Sheen gave on 'The Alex Jones Show,' started it all.

Since then, Sheen has quieted down considerably and is focusing on his new FX sitcom 'Anger Management.' Sure, he may be in a better place now, but the world just seems darker without his unbridled fits of insanity. Where has all the crazy gone, Charlie? The world needs a dose of "tiger blood" now more than ever.