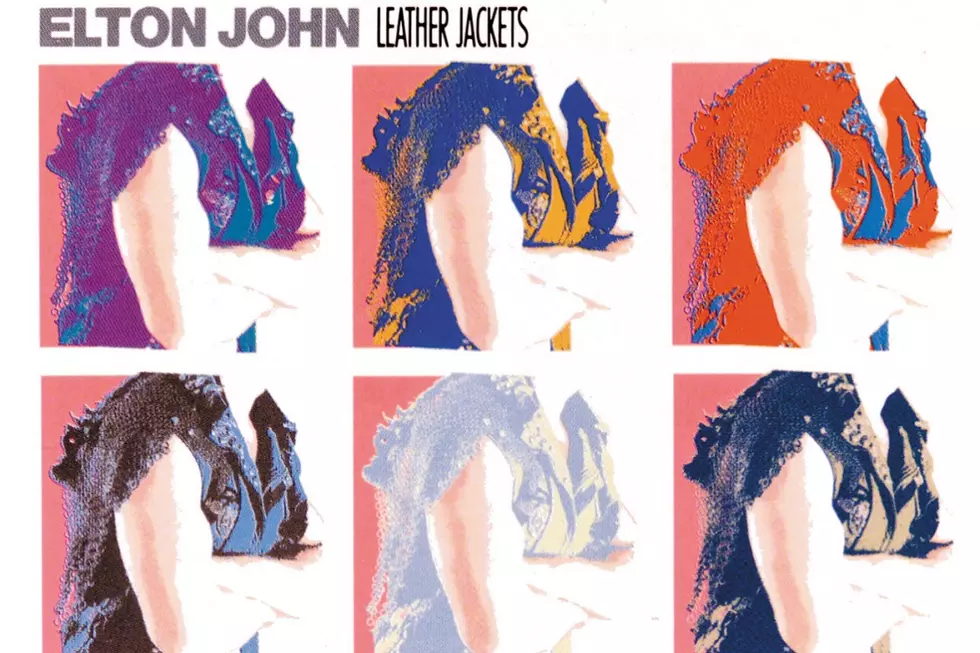 When Elton John Bottomed Out on 'Leather Jackets'
Geffen
From the public's perspective, Elton John was on fire in the mid-'80s. After a slightly fallow period at the turn of the '80s, John had quickly returned to form with a string of hit singles (among them "I'm Still Standing," "Sad Songs" and "Nikita") and albums, which came one after the other, year after year.
By 1986, Elton was continuing his most successful collaborations, working primarily with lyricist Bernie Taupin, playing with long-running guitarist Davey Johnstone and teaming with producer Gus Dudgeon – who had helmed John's classic '70s LPs. When all parties reconvened for another album, there was little indication that the results would differ from John's recent, synth-laden successes.
The new LP would have a lot in common with the previous one, 1985's Ice on Fire, which had also featured Dudgeon as producer and was recorded in Amsterdam. They even chose to polish up four tracks leftover from those sessions for consideration on the new record, which would be titled Leather Jackets.
Instead of continuing John's epic success, Leather Jackets – released Nov. 3, 1986 – proved to be the end of an era, in more than a few ways. It remains John's lowest charting album in the U.S., landing at a paltry No. 91, which helped make it his final album with Geffen Records. It also would be his last LP with Dudgeon as producer.
Another way to mark the disappointment of Leather Jackets is that it became the first Elton John LP to not feature a Top 40 single in 16 years. Even some of John's previous critical and commercial disappointments still delivered a hit single, a streak that reached back to 1970's Tumbleweed Connection (only because that album didn't have any singles released from it).
Leather Jackets' attempt at a big uptempo hit was "Heartache All Over the World," which stalled at No. 55 on the Billboard chart. John would later claim the tune was the worst thing he'd ever recorded, calling it "pretty insubstantial." Another single, "Slow Rivers." featured British star Cliff Richard in a duet. The Rocket Man collaborated with Queen's John Deacon and Roger Taylor on "Angeline" and wrote a melody to Cher's lyrics with "Don't Trust That Woman."
After John found out that Cher didn't plan to record the song on her album, he asked permission to include it on his. She agreed, but wanted to know how the song would be credited. "I said Elton John/Cher. And she said, 'No, it's got to be Cher/Elton John'," John claimed in a 1986 radio interview. "And I didn't bat an eyelid, but I thought, Well, fair enough. If you're gonna take that attitude, then it's not going to be Cher/Elton John, it'll be Cher/Lady Choc Ice."
John used a pseudonym for that song out of protest, but in many other ways he was pretending to be someone else. Although he was willing to pose as a leather-clad butch biker for photos for Leather Jackets, he was still married to a woman, recording engineer Renate Blauel. He later called the marriage "a mistake," regardless of sexuality because, "I was in no condition to get married because I was a drug addict."
The marriage would end in 1988, but his cocaine addiction continued for a few more years. 1986 might have marked the height of John's dependency, which masked the performer's unhappiness, and caused his friends to worry for his life. "There was a chance he could polish himself off," Dudgeon said years later. "He'd go out and do some coke and it'd be all over his mouth, his nose would be running, and I'd go, 'Oh God, this is just awful'."
To make matters even worse, John began having trouble with his voice at the time, a condition that reared its head when on tour in Australia just following the release of the album. The surgery to remove polyps from his vocal cords was a procedure that had the potential to end his career. Instead it put him on an extended hiatus, and made him a permanent baritone. Not only could John not record new music, he wasn't able to promote Leather Jackets with a big U.S. tour, which might have rescued the record from being such a dud.
John took some time off and returned in 1988 with the aptly titled Reg Strikes Back, which brought him back to prominence on the singles and album charts. He would kick his drug habit a few years later. Reflecting on the past, John blamed his drug use for the lack of quality of some of his albums, including Leather Jackets.
"Leather Jackets has a lot of awful songs on it, and there's some very uneven work in the '80s and '90s due to the fact that I wasn't concentrating on what I was doing," he said in 2001. "And because of the drugs, of course."
Although Taupin has agreed about how John's drug addiction had an adverse effect on the music, his opinion on the album diverges from his partner in song. He told Rolling Stone in 2013, "I think there's actually a couple of good songs on there. I certainly don't think it's the low point."
Elton John Albums Ranked