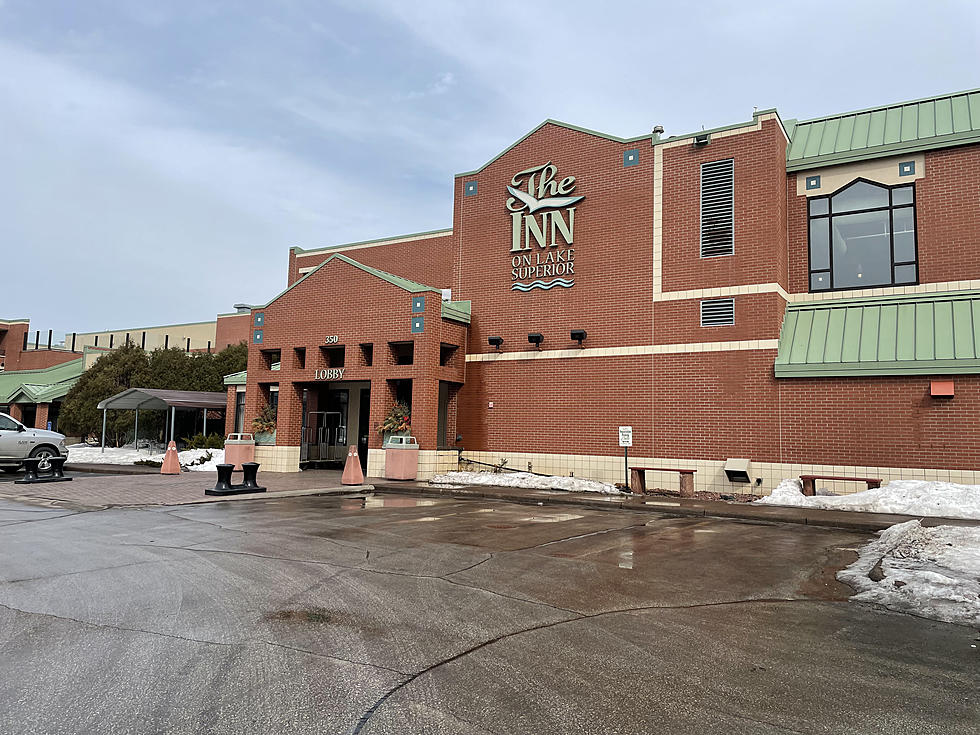 Room With A View: Duluth & Superior Hotels Located On Lake Superior
Lauren Wells, Townsquare Media Duluth
Duluth is one of the most popular tourist destinations in Minnesota, if not the most popular. People come from everywhere to see the city on the lake and take in the amazing Lake Superior views. Who could blame them?
Tourists are in awe when they visit Duluth, shocked at just how beautiful the city really is. Of course, the big draw is the big and beautiful lake, which is so big to the naked eye it may seem like an ocean.
When people come to explore, they love to see the sights like Enger Tower and take in all Canal Park has to offer. They also want to get the full Duluth experience, which means staying right on Lake Superior. (Even a Backstreet Boy was in in awe of the lake and Duluth in general!)
If you're a tourist coming into town for the first time or a local looking to get a little staycation, we've rounded up the major hotels located right along Lake Superior in Duluth, on Park Point, and Superior.
Duluth & Superior Hotels Located On Lake Superior
Located right at the edge of the Superior Bay, this hotel offers great views of Lake Superior. It has an on-site restaurant, game room, fitness center, among other amenities. Address: 300 Marina Drive in Superior Website: barkersislandinn.com
---
This hotel is a unique one, located right on the Duluth Harbor Basin. The rooms are modern with views that can't be beat and rooms that walk out onto the patio. It also overlooks Bayfront Festival Park. Address: 800 West Railroad Street in Duluth Website: pierbresort.com
---
Perhaps the most famous hotel on this list, Fitger's Inn is unlike any other hotel you could stay at. The upscale, remodeled hotel is inside an old brewery complex and is also connected to a mall, filled with shops and restaurants. It's located in downtown Duluth just a stone's throw away from the lake. Address: 600 East Superior Street in Duluth Website: fitgers.com
---
The name says it all: here's another hotel located in the heart of Canal Park. The Lodge is well within walking distance to all of Duluth's biggest tourist attractions and is described as a mountain lodge-style place to stay. Address: 250 Canal Park Drive in Duluth Website: canalparklodge.com
---
Convenience is key at the Hampton Inn in Canal Park. Another spot located right in the heart of Canal Park, this spot is in the middle of the action. All the beds are custom-designed and you can even get a breakfast bag to go. Address: 310 Canal Park Drive in Duluth Website: hilton.com
---
Looking for a place to stay on the lake? This spot's motto is "if you were any closer to the lake, you'd be in it" so you know you are getting what you want with this one! This award-winning hotel has it all: views, great amenities and nearly 200 rooms and suites. Address: 350 Canal Park Drive in Duluth Website: innonlakesuperior.com
---
This hotel is located in the heart of Canal Park, with walking distance to the Lakewalk, shops and restaurants. The rooms have lake or city views with patio rooms, a lounge with a fireplace and a great location. Address: 408 Canal Park Drive in Duluth Website: choicehotels.com
---
This swoon-worthy resort is as close to Lake Superior as you could get. The resort is beach-house style, with several different open rooms and walk-out access to the lake. There are bonfire pits for roasting smore's which is awesome, located just a few minutes from where the Lakewalk begins. Address: 2100 East Water Street in Duluth Website: odysseyresorts.com
---
This hidden gem is located right next to the Aerial Lift Bridge, which makes for an awesome view for tourists and locals alike. This spot is casual and family-friendly with just a few minute walk to Canal Park. Address: 701 South Lake Avenue in Duluth Website: southpierinn.com
---
Want a more unique place to stay than your standard hotel? The Solglimt is the only waterfront bed & breakfast in the area with service to boot: the stay includes a gourmet breakfast with views of the ships coming in and out of the harbor. The intimate setting is the perfect Northland experience. Address: 828 South Lake Avenue in Duluth Website: solglimt.com
---
This waterfront spot is one of the most convenient on the list, just a short walk away from Canal Park and all its offerings. The hotel also has a business center, laundry and a free breakfast. Address: 1000 Minnesota Avenue in Duluth Website: marriott.com
---
This spot overlooks Harbor Cove Marina and sits on a small peninsula that makes its way onto Lake Superior. The hotel has a contemporary feel with patio decks, a sauna and of course, amazing views. Address: 1033 Minnesota Avenue in Duluth Website: parkpointmarinainn.com
---
You can find The Inn on Gitchee Gumee easily as you take the North Shore Scenic Drive from Duluth. A few miles up the way, this spot has suites or cottages decorated with woodwork and hand-pieced quilts for a different kind of experience. Address: 8517 Congdon Boulevard in Duluth Website: innongitcheegumee.com
---
This cute collection of cottages will give your stay a homey feel. Located right across the street from Lake Superior, these cottages have wood-paneled walls, fire pits and a kitchen area for a full-on Northern Minnesota vibe. Address: 7647 Congdon Boulevard in Duluth Website: cascadevacationrentals.com
---
This laid back place to stay is located right off Highway 61 and is out of the crowds of Canal Park. Just about 10 miles from downtown Duluth, it has the lake views you want with the quiet cabin feel you crave. It also has a lounge and a library. Address: 5107 North Shore Drive in Duluth Website: gardenwoodresort.com
---
This motel resort sits on 11 acres of land and has comfortable, rustic rooms. You won't be bored: there is a mini golf course, a playground, fire pit, trails for hiking, a sauna, a heated pool and that is just a few of many. Address: 9000 MN-61 in Duluth Website: lakebreeze.com
---
Located in the woods along Lake Superior, this spot is about 20 minutes from the downtown Duluth area. Nestled among the trees along North Shore Drive, choose from six cabins to relax in. There are lake views, grills and terraces to breathe in all the Duluth air you can. Address: 5852 North Shore Drive in Duluth Website: dodgeslog.com
---
Romantic Places In Duluth & Superior
Looking for a picturesque date? Maybe somewhere for to pop the question? Duluth & Superior have you covered. Here's the most romantic places in the Northland!
18 Celebrities You Could Run Into In Duluth, Minnesota