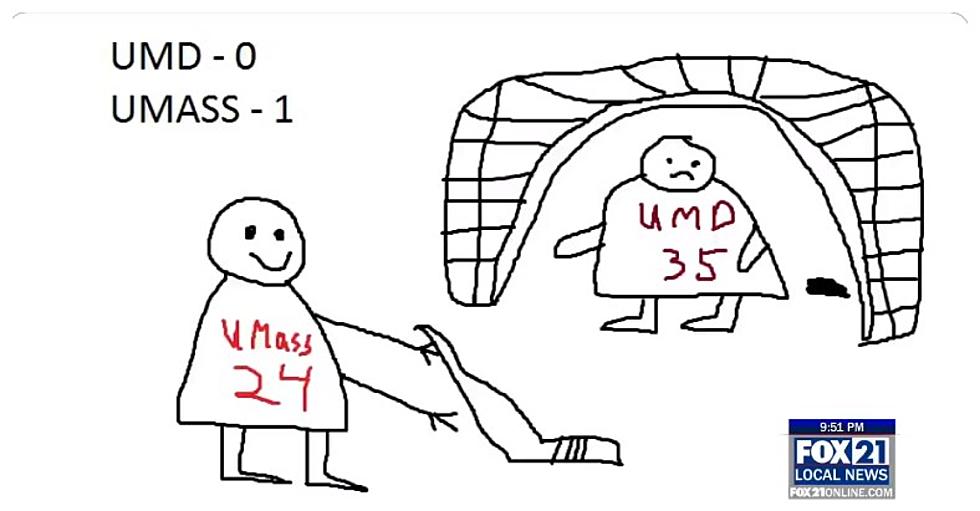 WATCH: Duluth Sports Anchor Hilariously Improvises Bulldogs Frozen Four Hockey Highlights
Photo: FOX21
I am sending an "air high five" to FOX21 sports anchor Sam Ali for his epic homemade highlight reel of the UMD Bulldogs Men's Hockey game against UMass in the Frozen Four tournament. The game was still going on last night during the 9 pm broadcast and so Ali was not able to use any footage from the game. So what do you do?
Make your own character drawings of the players while describing the action on the ice so far, of course! My favorite, for sure, is the expression on each of the players faces letting you know exactly how the game stood at that moment. Ali said:
Due to NCAA regulations, we are not allowed to show footage of the game because it's still going on right now. However, what we can show is an artistic interpretation of the action so far.
Unfortunately, UMD lost to UMass 3-2 in overtime, ending there bid for a third straight national title. But fans were tuned in all over the country to see the Bulldogs play their hearts out. UMass will play St. Cloud State in the national championship game on Saturday at 6 pm. The game will be televised on ESPN, and you can hear the game locally on the radio on the Northland FAN 106.5 FM & 560 AM as well as on the Northland FAN website. While the Bulldogs are out, at least there is still one Minnesota team playing for a chance to win it all this weekend!
10 Reasons To Be Thankful You're From Duluth
Things Only Snowmobilers Understand