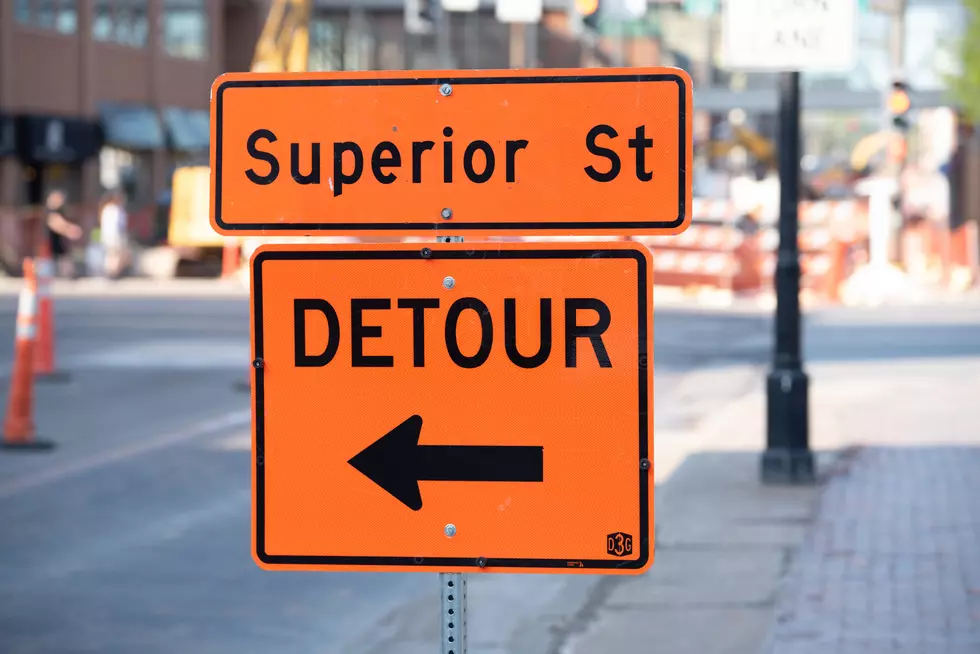 City of Duluth Offers Superior Street Reconstruction Update
Nick Cooper - TSM Duluth
As we broadcast from our studio on Superior Street, we can see the Superior Street reconstruction project is moving along.  The City of Duluth has offered an official update.
One of the big projects complete last week involved workers making connections from the old storm sewer system to the new storm sewer system in 1st Avenue West.
According to the City of Duluth, residents can expect the following between July 8 and July 14:
Access to businesses and residences will remain open.
Bricks, pavement and ledge rock will continue to be removed throughout the project zone.
Crews will pour roadway and sidewalk on the upper side of Lake Avenue as well as bridge approach panel on the south side.
Structural work on vaults will continue.
Permanent water and storm sewer tie-ins will begin between from 1st Avenue West and 2nd Avenue West.
Hot water installation will continue from in 1st Avenue West.
Storm structure work will continue in 1st Avenue West.
 Beginning Friday, July 10 through the weekend, Michigan Street at 2nd Avenue West will be closed for critical utility tie-in work.
Beginning Monday, July 13, the alley at 2nd Avenue West between Superior Street and 1st Street will be closed to perform utility upgrades.
Enter your number to get our free mobile app
When it comes to parking, there are six ramps that are near businesses in the construction zone that are offering free parking as long as you enter and leave the ramps within one hour.
The following ramps are participating:
Civic Center Ramp - 410 West First Street
Tech Village Ramp - 10 East First Street
Duluth Transportation Center - 228 West Michigan Street
4th Avenue Auto Park - 402 West Michigan Street
Hart District Ramp -125 East Superior Street
Medical District Ramp - 302 East First Street
If you win a prize from our radio station, we are also open to pick them up Monday - Friday between 9:00 a.m. and 5:00 p.m.  We have a hand sanitizer station six feet from our reception desk and ask that you please practice social distancing in our lobby area.
11 Very Common Stereotypes About Minnesota