Nicki Minaj Tells Steven Tyler to 'Go F— Yourself'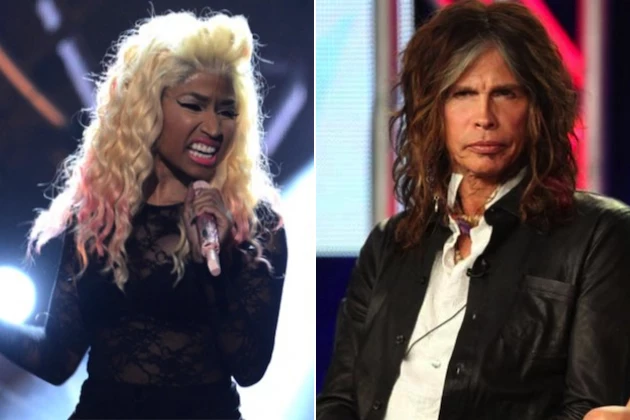 The new season of 'American Idol' hasn't even started yet, but outgoing judge Steven Tyler is already unimpressed by his replacements — and it sounds like at least one of them is just as scornful of Tyler.
The Aerosmith frontman weighed in on the upcoming episodes of the show during a recent interview with MTV, comparing new judges Nicki Minaj and Mariah Carey to himself and his fellow 'Idol'-makers during his years sitting in on the singing contest. Saying he thinks talent "needs to be birthed, not judged by 'entertainment' factors, it needs to be judged by people that [are] honest, true, that have the 'it' factor," Tyler went on to express doubt regarding Minaj in particular.
"These kids, they just got out of a car from the Midwest somewhere and they're in New York City, they're scared to death; you're not going to get the best [out of them]," Tyler argued. "If it was Bob Dylan, Nicki Minaj would have had him sent to the cornfield!"
Needless to say, Minaj didn't appreciate Tyler's remarks, and she took to Twitter to vent her frustrations, telling followers, "Steven Tyler said I would have sent Bob Dylan to a cornfield??? Steven, you haven't seen me judge one single solitary contestant yet!"
She went on to make a few assumptions about why Tyler said what he said, adding, "You assume that I wouldn't have liked Bob Dylan??? why? black? rapper? what? go f— yourself and worry about yourself babe." Finally, she concluded, "When Steven 1st went on Idol he was ridiculed by his peers & fans alike. Called a sell out. So what does he do? Ridicule the next judge."
Strong feelings from both of them, we guess, but we're not taking sides — in fact, now we're just interested in seeing what would happen if Bob Dylan was a judge on 'Idol.'
Source:
Nicki Minaj Tells Steven Tyler to 'Go F— Yourself'