35 Years Ago: A 'Scared S—less' Brad Gillis Plays His First Concert With Ozzy Osbourne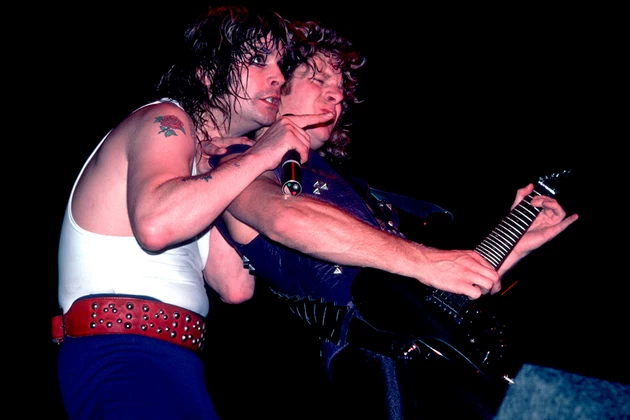 Ozzy Osbourne's 1982 tour attracted more than its share of unwanted attention even before the tragic death of guitarist Randy Rhoads. After his untimely death, things went from bad to far worse.
On television less than a week after seeing his bandmate buried, Osbourne was quickly ushered back on the road in support of his Diary of a Madman LP: He delivered his first post-Rhoads date on April 1 with a revised lineup that included guitarist Bernie Torme, a short-term fill-in who'd end up completing a very brief tenure with the group.
Today, Torme insists he only accepted the gig on the condition that he'd stick around for a month; having recently departed Ian Gillan's solo band, he planned to focus on his own group, Electric Gypsies, even before developing firsthand knowledge of the emotional anguish and creative disarray plaguing Osbourne's outfit. Once he joined the ranks, he managed to stick around for only 10 days — fortunately, aware of his desire to move on, the label had a replacement waiting in the wings in the form of Night Ranger guitarist Brad Gillis.
"In a Holiday Inn I went down for breakfast, and this healthy-looking Californian had a guitar at the table, and he was stunning. He knew all the songs and he'd seen Randy playing. He said, 'I'm here because the label think you're going to f— off,'" Torme recalled. "I'd already told Ozzy and Sharon that I was leaving, but that I'd hang on until they found a replacement. Then I discovered they were carrying a replacement but they wouldn't audition him!"
According to Torme, he left his meeting with Gillis and told keyboardist Don Airey — acting as de facto bandleader while Ozzy staggered through the chemically clouded emotional aftermath of Rhoads' death — to audition Gillis. Torch duly passed, he stuck around to witness Gillis' live debut with the Osbourne band on April 13, at the Broome County Veterans Memorial Arena in Binghamton, N.Y. — a show he later described as possessing a distinctly unhappy vibe.
For Gillis, that was at least partly true. Having only rehearsed in his hotel room while waiting to take over for Torme, he later described himself as "scared s—less" during the show — understandable, given the high-pressure circumstances of the high-profile gig, as well as the impossible task of stepping into a beloved musician's shoes. Having only played at one soundcheck with the band — without Osbourne in attendance — Gillis flubbed one part during "Revelation (Mother Earth)" that earned a gentle admonishment from Sharon Osbourne before the next gig. "She said 'You're doing fine,'" he recalled, "'But tonight, don't screw up.'"
One goof might have been enough to earn a slap on the wrist, but it was a small price to pay given the chaos of the situation — and Gillis' brief four-day solo rehearsal run leading up to his debut. "It was quite a scary little situation for everybody. Everybody was freaked out — 'How are we going to keep this machine going?'" said Gillis. "I remember playing my first show; I'd never even played with the band before. I sat in my hotel room with a live cassette Randy did about a month before … I'd sit in my room all day with a little amp and my guitar and that cassette, and just try to learn all the rest of those songs."
Even with Gillis providing an anchor on guitar, the rest of Osbourne's Diary of a Madman tour was far from smooth. The band went on hiatus again in early May, taking a little more than a week off to give its frontman time to dry out and try to work his way back from a crippling depression, and by late summer, his emotional trauma had grown so severe that he ended up shaving his head as a cry for help — and tossing his wig into the crowd after being asked to wear a hairpiece onstage. By the end of the year, several members had left the lineup — including Gillis, who decided to take a leap of faith as Night Ranger geared up to promote their debut Dawn Patrol LP.
"We had Dawn Patrol in the can, so when [bassist] Rudy Sarzo left to go with Quiet Riot, I quit to come back with Night Ranger," said Gillis. "They released Speak of the Devil and Dawn Patrol the same week, so that was kind of exciting for me. Album Network was a trade magazine for radio stations, and they grabbed both of those for picks of the week on the front page. That was cool."
Saying it "would have been great" to stick around in Osbourne's band and referring to the experience of playing with them as a "blast," Gillis later explained he acted on gut instinct when turning down the opportunity to stick with the former Black Sabbath singer. "Towards the end was when Night Ranger was getting a record deal and I felt like I was hanging with a bunch of bros," he told BraveWords. "That was a pretty exciting time in my life. Night Ranger went on to sell 17 million records and I'm still in the band, so I think I made the right choice."
Ozzy Osbourne, 4/13/82, Broome County Veterans Memorial Arena, Binghamton, N.Y.
"Over the Mountain"
"Mr. Crowley"
"Crazy Train"
"Revelation (Mother Earth)"
"Steal Away (The Night)"
"Suicide Solution"
"Goodbye to Romance"
"I Don't Know"
"Believer"
"Flying High Again"
"Iron Man"
"Children of the Grave"
"Paranoid"
Ozzy Osbourne Albums Ranked Worst to Best
Source:
35 Years Ago: A 'Scared S—less' Brad Gillis Plays His First Concert With Ozzy Osbourne