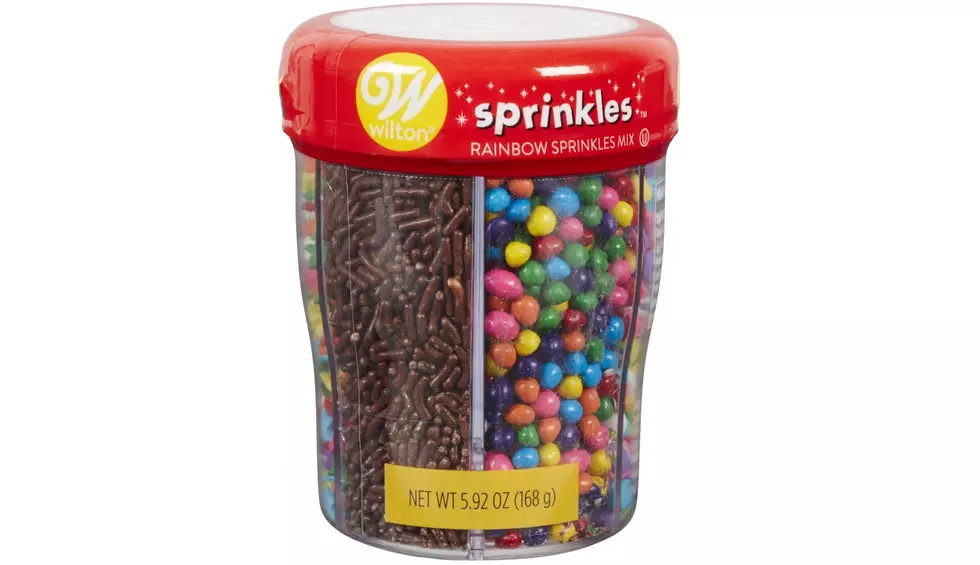 Wilton Brand Sprinkles Recall Details
US FDA
Hold the sprinkles!  A voluntary recall has been issued on a popular cake decorating brands sprinkles.
Wilton Industries has issued a voluntary recall on two of their varieties of sprinkles due to allergen concerns.  Milk allergies are the concern, and there is a little but of confusion regarding this particular recall.  That's because according to the U.S. Food and Drug Administration, even though "the product label does indicate that it may contain milk, this recall is being conducted because some samples of the product were found to contain milk".  While the products don't usually contain milk, the labeling is set up to reflect that it may be detected due to manufacturing processes; in this case - these products have been found to actually include traces of milk.  Under an abundance of caution, the recall was issued.
Here are the details about the two varieties of Wilton sprinkles being recalled:
Wilton Rainbow Chip Crunch Sprinkles (710-5364).  The voluntary recall impacts lots 20294Z, 20314Z, 20345Z, 21013Z, and 21022Z.
Wilton Rainbow Sprinkles Mix (710-0-0627).  The voluntary recall impacts lots 21005Z and 21111Z.
Both of the Wilton sprinkle products were sold nationally at a variety of brick and mortar stores as well as online.
The milk ingredient can be a potential issue for people who have a milk allergy.  People who have an allergy or severe sensitivity to milk run the risk of serious or life-threatening allergic reaction if they consume these products.
Customers who have purchased these products are urged not to consume them. Dispose of them immediately or return them to the place of purchase for a refund.  Additional questions can be directed at the Wilton hotline:  630-212-2229.
Things You May Not Have Thought About Grilling
CHECK IT OUT: See the 100 most popular brands in America
Gallery — Every Movie Theater Candy, Ranked: