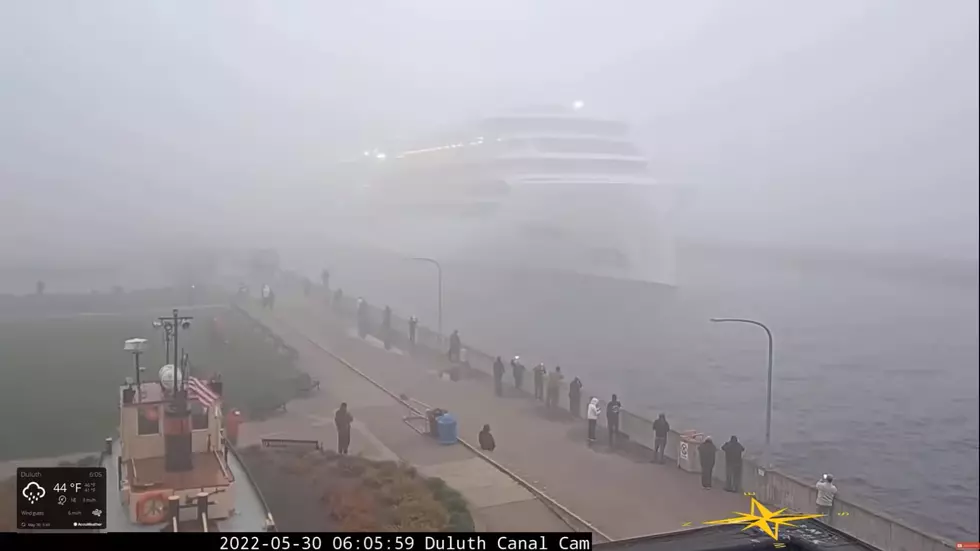 WATCH: The Eerie & Foggy Arrival Of The Viking Octantis Cruise Ship In Duluth
Duluth Harbor Cam via YouTube
For the first time in almost 10 years, a cruise ship was welcomed in the Duluth Harbor.
Earlier this week, we found out when the large cruise ship would arrive in Duluth and now we can watch as the beauty entered the Duluth Harbor.
The cruise ship is 672-feet long, has 189 first-class stateroom and can accommodate 378 passengers. The ship arrived in Duluth as part of the 'Great Lakes Collection' cruise. This particular cruise is 15 days long that started in Toronto and ended in Duluth.
If you were wanting to know the price of the 15 day cruise that went between two countries and had 10 included tours along the way; just the nice pocket change price starting at $13,995.
If you didn't get to see the ship in person and want to, no worries because you'll have more chances this summer. There's another cruise called 'Undiscovered Great Lakes' that is 8 days long and starts in Thunder Bay. Tickets for that cruise start at $6,695 that will cross the width of Lake Superior between Duluth and the Soo Locks.
The ship went under the Aerial Lift Bridge on Memorial Day (Monday May 30th, 2022). The craziest thing was it looked like a ghost ship entering the Duluth Harbor through the fog. You can see in the Harbor Cam, people were waiting on the pier to see the first cruise ship in about 10 years come into the Harbor.
Check out the eerie video of the Viking Octantis entering the Harbor through the fog below:
11 Bad Reviews Of The Aerial Lift Bridge In Duluth
12 Bad Reviews Of Canal Park In Duluth