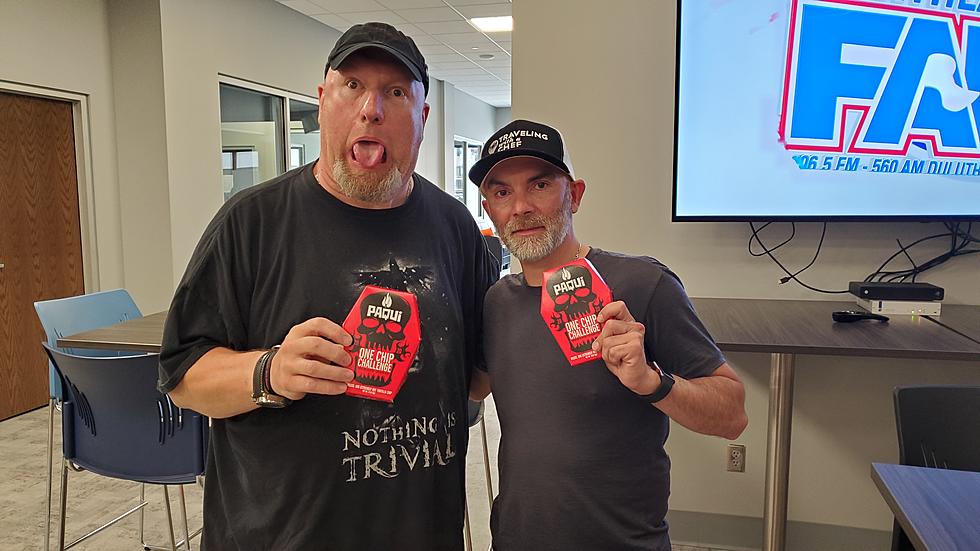 Watch Chris Allen Take The Paqui Hot Chip Challenge
Chris Allen
Today I took the Paqui Hot Chip Challenge, it's supposed to be the hottest chip in the world. I was joined by Robert Giuliani the owner of Tacos, Tacos, Tacos.
This all started, when he came over to our station one day with samples of his culinary delights, and as I was trying them, we were talking about hot food. We exchanged stories about how hot we liked salsa. As we talked more he brought up the Paqui Chip Challenge and wondered if I was interested in doing it. He said he would purchase the chip if I would do the challenge with him.
So, I read about the chip and found out you have to last at least 5 minutes. I watched a lot of videos and got ready to go. At, 1 pm Robert and I went live on Facebook. I will tell you if you think you can handle the heat, you might not be able to. I can handle the heat and this had some heat to it. After we were done, Robert and I shared a beer and I couldn't feel a thing. Robert had a little bit of a gut punch to it but then texted me that he was ok.
This chip has the hottest Chile pepper on the planet, The Carolina Reaper, with Sichuan heat.

Here's how you take the one chip Challenge: 1) eat the entire chip 2) Wait as long as possible before drinking or eating anything 3) post your reaction on social media with #onechipchallenge and mention at Paqui's Website

DO NOT EAT IF YOU ARE SENSITIVE TO SPICY FOODS, ALLERGIC TO PEPPERS, NIGHTSHADES, OR CAPSAICIN, OR ARE PREGNANT OR HAVE ANY MEDICAL CONDITIONS. KEEP OUT OF REACH OF CHILDREN. AFTER TOUCHING THE CHIP, WASH YOUR HANDS WITH SOAP AND DO NOT TOUCH YOUR EYES OR OTHER SENSITIVE AREAS. SEEK MEDICAL ASSISTANCE SHOULD YOU EXPERIENCE DIFFICULTY BREATHING, FAINTING, OR EXTENDED NAUSEA.
According to the website, the challenge is sold out for 2020 and is near done for 2021, and they want everyone doing it to post their results. So, when Robert and I are done we will post it up too.
Talk to me or Robert at Tacos, Tacos, Tacos, if you are thinking of doing this. Watch below and enjoy our results.
Foods Synonymous With Watching Baseball
"
"