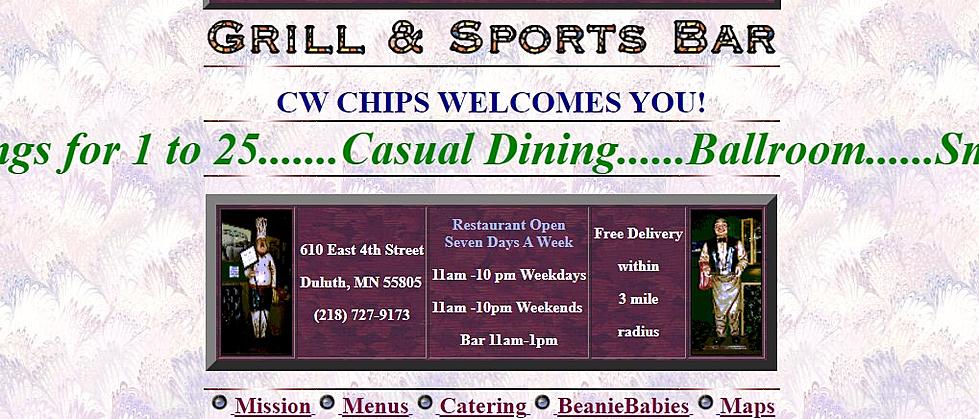 This Duluth Restaurant Closed 20 Years Ago But Still Has Active 2000 Website
https://www.angelfire.com/mn2/CWCHIPS/
Do you want to take a trip back in time? You have to check out this old website that is still active. I stumbled on it when I was doing an article about businesses we miss in the Twin Ports. The website was last updated in the year 2000. That may not seem like that old for some of us, but that's 21 years ago. People born in 2000 are now legally able to buy alcohol. Let that sink in for a minute.
This website is like going into a time machine. They advertise in scrolling letters across the top that you can even smoke in the lounge. Remember when you could smoke indoors? It feels like a generation ago.
The place is the famous C.W. Chips Bar & Restaurant. This place served all types of foods. They had a banquet room, lounge, and even offered catering. It was located where Whole Foods Co-Op is now on Duluth's East Hillside.
It closed back in the early 2000s, but many still remember C.W. Chips. Now you can take a trip back in time and scroll through the website. Also, can anyone tell me what the deal was with the 'Beanie Babies' page? Did they sell them here or what?
Good news too, as they have immediate seating available for 1-25. No reservations are needed if you can hop into a time machine and go back 20 years before Window XP. Yeah, XP launched in 2001. This website was likely built using a Windows 98 or Windows ME computer. Yikes.
I gotta say I wouldn't mind a return to these prices. You could get a 14-ounce Rib Eye steak for under $15! Appetizers were actually cheaper than meals were, remember that!
If I've got you feeling nostalgic, check out the businesses below that we really miss in the Twin Ports.
Twin Ports Businesses We Really Miss
What Twin Ports businesses do you wish were still around? Which ones do you really miss? We've asked our audience, and we've got a lot of answers. Take a trip down memory lane with these businesses we miss in the Twin Ports.