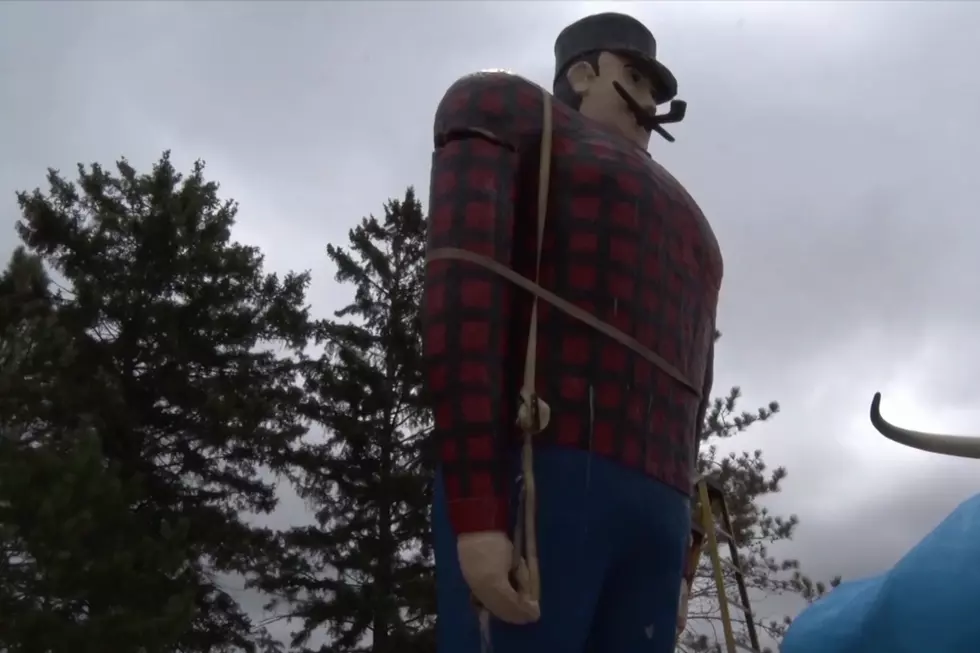 Surveillance Footage Reveals How Bemidji's Paul Bunyan Statue Got Broken Arm
Lakeland Public TV
Earlier this week, we learned one of Minnesota's most well-known statues had a broken arm. When it happened, it was unclear how Bemidji's Paul Bunyan statue developed a broken right arm, but new video surveillance footage reveals the answer to the mystery.
It was explained by local media outlets that Bemidji's Paul and Babe were due for some inspection and restoration later this summer, but the seemingly mysterious development of a broken arm on Paul's right side, hanging by some rebar, pushed the urgency of city officials to bring in their restoration contractor earlier than scheduled.
As revealed by the Bemidji Police Department, the damage to Paul's arm was not merely due to natural factors.
Thanks to security cameras installed in the park years ago, footage was captured of a small group of individuals that paid a nighttime visit to Paul & Babe, climbing and hanging on the statue. They believe this is what led to the break in Paul's arm.
In their Facebook post, the Bemidji Police explain that Paul & Babe have long been an "interactive with many visitors standing close, holding his leg, and hand". Standing in the park space since the late 1930s, that's a lot of interactivity with people. They go on to say despite discouraging people from climbing or hanging off the statues, "in this case, the cause of the failure/breakage appears to have been caused by several people climbing and hanging off of Paul's arm and the adjacent sign".
The police are still looking for information on the manner, offering a reward of up to $1,000. They're encouraging anyone with information to anonymously report information by contacting Crime Stoppers of Minnesota at www.CrimeStoppersMn.org or by calling the toll free phone number 1-800-222-TIPS [8477].
10 Things You Do If You Were Born And Raised In Minnesota
10 Pick-Up Lines You Can Use To Impress A Minnesotan