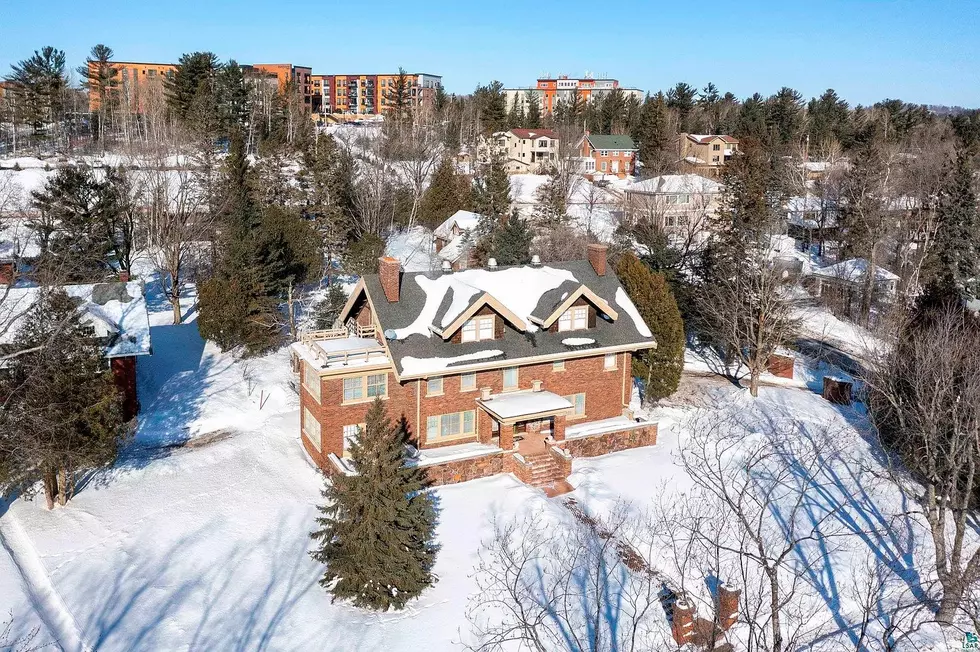 Sold! Iconic Mansion-Like Duluth Congdon Estate Originally Listed for $999,500
Zillow.com / Listed by Deanna Bennett Messina & Associates Real Estate
The Congdon area of Duluth is full of rich history and iconic homes that are so fun to look through.
It's rare for these homes to be available to purchase, but that's just what happened earlier this year when when this mansion-like Congdon estate hit the market with an original asking price of $999,500.
As the listing from Messina & Associates also sits on a big double lot, which gives the new owners not only an iconic property but a big yard as well.
I think you'll enjoy taking a look through this property and seeing what the new owners ultimately paid for the home. They closed on the property in June.
Sold! Iconic Mansion-Like Duluth Home Originally Listed for $999,500
The Congdon area of Duluth is full of rich history and iconic homes that are a reminder of Northland's past. While it's always fun to drive through the area and look at these mansion-like homes, it's not often they hit the market.
However, one such home did become available early 2022, originally hitting the market for with a listing price of $999,500.
This brick Congdon Estate, located at 2627 E. 7th Street in Duluth, was built in 1917 and totals 6,645 square feet. It features 5 bedroom and 5 baths.
Once you walk onto the restored concrete front porch and into the home, you'll love the hardwood floors, natural woodwork, oversized fireplace that sits in an immense living room, and the Master Suite with its own gas fireplace and a brick sun porch.
There's also a sunroom, formal dining room and an amazing kitchen which comes complete with commercial appliances and a full, original butler pantry/room.
The list of unique and gorgeous features goes on and on. Did I mention the home sits on a nice, big double lot complete with 3-car garage?
I'm sure the new owners are loving it now! The new owners closed on the home on June 17, 2022 and they got a good deal when compared to the original listing price.
Care to guess what the sale price was? Take a look through the home, the sale price is shown on the last picture. Hint: They got a nice deal.
Sold! This Must-See Iconic Wisconsin Lake Estate Originally Listed For $39.25 Million
Lake Geneva, Wisconsin is a terrific town that happens to be the home of one of the premiere lakes in all the Midwest.
The preeminent estate on Lake Geneva is Glanworth Gardens, which was built in 1906 for the Harris Family, the founding family of Harris Bank and Trust. Now, for what is believed to be only the third time in its 115 year history, it is being offered for sale.
Listed in October, 2021 for $39,250,000, this estate is graced with 40 acres of gardens and forest, amazing landscaping, a guest house, and 621+ feet of level frontage. The estate home features 14,145 square feet, a thirty-foot great room ceiling, 13 fireplaces, 13 bedrooms, 12.5 baths, a guest wing and so much more.
If you're looking for a fun experience, that can also be quite the workout, plan a trip to walk Lake Geneva and see all the amazing properties that surround the lake. Every property owner on Lake Geneva is required to maintain an public assessible path on their property so that people can walk around the entire lake, which is a 20+ mile hike! It's fun though as you can stop for food and drinks along the way.
No need to wait, however, to see the amazing Glanwoth Gardens estate. Take a look!
**Update: The is amazing property has been sold for $36 million. The new owners closed on January 17,2022.