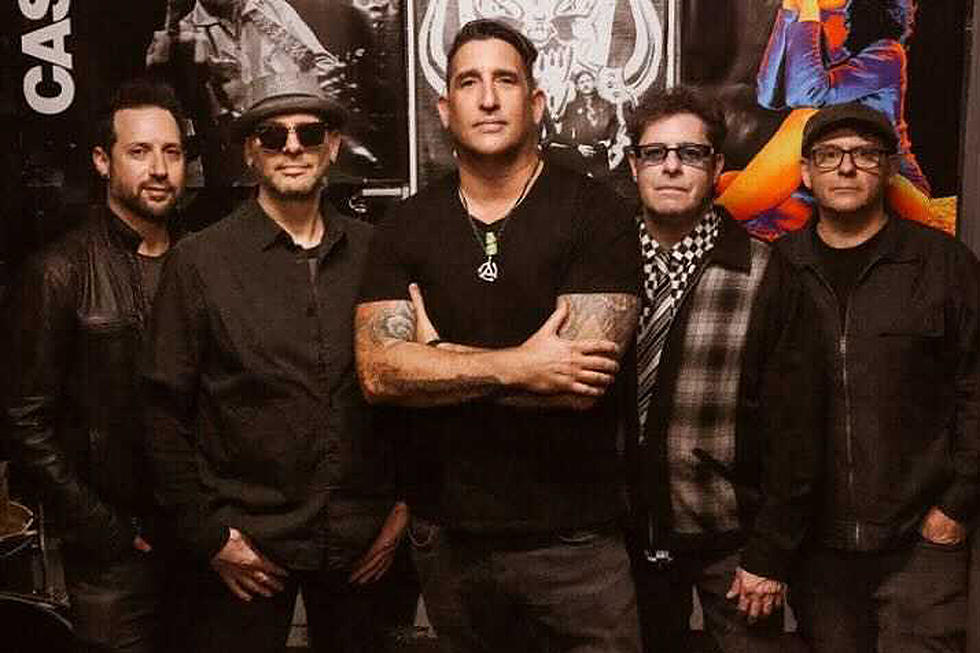 Smash Mouth Debut New Singer With Rick Astley Cover 'Never Gonna Give You Up'
Photo by Cindy Hayes
Smash Mouth are debuting their new singer with a song that many will likely recognize, but it's not one of their originals. Zach Goode is handling the vocals for the band on their new cover of Rick Astley's hugely successful '80s hit, "Never Gonna Give You Up."
The band's cover opens with punked up energy infused with full blown synths before pulling back to an "All Star" guitar feel and beats. Goode actually has a vocal that sounds fairly close to the band's original singer Steve Harwell, so that should bode well for their future.
Smash Mouth found themselves in need of a new frontman after singer Steve Harwell confirmed his retirement from the group last fall. The vocalist had attempted to continue to play with the band last year, but ultimately stepped aside revealing he had a string of health issues necessitating the decision.
The singer had been diagnosed with cardiomyopathy eight years prior, which had progressed to heart failure. In addition, Harwell developed Wernicke's encephalopathy, which is an acute neurological condition that affects the peripheral and central nervous systems.
As for Goode, he comes to the band after playing in a series of groups and also finding work in commercials as a voice actor. Among his previous bands are Ghoulspoon, Divided By Zero, Secret Seven, a yacht rock group called WindBreakers and a cover band called Geezer that took on everything from Weezer to AC/DC to Dr. Dre and The Beatles.
Goode told KROQ's Kevan Kenney on the Audacy Check-In (heard below), "It's an iconic band with great songs. It was sort of a fluke that I just saw somewhere that they needed a singer. I sort of wrote an email, almost as sort of a goof, as they're not going to ever respond to this email. And ... well, maybe I put a little bit of thought into it, but it was one of those, 'Hey, you want a guy with some bad '90s tattoos and a dad bod? Come talk to me. I'm right here. Here's my YouTube page.'"
But the band did respond, and Goode says he started traveling to San Jose to meet with the members and get to know them. "I was sort of a casual fan. I knew the hits, but I didn't really know the deep cuts, and after listening to the songs and seeing how good they were, what a great songwriter Greg [Camp] was and is, and getting a new respect for Steve's voice and seeing how iconic that sound was, it really drew me in," said the vocalist.
The current lineup of Smash Mouth includes longtime bassist and backing vocalist Paul Delisle, keyboardist Michael Klooster, guitarist Sean Hurwitz and drummer Randy Cooke. Take a listen to the band's "Never Gonna Give You Up" cover in the player below.
Smash Mouth are expected to return to the road in May and have a couple of dates on their current tour schedule.
Smash Mouth, "Never Gonna Give You Up" (Rick Astley Cover)
Smash Mouth's Paul Delisle + Zach Goode Speak With KROQ's Kevan Kenney on the Audacy Check In
Best Rock + Metal Covers of 2021
Fresh takes on older favorites.