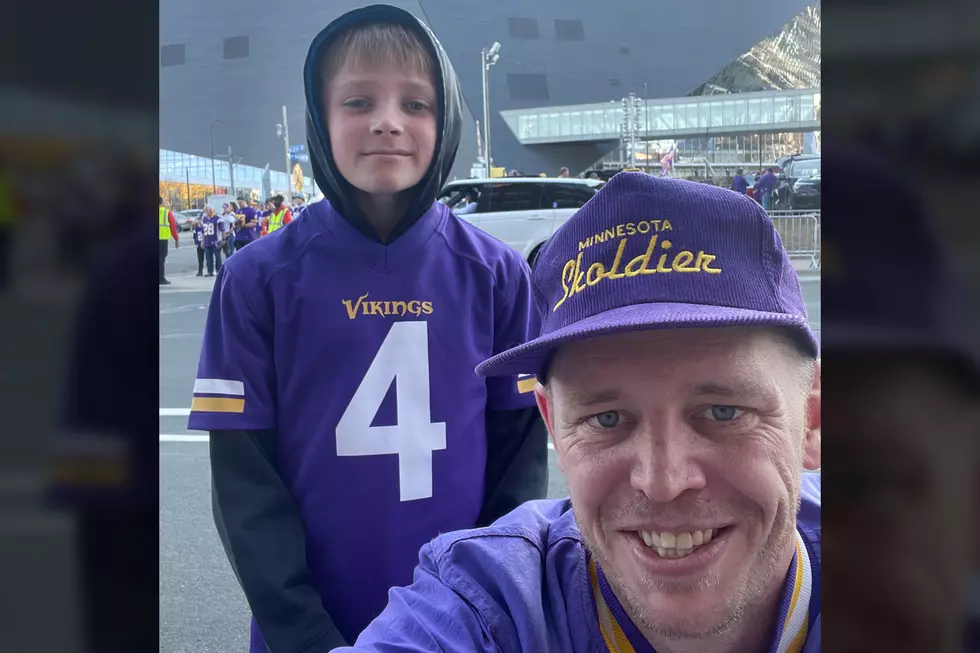 Paul Allen, Voice Of The Minnesota Vikings, Starts Ultimate 'Pay It Forward'
Dillon Heins
Paul Allen's radio talent is enjoyed by thousands upon thousands of listeners throughout Minnesota and well beyond. Whether it's the entertaining and energetic nature of "9 to Noon" each weekday, or the excitement-filled game broadcasts during each NFL season, the man affectionately known as "P.A." has captivated quite an audience.
Admit it, most of us fans of the Vikings have uttered "He's LOOOOSE" or "BOOM" or "cold-blooded connection" at some point, right?
Oh, you haven't? "I always…"
As a fellow play-by-play guy and radio show host, I wanted to learn from P.A. – not steal, but certainly learn. I never had an interest in borrowing his catchphrases, but I wanted to learn about pacing of a broadcast, game preparation, and vocal maintenance. Yet, since meeting him nearly a decade ago, I've learned entirely different lessons. The lessons of generosity and love.
Despite being in the same room maybe five times in our lives, P.A. and I have "talked shop" just enough to establish a friendship. Some would even say we "talk and text more than people know." He has appeared on my radio show many times, and I've grown comfortable in sharing my thoughts with him during his show or following his game broadcasts. All of it has been wonderful, and I never want to be perceived as a bother to broadcasting immortality.
Yet, I needed a favor earlier this year, and I took a chance and asked my favorite NFL radio voice.
I had been told that my classmate (Jessica Brickson Murphy) from kindergarten, all the way through graduation from Duluth East, was diagnosed with pancreatic cancer earlier this summer. I immediately started a GoFundMe, and another classmate (Jacob "Jake" Laurion) started putting together a benefit. We were ready to help Jessica battle for her life in any way that we could.
Before the benefit was finalized, Jake was tragically killed in a motorcycle accident in late-June. Other classmates stepped in, and the event still came together nicely. I was asked if my connections to the sports world could provide some tickets for a raffle at the event. I reached out to P.A. and explained the horrible disease my friend was fighting. Within five minutes, he e-mailed me a pair of tickets to the Cardinals-Vikings game. I was incredibly grateful and thought that's where the story would end.
It turned out it was just beginning.
The tickets were won by John Heins, who happened to be Jake Laurion's father-in-law. John is a "snowbird" and spends his winters in Arizona, so he and his son Dillon Heins had joked throughout the day about the irony that might come with going to a game against the Cardinals. After spending roughly $250 at the raffle, the tickets were among many prizes won by the Heins family. Thoughts immediately turned to who should get to go to the game.
"My dad really wanted Jake's son Walker to get to go to the game. When he asked me if I would accompany him, I was excited to do that, and even more excited to tell Walker," Dillon told me, as I could hear the excitement in his voice while relaying the emotion of his nephew.
Walker Laurion had the "beyond excited" reaction you might expect from a 12-year-old football fanatic. He put Kirk Cousins in his fantasy starting lineup and couldn't wait to get to the game. As it turned out he didn't have to wait long at all.
Dillon and Walker left Aitkin, MN at 6am Sunday and arrived at U.S. Bank Stadium around 8:20am, still well over an hour before the doors would open. Prior to the entering, the pair had pictures taken by the Viking ship, enjoyed the musical stylings of the Skol Line, and checked out a concession stand outside the stadium. Yet, Walker wanted to get in as soon as possible.
"We had to be one of the first 10 or 12 people in line, so we got to see them open the doors. Walker was pretty taken aback by the field and stadium. I think the largest one he had seen before that was at Duluth East," Dillon explained with a chuckle.
Next up, was the receipt of the Jared Allen mullet headbands. Walker, being only 12, was not around for the dominance displayed by the latest Ring of Honor inductee and spent the ride down to the game finding statistics on Google and watching YouTube clips of the talented defensive end. For the record, when it came time for Jared to answer his call to the Ring of Honor, Dillon and Walker lamented answering nature's call. Oh well. This was about the game.
12-year-old Walker was confident the Vikings would win handily -- 39-year-old uncle Dillon, wasn't quite as certain.
"I was worried about Hopkins going into the game. There were some moments where Walker and I looked at each other a little worried, but we stuck with it, and it worked out in our favor."
Walker deserves some things to work out in his favor. The loss of Jake has been incredibly hard on him and his younger brother, as well as many other friends and family. Making this opportunity extra special, was the fact that Walker's best friend (who happens to be the daughter of Jessica Brickson Murphy) drew the winning raffle ticket.
"First and foremost, it's an honor that God puts me in a position to be able to have tickets and do things like that, and I'm really glad you asked. God bless the family and friends," P.A. stated on last Saturday's Northland Sports Page. "I hope it creates a diversion from reality for at least three hours."
Despite the anxious moments, it was a highlight-filled afternoon – especially for Walker.
"He loved Kirk's rushing touchdown happening right in front of us, Jefferson's catch in traffic, and getting to do the SKOL chant," beamed Dillon. "I think he wanted overtime just so the experience wouldn't end, but being in the players' family section, we quickly talked him out of that."
The Vikings made the big plays to seal the win, further proving that timing really is everything.
"To think that four months ago to the day, Walker had the worst day of his life losing his dad, and now four months later may have been his best. It was such a privilege to be there with him during this experience," Dillon explained.
Walker simplified the best part: "A Vikings W."
Thanks to P.A. there were "Ws" for Walker, Dillon, John, Jessica, Jake, me, and countless others that day.
Now that's a love covenant.
Brian's show, 'The Northland Sports Page', can be heard Saturdays from 10 am to noon on the FAN 106.5 FM/560 AM. You can catch previous episodes on the Northland FAN On-Demand area of our website or on our mobile app.