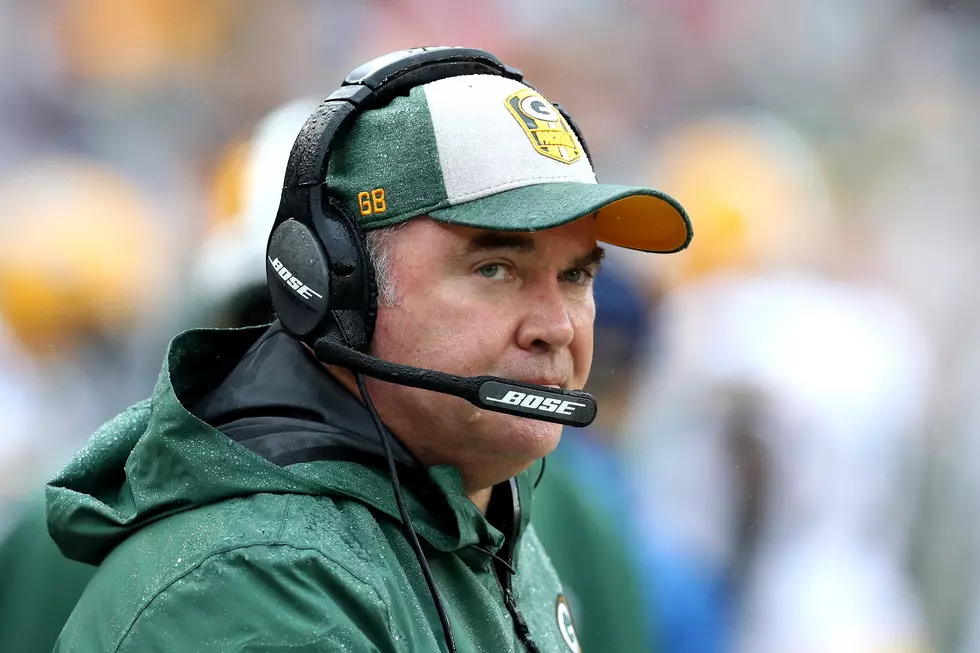 Packers Fire Head Coach Mike McCarthy After Loss To Cardinals
Getty Images
The Green Bay Packers announced Sunday afternoon that they have parted ways with head coach Mike McCarthy. The decision comes after the Packers lost to the 2-9 Arizona Cardinals in Green Bay, leading to a Packers record of 4-7-1 after falling 20-17 to Arizona.
Rumors about the future of McCarthy have been swirling much of the 2018 season, and speculation was that he might be done at the end of the year. That decision came sooner than expected, with the team saying in a statement:
The 2018 season has not lived up to the expectations and standards of the Green Bay Packers. As a result, I made the difficult decision to relieve Mike McCarthy of his role as head coach, effective immediately," Murphy said. "Mike has been a terrific head coach and leader of the Packers for 13 seasons, during which time we experienced a great deal of success on and off the field. We want to thank Mike, his wife, Jessica, and the rest of the McCarthy family for all that they have done for the Packers and the Green Bay and Wisconsin communities. We will immediately begin the process of selecting the next head coach of the Green Bay Packers.
McCarthy had been the head coach of the Packers since 2006, winning a Super Bowl with the Packers to conclude the 2010 season over the Pittsburgh Steelers. Since that Super Bowl victory, the team has been in the preseason discussion as a contender to return to the Super Bowl every season under the leadership of McCarthy and Aaron Rodgers. Coming off of a disappointing 7-9 2017 season in which Rodgers was injured much of the season, the team hoped to return to form in 2018, which never materialized.
There has been a lot of speculation that the relationship between McCarthy and Rodgers had soured, and that he would be on the way out at the end of the 2018 season. The team made the decision to move on earlier than that point. There is no question McCarthy will find another job in the league for the 2019 season. Speculation points to the Cleveland Browns as a possible landing place for McCarthy, who fired their head coach Hue Jackson earlier this season.
Offensive coordinator Joe Philbin has been named interim head coach until a decision is made for the long-term of this position. Philbin has previous head coaching experience, holding the role with the Miami Dolphins from 2012 to 2015.