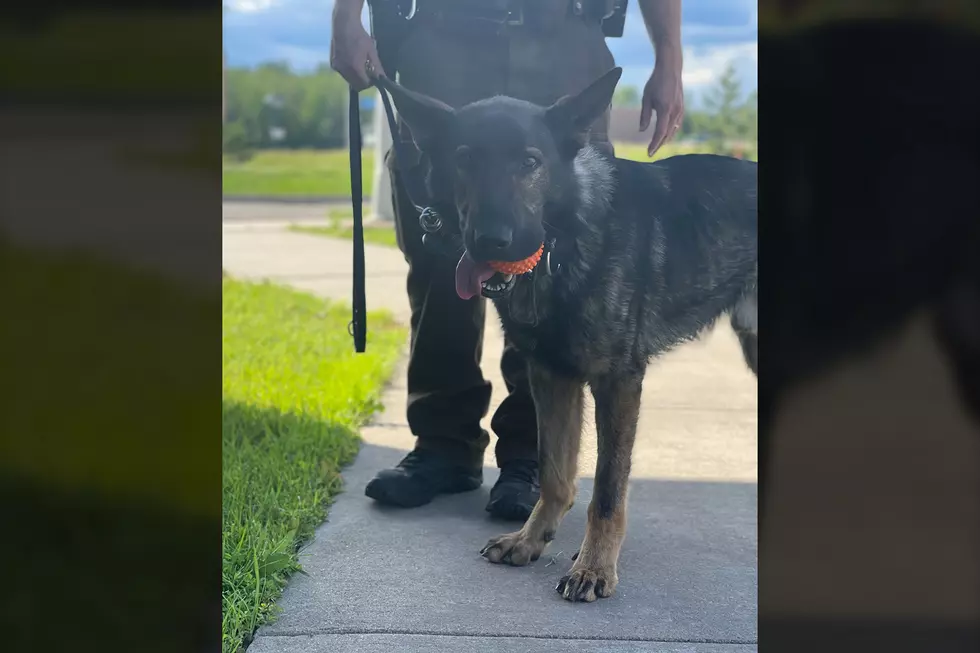 St. Louis County's New K-9 Thor Debuts By Successfully Tracking Wanted Felon
St Louis County
That didn't take long.  The St. Louis County Sheriff's Office just completed training with it's newest K-9 Thor and he's already showing his value to the team on his debut mission.
In only his second week on the job with Deputy Marty Thorne, K-9 Thor helped track a wanted felon in Hibbing.  The incident happened on the evening of July 7.  According to details shared by St. Louis County, the Hibbing Police Department had tracked a suspect who was fleeing by foot from a felony warrant. Their team needed to rest, so Deputy Thorne and K-9 Thor took over.  The report details pick up from there:
"Thor followed down a gravel road and into a wooded area, leading directly to where the suspect was attempting to hide behind a log.  The man surrendered without further incident and is currently in custody at the St. Louis County Jail."
Praise for the K-9's action, Deputy Thorne, and the team came from the top brass.  Lietenent Jason Akerson - who's in charge of the K-9 program for the St. Louis County Sheriff's Department, commented:
"This was a great team effort by all involved.  K-9's have the ability to help us do our jobs more efficiently and safely, and in this case, they were even able to help each other in a tag team effort, with the end result being a wanted felon is now in custody."
K-9 Thor is a three year old Czech Shepherd. Thor recently completed his 14-week training session in late June and now he is certified as a dual-purpose K-9, meaning that he is skilled at both narcotics detection and patrol duties such as finding people and evidence.
Both K-9 Thor and Deputy Thorne are based out of the Hibbing office.
Herbs That Grow Best In The Northland
While flower gardening produces plants that look beautiful and vegetable and fruit gardening results in an ample harvest of produce, there is one gardening type that often gets overlooked - especially in our part of the country: herb gardens. While its true that some types of herbs don't grow so well in our cold climate, there are others that do grow quite well. Here's a look.
CHECK THEM OUT: States With the Best and Worst Commutes